Here's What Dolly Parton's Real Hair Looks Like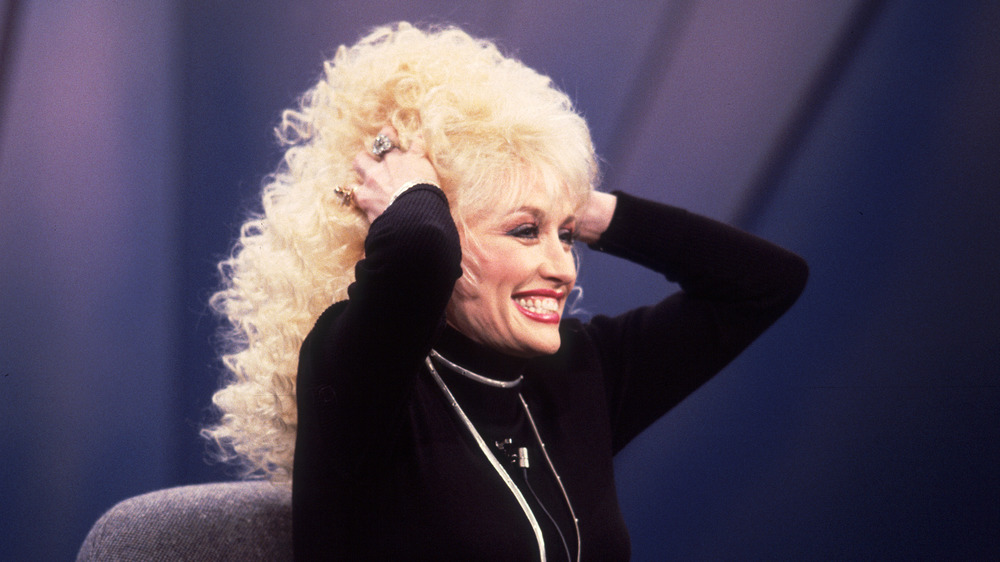 Paul Natkin/Getty Images
If you're a fan, you know. Dolly Parton has a wig for every day of the year. Or, at least, it's easy to feel that way. In 2016, the country goddess told Hallmark Channel why. "I used to try to keep my own hair teased and as big as I liked it and having the bleach and all that, it just broke off." The solution? "I thought, 'Why not just wear wigs?' That way I never have a bad hair day. I have a big hair day, but not a bad hair day," Parton recounted (via Taste of Country).
The songstress's passion for big hair dates back to her teenage years when Parton used to moon over pictures in Frederick's of Hollywood catalogs. As Parton explained in her newly released memoir, Dolly Parton, Songteller: My Life in Lyrics, "I wanted to feel like the way I thought all the movie stars in Hollywood did" (via Today). And yet, sometimes, when she was not in front of the audience, Parton recorded music with her natural hair. Both in her memoir and on Instagram, Parton's published photos of one such session. When she did, she left her followers speechless.
What fans are saying about Dolly Parton's natural hair looks like
The photo that Parton published on Instagram is in black and white, so we can't be sure of its color. Our bets go to platinum blonde. "I keep my hair the same color [as my wigs]," Parton told The Hallmark Channel, "I keep my roots up for my husband. I don't want to look good for everybody else and then go home and look terrible." Today pins the photo in question to "around 1965." And while Parton didn't admit to it being her real hair on Instagram, she did in her memoir.
"My hair would never do exactly what I wanted it to do. So the wigs became kind of my trademark," Parton wrote. That may be true. Her natural hair isn't poofy or particularly curly, like her signature wigs. In fact, it's not big at all. Instead, Parton's natural hair gives off a soft, elegant vibe. It's got body, it's got shine, it's got class, and her fans (that includes us, of course) are loving it. "Looks 10 yrs younger without the wig," wrote one admirer on Instagram. "Your hair is stunning and you should wear it more," seconded another. "Dolly is beautiful just the way she is," concluded a third.