Decoration Tips That Will Make Your Christmas Tree Look Like A Pro's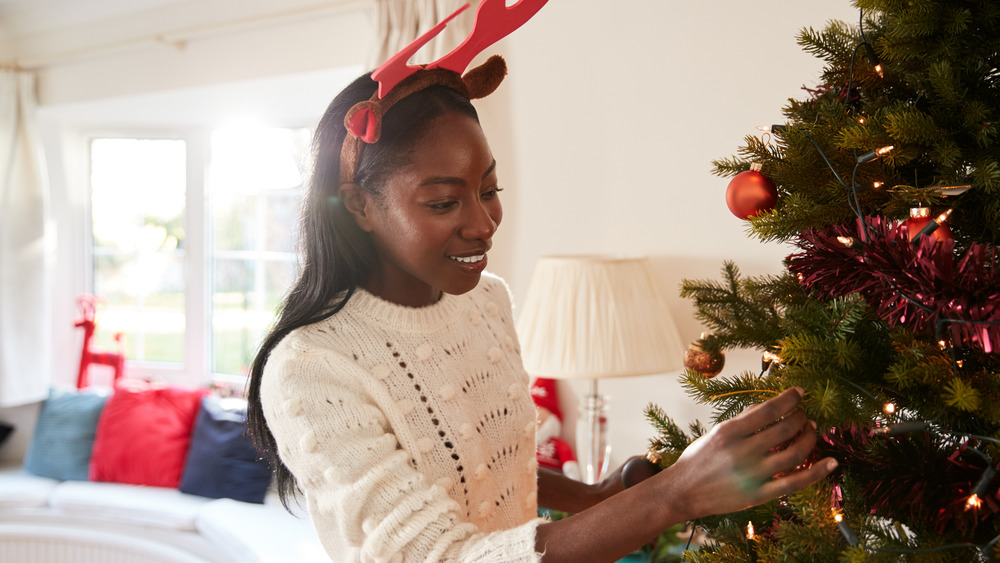 Shutterstock
The holidays are in full swing, which means if you haven't started already, now is the time to turn your home into a winter wonderland. The first step (and main attraction) should be your Christmas tree, and with the right decorating tips, you could have something that is tree-mendous. PureWow spoke with Jenny Reimold, a HomeGoods style expert, and she shared some tips and tricks on how to achieve a Pinterest-worthy tree.
The first step, according to Reimold, is to pick a theme. You might be wondering, "Isn't Christmas a good enough theme already?" Well, Reimold suggests things like eye-catching color combos and trends can actually inspire you in your decorating process. It might even lead you to finding specific ornaments that are more than just classic Christmas.
Speaking of ornaments, Reimold also suggests finding "statement pieces" to add to your tree. For example, if you're going with an Emily in Paris-themed tree this year, you might want to add a few Eiffel Towers here and there mixed in with your Parisian ornaments. Large items like your statement pieces can be added with Reimold's "shove and stuff" technique, which is how she fills in any gaps or empty spaces.
Use what you've got at home for some budget-friendly Christmas decor ideas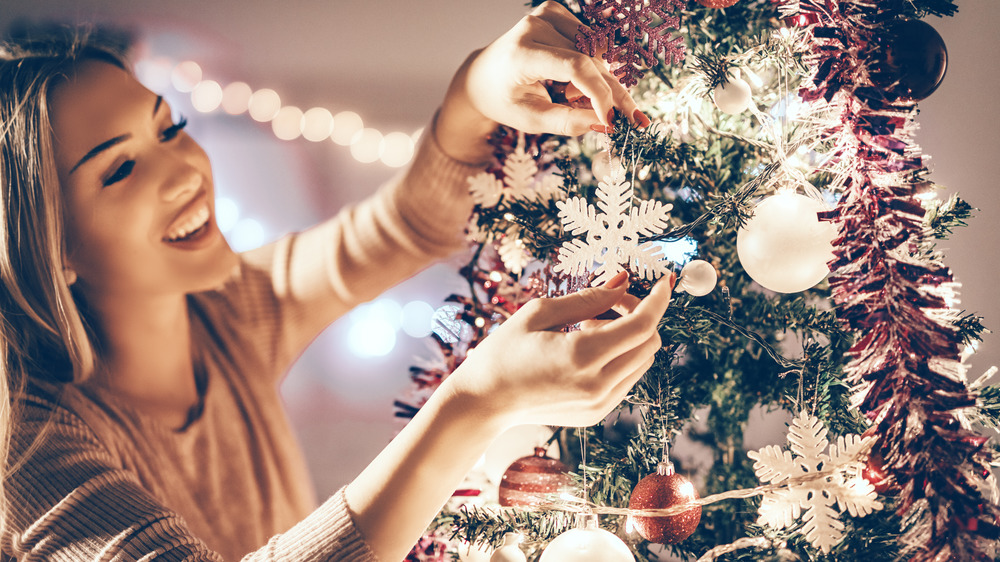 Shutterstock
Along with investing in some new decor items, there are also ways for you to repurpose items you already have at home for some more budget-friendly tips. Use an old blanket as your tree skirt and wrap up your leftover ornament and string light boxes in holiday wrapping paper to fill in the base of your tree. That way, it gives you the illusion of fullness without any unnecessary spending. 
Since saving money is always a great idea this time of year, you might even consider getting your craft on and DIY-ing a few ornaments as well. Good Housekeeping spoke with Etsy's trend expert Dayna Isom Johnson, who suggests that making your own decor is not only fun to do, but "also adds a personal touch to your celebrations." Try revamping some traditional glass or plastic ornament balls you have at home by adding some colorful tissue paper in your chosen Christmas theme colors for a decoupage ornament (via Country Living).
When you've put the final touches on your Christmas tree, it's time to take a step back and admire your hard work. Not only will you have a masterpiece tree designed by you, but something that's the definition of Instagram-worthy and the perfect backdrop for all your holiday family photos at home.