Kayleigh McEnany's Husband Answers Critics After Briefing Room Incident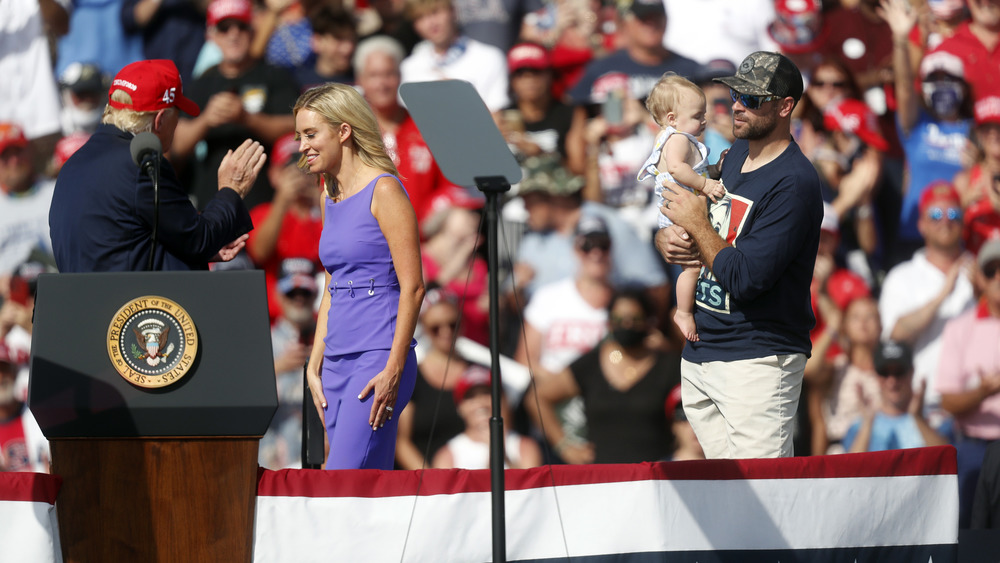 Octavio Jones/Getty Images
You might have heard it through the grapevine. For a Dec. 2, 2020 press conference, Kayleigh McEnany brought along a little extra support in the form of six aides and her husband, MLB relief pitcher Sean Gilmartin. The sizable entourage was of considerable note to CNN, which pointed out that CNN was not allowed into the briefing because The White House Correspondents Association is limiting the number of people allowed in the room due to COVID-19 regulations.
McEnany, who attacked the democratic response to the virus during the conference, concluded her thoughts by saying, "We all know how to protect ourselves from COVID-19. Wash your hands, socially distance, wear a mask" (via Politico). Had her husband been wearing one at the event, McEnany's argument might have hit harder. However, as most of Twitter soon discovered, he was not. Neither was his cousin, White House assistant press secretary, Chad Gilmartin. According to an after-incident report by the White House press pool, "New York Times photographer Doug Mills politely pointed out to Gilmartin rules requiring masks be worn in White House press areas. A White House staffer who was with Gilmartin said incredulously, 'Kayleigh's husband?'" (via Tampa Bay Times). 
Donald Trump has called the photographer in question, Doug Mills, "the No. 1 photographer in the world" (via Politico). Mills also earned the esteem of McEnany's predecessor, Sarah Huckabee Sanders, who called Mills an "excellent photographer" and affirmed that he "always treats everyone with respect."
Sean Gilmartin faces social media outrage over his press conference appearance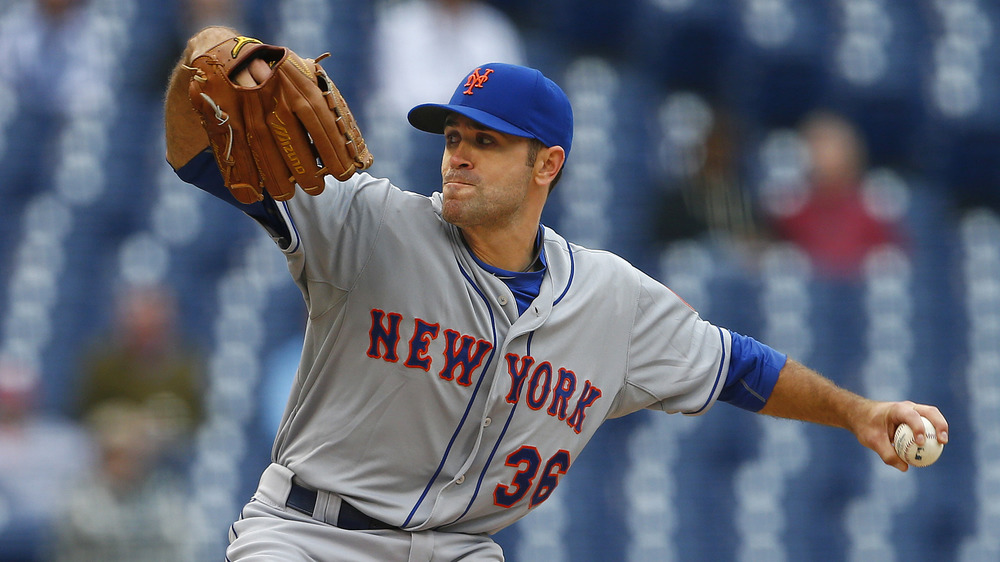 Richard Schultz/Getty Images
In the resulting Twitter tornado, those familiar with Gilmartin's MLB career lashed out. "Sean Gilmartin is the authority on 'crushing it' because he's seen enough home runs hit against him to know," tweeted one critic. "Some people may be surprised by Sean Gilmartin not wearing a mask, but as a Mets fan I can assure you that he was never good at protecting things, whether it be leads or the people around him," vented another. "I was under the impression that MLB wanted players to comply with COVID protocol during the offseason as well. If so, Sean Gilmartin should be in trouble," mused a third.
Gilmartin's, wife, Kayleigh McEnany garnered attention from Reuters during the same press conference for using instances of looting to justify holding White House Christmas parties despite COVID-19. "...if you can loot businesses, burn down buildings, engage in protest, you can also go to a Christmas party, you can celebrate the holiday of Christmas, and you can do it responsibly, which is why the East Wing has noted that they'll have smaller guest lists, masks are going to be available, social distancing is going to be encouraged, hand sanitizing stations, among other measures. But we will engage in the celebration of Christmas, and there will be a Hanukkah celebration as well," she said at the briefing. 
Press coverage of the highly-scrutinized conference has additionally noted that both Gilmartin and McEnany tested positive for COVID-19 in October 2020, amid three different breakouts at the White House (via The Washington Post). While playing for the Tampa Bay Rays, Gilmartin had promised Tampa Bay Times that he wouldn't "get too involved" in McEnany's world. With the 2020 season over, that no longer seems to be the case.
Sean Gilmartin's response to the White House briefing room incident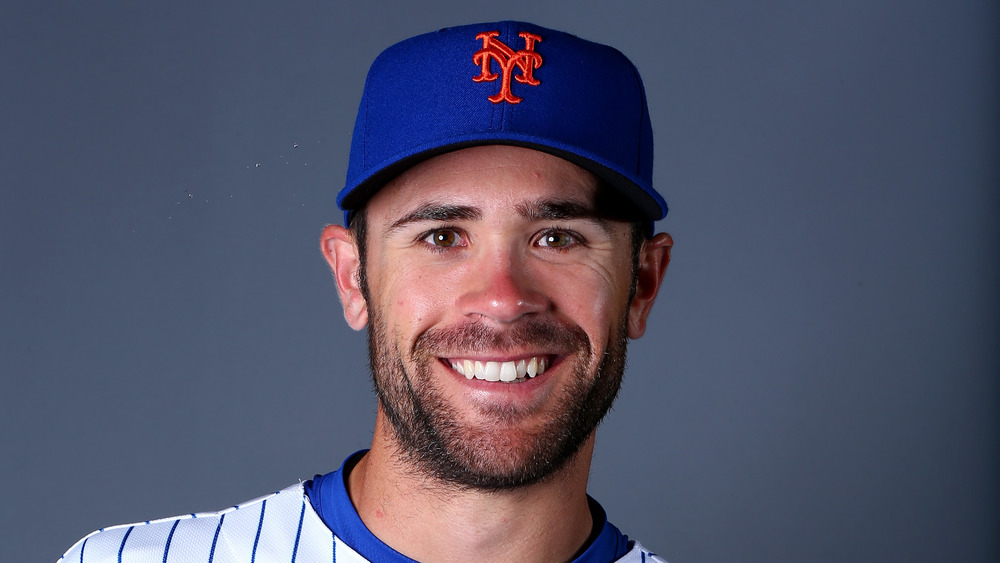 Elsa/Getty Images
Two things are certain. First, the facts are muddied. Certainly, The Daily Mail's report that Gilmartin got into a "bickering match" with Doug Mills may be exaggerated. When Tampa Bay Times reached out to Gilmartin, he emailed them a response: "During the entirety of the briefing, I was never asked to wear a mask by anyone. When the briefing concluded, a New York Times photographer loudly said to wear a mask next time after I had passed him and when I was a few steps from exiting the room," he defended himself. "There were no words spoken by me in response to his statement. If the photographer had asked me to wear a mask during the two times he passed me during the briefing, I would have happily obliged."
Second, Gilmartin may not have been asked to put on a mask. However, CNN reports that there are "numerous signs throughout the briefing room" enforcing a mask-wearing policy. When Politico reached out to White House Communication Agency (WHCA) President Zeke Miller he also confirmed that the organization "has repeatedly encouraged everyone in the press areas to wear masks at all [times], including with ... frequent reminders that failing to do so puts themselves and others around them at greater risk." The Washington Post, meanwhile, notes that a White House press corps member tested positive for COVID-19 on December 1. Afterward, the WHCA sent out a memo reminding members of the mask-wearing policy.