Apple CEO Tim Cook Just Made A Big Change To His Twitter Bio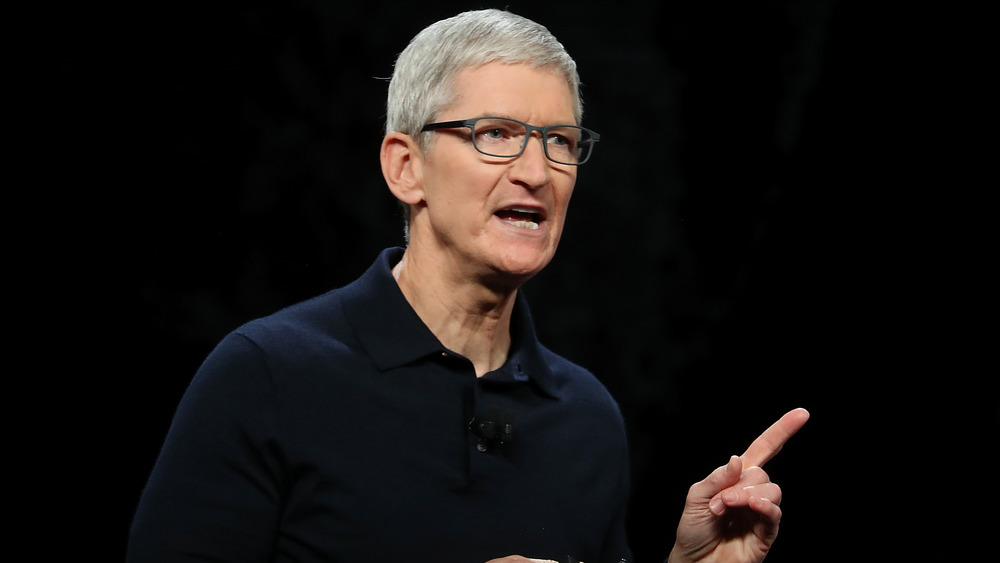 Justin Sullivan/Getty Images
Apple CEO Tim Cook took a major professional risk when he publicly came out as gay back in 2014. Cook assumed control of the world-conquering tech conglomerate from Steve Jobs in 2011 and has since donated millions of dollars to support various social justice causes. When he came out, Cook became the first CEO of a Fortune 500 company to do so. It cost him his well-earned privacy but, as Cook sees it, there was a greater purpose to sharing his story.
He opined on The David Rubenstein Show that becoming a role model for those who were struggling was more important in the long run. "It became clear to me that there were lots of kids out there that were not being treated well, including in their own families, and that kids need someone to say, 'Oh, they did okay in life, and they're gay so it must not be a life sentence in some kind of way,'" he remarked (via CNBC). Now, the Apple CEO is proving himself to be even more of an ally.
Tim Cook took a major stand as an LGBTQ ally
Stephanie Keith/Getty Images
As Business Insider reports, Cook, along with fellow Apple executive Greg Joswiak, recently added pronouns to their Twitter bios. Both now read, "he/him." According to a screenshot from last month, Cook's pronouns were not included, so he made the change in the last few weeks. GLAAD advised, "Introducing yourself as a cisgender person with your pronouns — which are words that are used to refer to someone without using their name — can make a more inclusive and safe environment for trans people to also share their pronouns. By normalizing the practice of sharing your pronouns in your communities, you lighten the pressure on trans people. This also lowers the chance for unintentional misgendering to happen."
The NGO, which was created to call out discrimination against LGBTQ people and to educate, added, "By adding your pronouns by your name or at the end of your bio, you can help foster a more trans-friendly social media environment." Sharing pronouns is becoming an increasingly normalized practice, particularly as schools, businesses, and other institutions strive to be more inclusive. Cook previously tweeted in support of this year's Transgender Day of Remembrance, which honors those affected by anti-trans violence. "It's only through love, acceptance and education that we can build a future where everyone is safe to live their truth," he wrote at the time.