Netflix Kisses That Pulled On Our Heartstrings In 2020
This content was paid for by Netflix and created by The List.
There's nothing quite as satisfying as seeing two people seal their romantic story with a kiss. Throughout 2020, there have been plenty of those heart-swelling moments to hit our streaming queues, but no matter how many times we witness new screen couples take their romance to first base, it never quite gets old. This year gave us the much-anticipated sequels to some YA favorites, new rom-coms that boast just the right amount of cheese, and  somedelicate dramas that make us think and feel. Overall, there has been no shortage of emotional entertainment in 2020.
In a year full of social distancing, this year's slate of romantic films reminded us just how adorable and important public displays of affection can be. So to celebrate some of the best on-screen smooches of the year, here's a look at the Netflix movie kisses that pulled on our heartstrings in 2020.
The Kissing Booth 2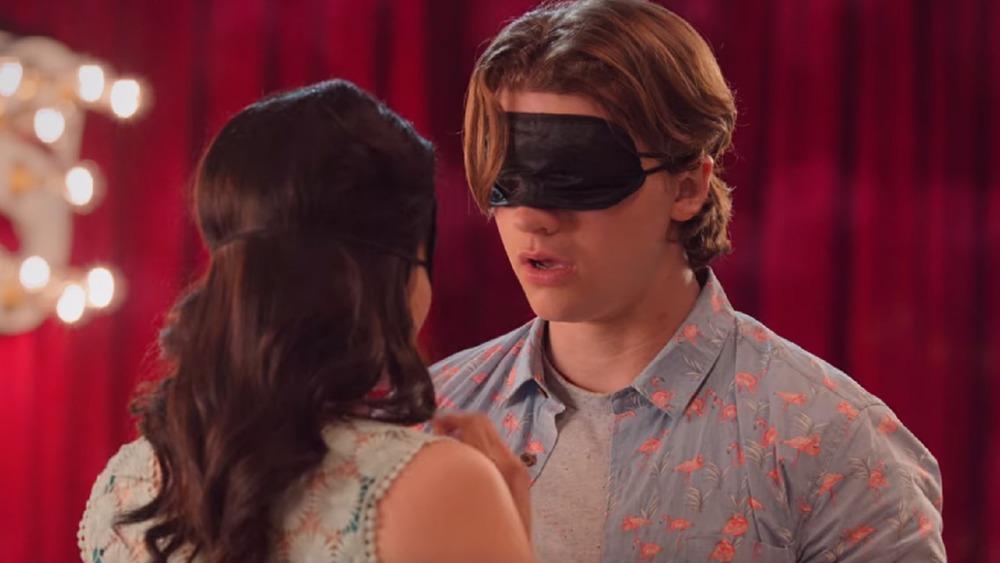 Netflix
There are a lot of spirited smooches in The Kissing Booth 2, but it's the double-blindfolded reunion of Lee (Joey Courtney) and Rachel (Meganne Young) that really sends us into swoon town. Throughout the film, Lee and Rachel's relationship experiences some major stresses, as Lee's close friendship with Elle (Joey King) takes up a little too much of his focus. With Noah (Jacob Elordi) off at college and making a new friendship of his own with Chloe (Maisie Richardson-Sellers), Elle is particularly needy with Lee, and Rachel eventually calls it quits with him as a result. Their breakup doesn't last long, though, and it's their makeup moment that proves to be heart-stoppingly romantic.
At the carnival, the kissing booth is in full swing when Lee and Rachel are suddenly guided to the stage with their eyes covered. The crowd is absolutely agape as they watch the exes unknowingly approach one another. But after their lips come together, sparks fly, and they don't need to see each other to know who the other person is. They both profess how much they have missed one another, and when the blindfolds finally do come off, they make up with eyes wide open in more ways than one. The kiss that follows leaves both the crowd and audiences at home screaming with joy.
The Lovebirds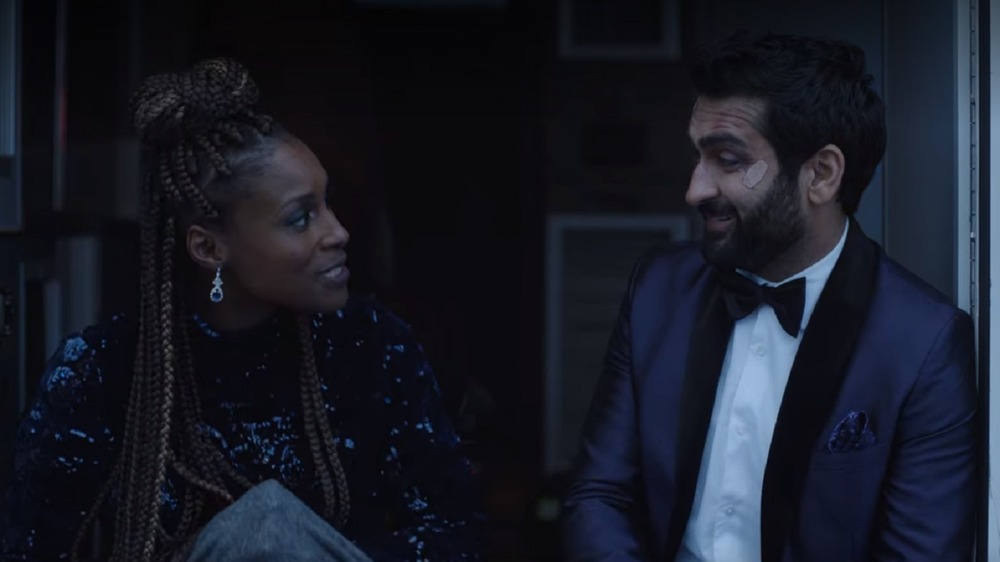 Netflix
Nothing spices up a relationship quite like a good old-fashioned murder-mystery adventure. The Lovebirds introduces us to Jibran (Kumail Nanjiani) and Leilani (Issa Rae), a couple whose romance is nearing a bitter end as a result of their endless bickering. Before they can go their separate ways, though, the two are inadvertently involved in a homicide and must stick together long enough to clear their names. Throughout the film, their connection is constantly tested as they encounter a series of dangerous criminals in their pursuit of the truth. But by the end, it's teamwork and their deep understanding of one another that saves the day. As they finally face the killer who got them into this mess in the first place, they pretend to have another spat — but they're really speaking to one another in code to plan their escape.
After they're finally safe from harm, the two recover in the back of an ambulance and have another argument — only this time, it's over which of them wants to kiss the other the most. When they ultimately do stop talking and lock lips, it's clear that even if they continue to squabble over the small stuff once in a while, they'll always agree when their lips are pressed together.
Rebecca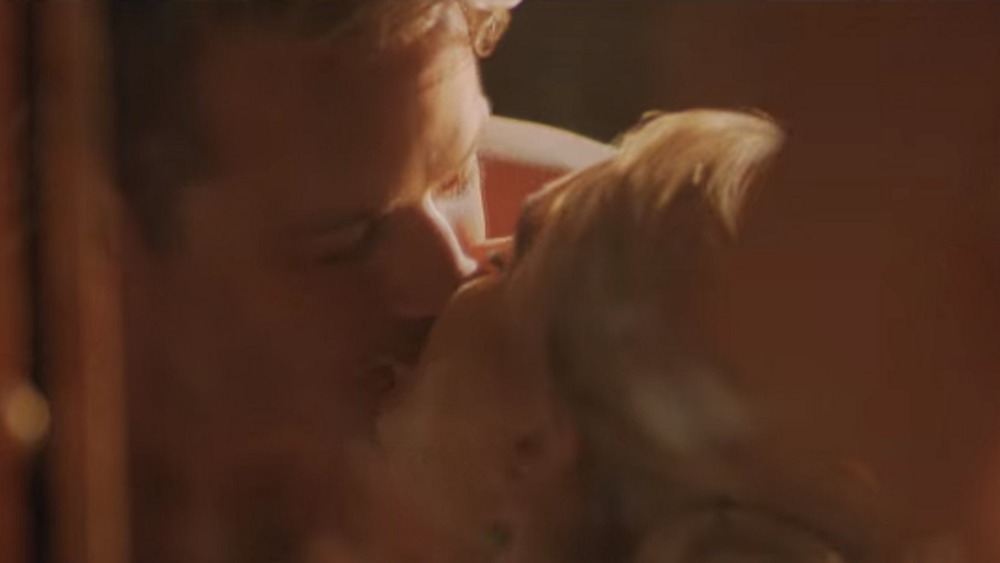 Few honeymoons have ever been quite as intense as what Mrs. de Winter (Lily James) experiences in Rebecca. After a passionate courtship with the handsome widower Maxim (Armie Hammer), Mrs. de Winter moves into his Manderley estate to begin their life together, only to discover that there's a ghost haunting the place. Instead of an actual specter, though, it's the mere memory of Maxim's lost first wife Rebecca that looms large over her new home, as she was particularly beloved by the housekeeper Mrs. Danvers (Kristin Scott Thomas) — and she makes that fact very well known to Mrs. de Winter. But Rebecca kept many secrets, and the new Mrs. de Winter soon finds herself at the center of a twisty investigation into what happened to her predecessor.
However, despite several shocking revelations and even being subjected to sabotage, Mrs. de Winter's love for Maxim doesn't falter. In the end, her devotion proves to be worthwhile. After very literally surviving a fiery attempt to destroy them, the couple is finally free to start their marriage anew, and their final kiss of the film is a steamy-but-sweet sendoff into better days ahead for the young lovers.
The Half of It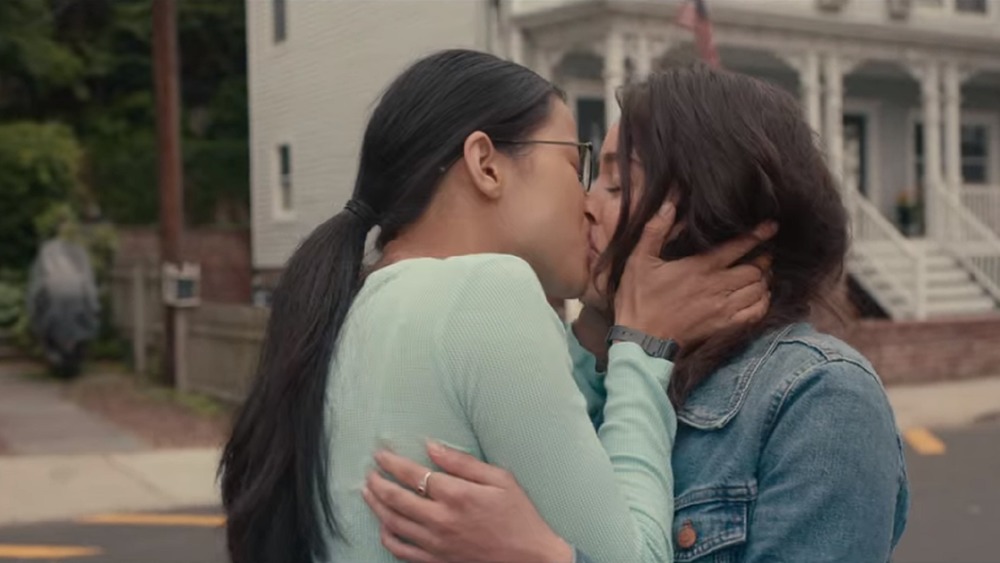 Netflix
Sometimes a kiss goodbye is just as powerful as one that marks the start of something, and that's certainly the case in The Half of It. The film centers on a shy, smart young woman named Ellie (Leah Lewis) who agrees to write letters to her own crush Aster (Alexxis Lemire) on behalf of a well-meaning but less intelligent boy at school named Paul (Daniel Diemer). Ellie's letters and texts to Aster are successful at bringing her together with Paul — until Aster discovers the true author of the notes.
After Ellie is accepted to a college out of state, she visits Aster to apologize for her deception, and Aster reveals that she has also considered a potential romance with Ellie and is willing to forgive her. Aster offers a playful sendoff by telling Ellie to "find something good in Iowa to believe in, heathen." As Ellie begins to stroll away, she rethinks the situation and decides to turn around, rushing to finally kiss Aster who accepts the gesture. This may still be an unrequited romance, but for this one little moment, Ellie's well-documented affection for Aster is returned to her at last.
To All the Boys: P.S. I Still Love You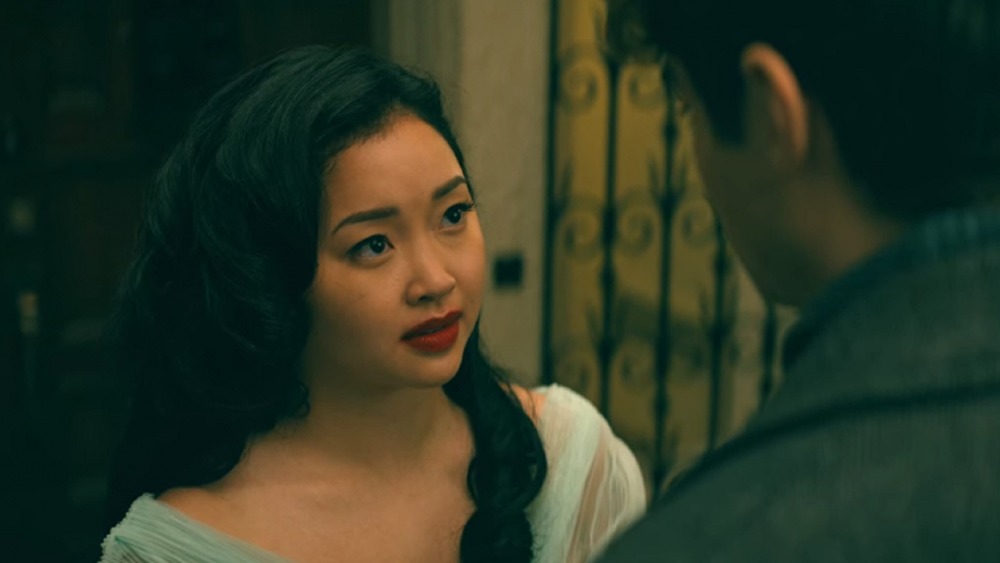 Netflix
There are so many moments in To All the Boys: P.S. I Still Love You that hit us right in the heart. The introduction of the dreamy John Ambrose (Jordan Fisher) certainly complicates things even further for Lara Jean (Lana Condor), who already has some questions about her relationship with Peter Kavinsky (Noah Centineo). Just as Lara Jean begins to grow close to John Ambrose, she learns some disheartening information about Peter that causes them to break up.
However, Lara Jean learns the truth about Peter's devotion to her from a reliable source — Gen (Emilija Baranac), Peter's ex-girlfriend, who is implicated in some suspicious photos of him and has been at the center of Lara Jean's jealousy. Gen reveals that her relationship with Peter is nothing more than friendly. Lara Jean still ends up joining John Ambrose at the Star Ball, and when the two finally kiss at the dance, the snowy scenery provides the perfect setting for the moment. Of course, Lara Jean knows as well as anyone that the person she really wants to be with is Peter, and when she rushes away to find him, she's delighted to discover that he's right there waiting for her outside. 
Peter tells Lara Jean that he's willing to do anything for her, to even have his heart broken by her. Fortunately for them both, all she wants is to tell him that she loves him. The two then kiss and make up, and as they do, Lara Jean may finally be ready to trust that what she has with Peter is the real deal.
Feel the Beat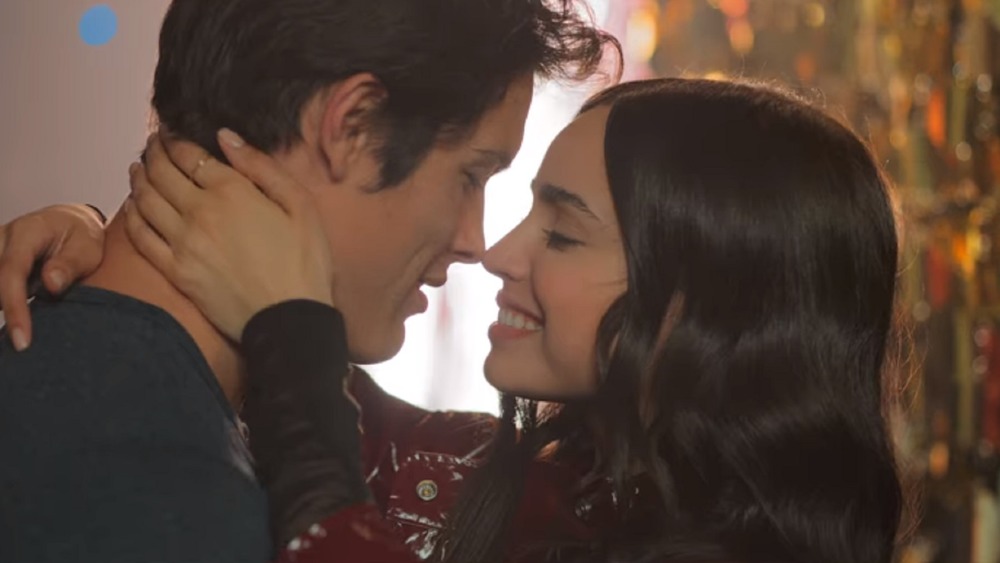 Netflix
Sometimes, what you're looking for is right where you left it. That's certainly the case in Feel the Beat, when aspiring dancer April Dibrina (Sofia Carson) returns to her home town in Wisconsin after her dreams of becoming a Broadway superstar in New York are dashed. Though she has trouble reacclimating to the simpler life of coaching a youth dance team, she finds more than just inspiration and opportunity there; she also forms a new bond with her old flame Nick (Wolfgang Novogratz), who helps her prepare her family's old barn for her classes after the studio's roof collapses.
Soon April's work with the dance crew lands her a promising new opportunity back in New York, but she discovers that she cares about her small town squad and the beau back home more than she realized. She races back to them both, and after watching her little troupe wow the crowd at their competition finals, April receives a text from Nick that indicates he may want to end things with her. However, he soon sends another message telling her to turn around, and when she does, he swoops in to welcome her back with a kiss. Let's just say the show's pyrotechnics aren't the only fireworks on display at this moment.
Seriously Single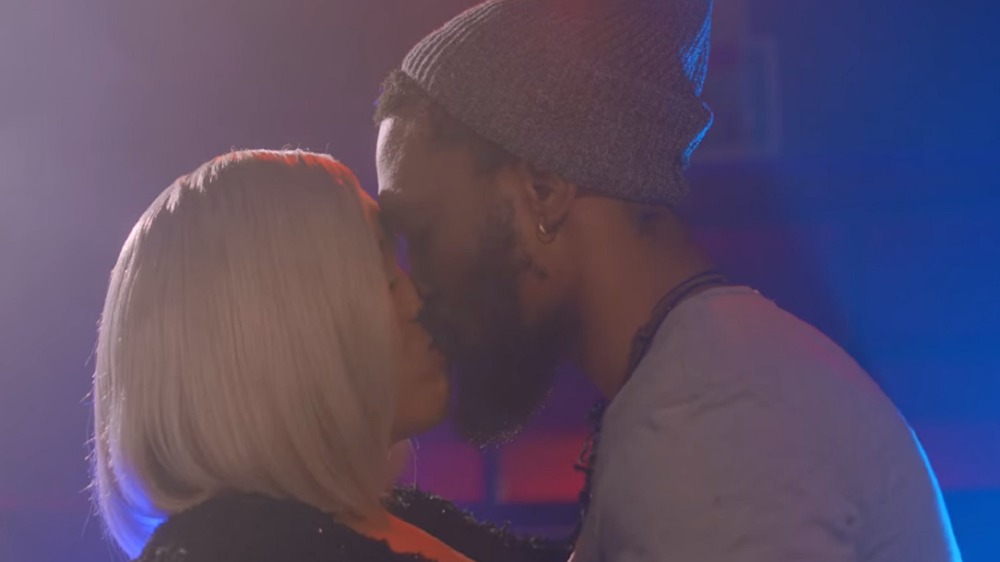 Netflix
Unlike her best friend who is a serial monogamist, Noni (Tumi Morake) has no interest in finding love that lasts in Seriously Single. In fact, she tries to coach the haplessly romantic Dineo (Fulu Mugovhani) into embracing a free-wheeling life much like her own. However, things take an unexpected turn for Noni when she meets the hunky bartender Max (Yonda Thomas), who is interested in much more than a one-night stand with her.
It takes Noni a long time to come around to the idea of pursuing something serious, or even a friendship, with Max. But once she does, she's all in. To prove that she's sincere about taking things to the next level with Max, she takes the karaoke stage at his bar and declares her affection through a song. Once he hears her belting those three little words, he rushes to the stage and gives her a kiss that signifies the start of something really real between them — and Noni is no longer seriously single at all.
Rich In Love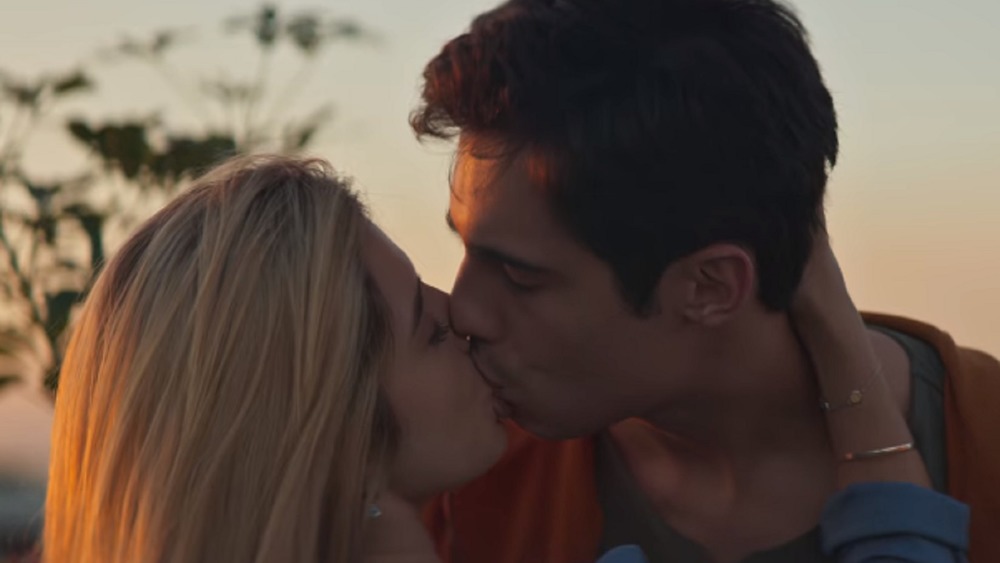 Netflix
In the Brazilian film Rich in Love, young tomato empire heir Teto (Danilo Mequito) decides to go undercover as a poor man after he meets Paula (Giovanna Lancellotti), who is one of the few people in the country who doesn't know of his family's wealth. He trades identities with his much poorer pal Igor (Jaffar Bambirra) and takes a job as a low-level employee at his father's company, where he learns just how lucky he has it back at home. This deception allows him to grow closer to Paula, who likes him for more than just his money. But when the truth comes out, it puts a major strain on their relationship.
Ultimately, once Teto owns up to the truth and makes a strong effort to enrich the lives of others, even creating a project that will help residents grow their own tomatoes and earn income, Paula decides to give him a second chance. After she shows up and sees what he has accomplished in his own right, she does two things. First, she gets even by smashing a tomato on his face. Next, she plants a kiss on him that is finally done with no false pretenses. With the backdrop of his verdant new enterprise cascading over every rooftop around them, love is finally in bloom.
The Holidate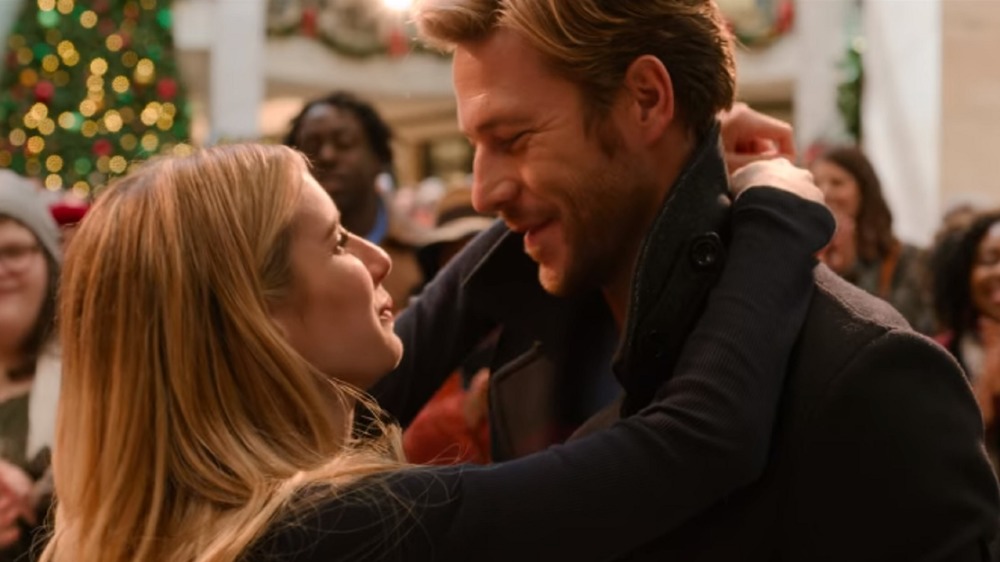 Netflix
When you pretend to be in a relationship with someone to dupe others, you might end up fooling yourself. In The Holidate, Sloane Benson (Emma Roberts) meets fellow philophobe Jackson (Luke Bracey) by chance, and the two agree to have a showmance to survive the pressures of the holidays. For Sloane, it's about keeping her family at bay. Meanwhile, their arrangement will help Jackson avoid the expectations that come with serious relationships. Over time, though, they start to develop real feelings — even though neither wants to admit their feelings to themselves, let alone each other.
That all changes at Christmas time,  when Sloane finally takes a stand and declares her true feelings for Jackson up on a mall Santa's stage. Even Kris Kringle is moved to tears by her speech, but Jackson offers a playful response to her impassioned plea, saying "nah" and walking away...before turning to embrace their relationship and give her an honest kiss. He's still full of jokes and even calls her speech "cockamamie," but after nearly a year of these two pretending to be platonic, it's a thrill to see them coming up on another holiday where they'll finally be together for real.
Love, Guaranteed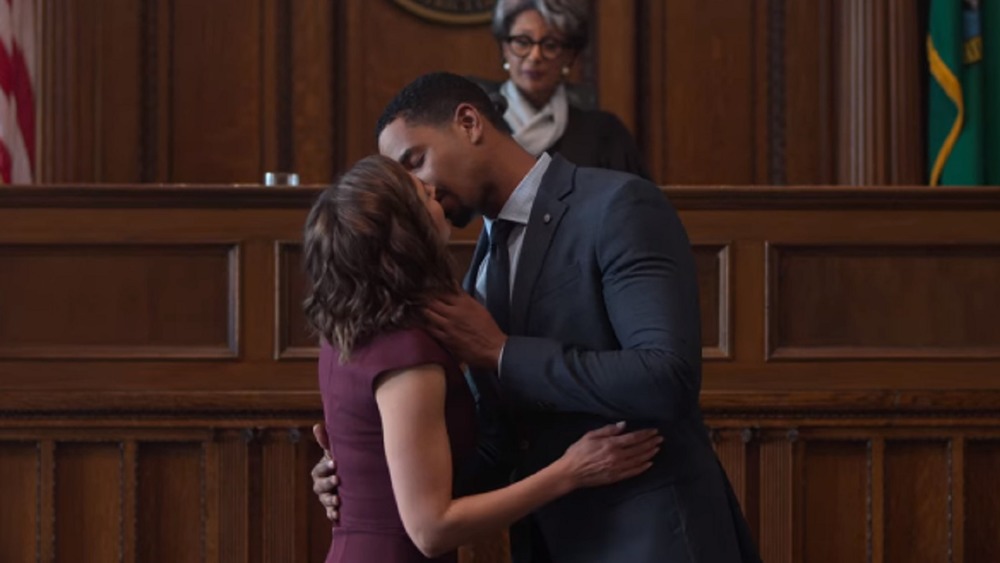 Netflix
Putting the word "guaranteed" into a business name is probably not a great idea, but that's especially true when the end product is something as unpredictable as love. Love, Guaranteed proves that to be the case for Nick Evans (Damon Wayans, Jr.), who has used an app with that inadvisable title to secure several hundred dates but has been unable to find the one. He hires Susan Whitaker (Rachel Leigh Cook) to represent him in a lawsuit against the company's founder Tamara Taylor (Heather Graham) and, as the two work on his claim, they start to become smitten with one another.
Once he takes the stand in the ensuing trial, Nick fesses up to his feelings for Susan and agrees to drop his case, since he technically has found love as a result of the app. "I'd much rather have love in my life than win here in court today," he declares under oath. Even Tamara is moved to tears when the two finally profess their feelings for one another in front of the entire courtroom and seal the case with a kiss. Tamara even invites them to become the poster couple for her company. And after seeing their smooch, it's not hard to imagine why she'd want this adorable duo as the faces of her brand.