Dolly Parton Reveals Just How Similar She And Miley Cyrus Are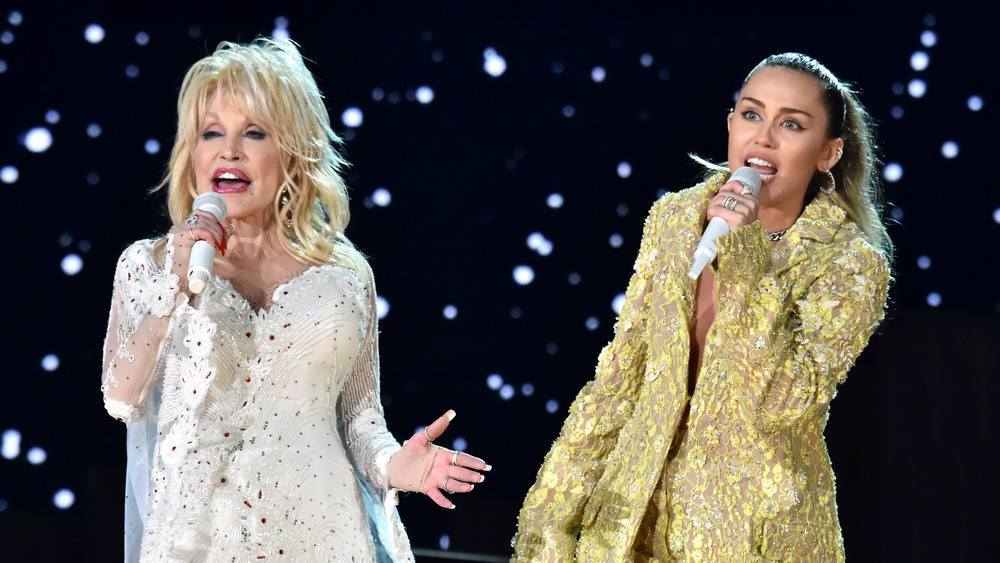 Lester Cohen/Getty Images
Sure, you love Grammy-winning musician, actress, and humanitarian Dolly Parton, and maybe you even love singer and actress Miley Cyrus ... but did you know Dolly Parton and Miley Cyrus love ... each other? Dolly Parton is the young pop star's godmother. Long before Miley was born, Parton formed a close bond with Miley's father and fellow country star, Billy Ray Cyrus.
"I worked with Billy Ray for all those years, when he had 'Achy Breaky Heart,'" Parton said on the SiriusXM radio show Just Jenny. "He worked with me on some shows we did in the early days. He opened some of my shows. We just got to know each other. I wrote a song called 'Romeo,' and had him in a video. We just kind of gelled, 'cause we're both country kids. We had a lot of fun just talking about that. And then when Miley came along, I said, 'She's got to be my fairy goddaughter'" (via Good Housekeeping).
And in the years since, Parton and Miley have found ways to collaborate and honor each other, with Parton memorably appearing alongside Miley and Billy Ray on Hannah Montana and Miley covering Parton's hit song "Jolene" at the 2019 Grammy Awards.
Why Dolly Parton says Miley Cyrus takes after her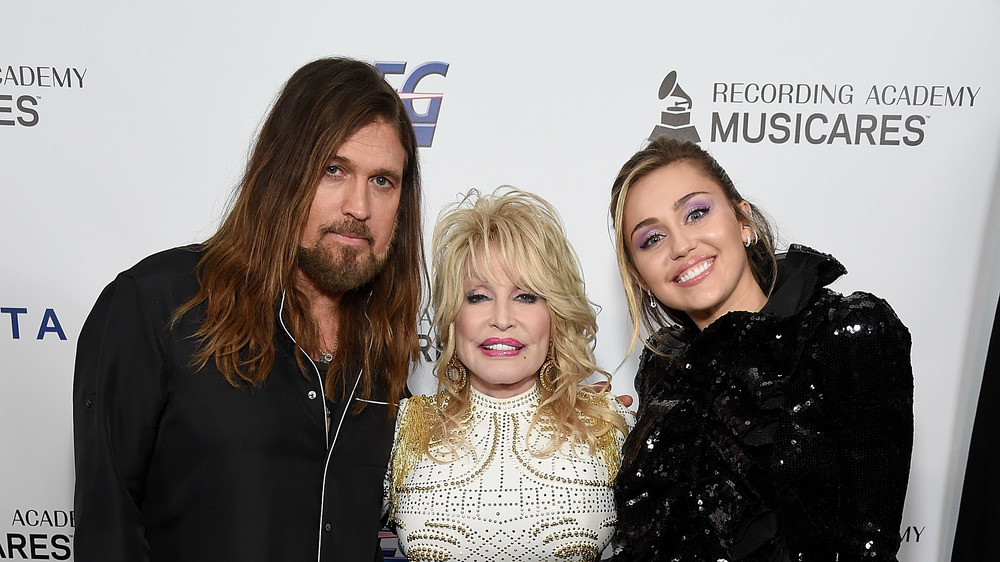 Michael Kovac/Getty Images
So does "just being Miley" include being a little bit Dolly Parton? Well, according to Parton, the answer is yes. For Marie Claire's new holiday issue, Parton spoke with RuPaul about all things Dolly, and their conversation ventured into Parton's relationship with Miley.
"One of my favorite sayings that I say about myself, that I made up, is that my desire to do something has always been greater than my fear of it," Parton told the RuPaul's Drag Race host. "So I think that Miley often gets out there. She will get out there and get on that tightrope without a net underneath her. But how else are you going to know? She'll take those chances. And I take chances too. We just do it in a different way" (via PopSugar).
So far, Miley has followed in Parton's footsteps when it comes to her musical ability, but what about Parton's humanitarian efforts?
How Dolly Parton is healing the world -- literally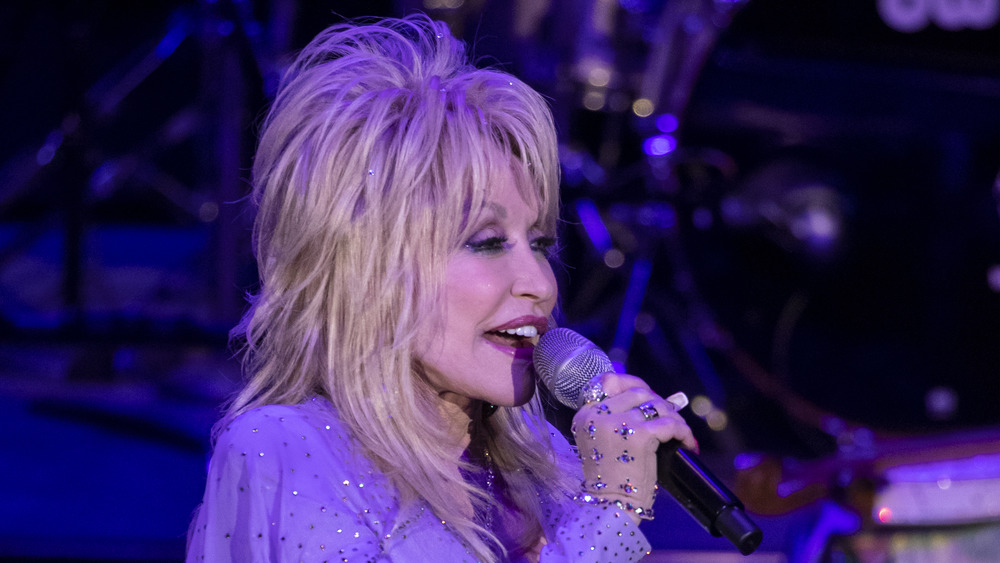 Brett Carlsen/Getty Images
The year 2020 has been a big one for Parton. In addition to the release of her Netflix film Christmas on the Square and her Christmas album A Holly Dolly Christmas, it turns out Parton helped fund the Moderna vaccine for COVID-19 (via The Guardian). Over the years, the singer has made donations to Vanderbilt University medical center — and one of these donations (to the tune of $1 million) went to COVID-19 vaccine research. This is just one of Parton's many charitable acts over the years: From launching Imagination Library to helping to revive the economies of a number of Smoky Mountain communities, Parton truly has used her wealth and influence to help others (via Consequence of Sound).
And so far, Miley has, in fact, followed in her godmother's footsteps. In addition to founding the Happy Hippie Foundation, Cyrus has supported organizations like Amnesty International, The Elton John AIDS Foundation, amfAR, and more (via Borgen Magazine). So if Cyrus really is following in Parton's footsteps, it looks like we'll be getting lots more music, activism, and headlines over the years — and maybe even a Christmas special or two if we're lucky.