The Real Reason Miley Cyrus Got A Mullet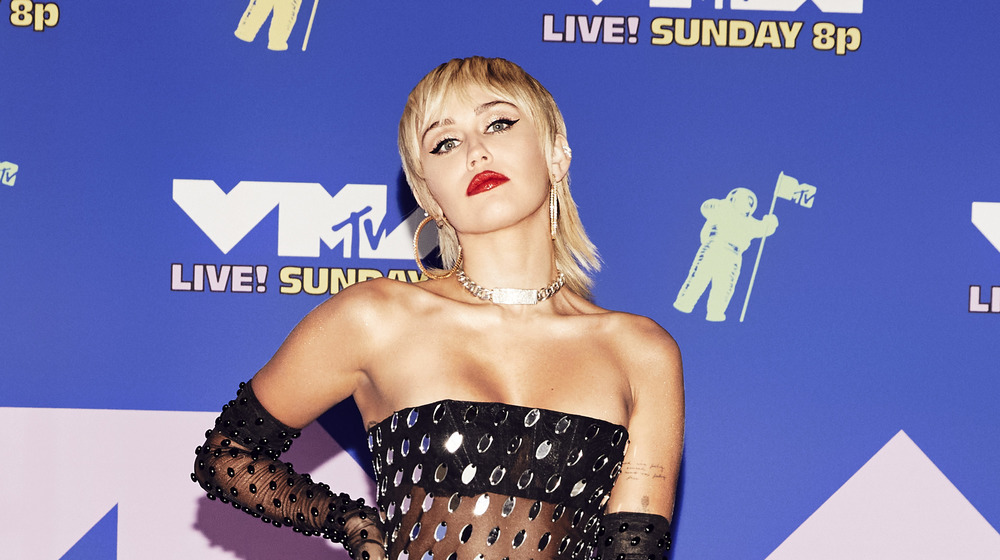 Vijat Mohindra/mtv Vmas 2020/Getty Images
Miley Cyrus has never shied away from an atypical look, and these days, that look includes a very unconventional hairstyle.  
Speaking with Jimmy Kimmel Live on Monday night, the pop sensation talked about the mullet look she's been rocking as of late, crediting her mother, Tish Cyrus, for the cut, due to her hair salon being closed amid the coronavirus pandemic. 
"All of us have had to adjust, a lot of things shutting down, keeping us from doing our kind of standard routines, which one of them was going to get a haircut for me," Miley told host Jimmy Kimmel (per People). "So my mom offered, you know my bangs, I already had bangs and they were getting long, and [my mom] said, 'Well I can cut your hair, but I only know how to do one hairstyle, and I've been doing this since 1992 for your dad and for your brothers.' And all my mom can do is a mullet so I had one option and needed it."
The singer — who recently dropped her new album Plastic Hearts — joked that her family was seemingly "genetically" predisposed to sporting a mullet, considering how her father, Billy Ray Cyrus, made the look popular amid his "Achy Breaky Heart" success in the early '90s. "It just kinda grows naturally shorter up top and longer in the back, that's just kind of a natural shape that our hair grows in," Miley said. 
Miley Cyrus has always been unconventional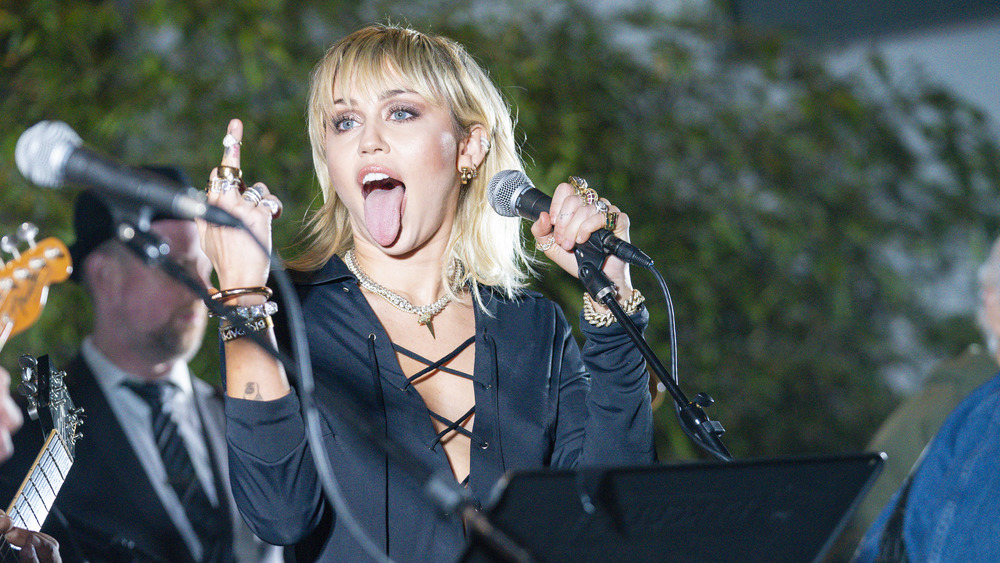 Erik Voake/Getty Images
While discussing her eccentric hair cut, the "Midnight Sky" singer went to on joke about her wild ways, noting how the last time she was on Kimmel's late night talk show, she wore heart-shaped nipple pasties. For Monday's broadcast, she was wearing a black sweater. "Bought my first sweater so I thought I'd wear it to show you how much I've grown, she laughed. 
Miley went on to recall her time as a child and how she always loved being in the nude. "My parents used to buy me sweaters and when I was a kid I used to strip down naked in public places and they thought I would outgrow it, obviously I didn't." 
Later in the show, show host Kimmel brought on one of Miley's super fans to play "Who Knows Miley?" as the fan and Miley answered questions about the star. One of those questions involved how many tattoos Miley has, and the 28-year-old admitted she had "no idea." 
"How do we know this and you don't?" Kimmel said, to which Miley responded, "Because you are probably much more coherent when I am getting these tattoos."
Kimmel then shared that Miley actually has 74 tattoos, actually surprising the "We Can't Stop Singer." Perhaps having such a carefree attitude is sometimes hard to keep track of!