Nail Trends You'll See Everywhere In 2021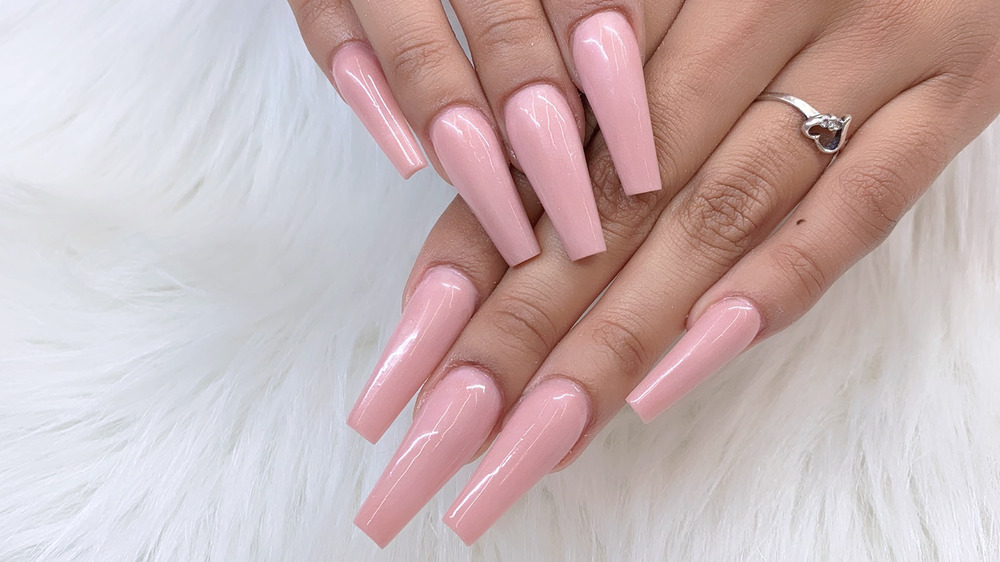 Shutterstock
As 2020 draws to a close, it's clear to see that the COVID-19 pandemic affected nearly every part of our daily lives — even our personal style. For professional and amateur nail artists alike, the chaos of 2020 paved the way for experimentation with shapes, colors, and styles as they related to nail art.
For millions of people across the world, the resulting shutdown meant no longer having access to manicurists and nail artists. So, to compensate for this loss, many people relied instead on their own creativity to craft DIY nail art (via Allure).
Perhaps drawing from this ingenuity, the nail trends we're likely to spot in 2021 are inherently creative and bold. On the other hand, though, many nail trends are also sure to surface that hearken back to simpler, less chaotic times (hello coffin nails!).
Without any further ado, these are the 2021 nail trends sure to take center stage.
Retro-inspired designs
In 2021, groovy nail designs, such as these, that are reminiscent of the 1960s and '70s will continue to be incredibly popular (via Instagram). "This is why there's been a wave of a retro revival through manicures that give a nod to the '60s and '70s aesthetics," nail artist and OPI educator Sigourney Nuñez told Allure. "This is expressed through rustic shades paired with pastel brights and graphic, swirly patterns that are therapeutic to execute."
To make these swirly patterns happen at home, apply a base coat and use a toothpick or small brush to create the precise lines desired.
Bold personal statements
Another nail trend that will continue to be incredibly popular in 2021 is the use of personal statements (think: inserting your personal hobbies, like gardening or art, on to your nails) to create bold designs, like seen in this lime green-themed set (via Instagram). Especially with stress at an all-time high, people are looking for different, more efficient ways to express themselves — and personally-curated nail statements seem to be the way to go in 2021.
To execute this look, nail artists predict that there will be a spike in design elements like calligraphy and hand-lettering. A-list celebrities like Jennifer Lopez and Billie Eilish have rocked calligraphic nail art in 2020, and many more are predicted to do so in the coming months (per Allure).
Ballerina nails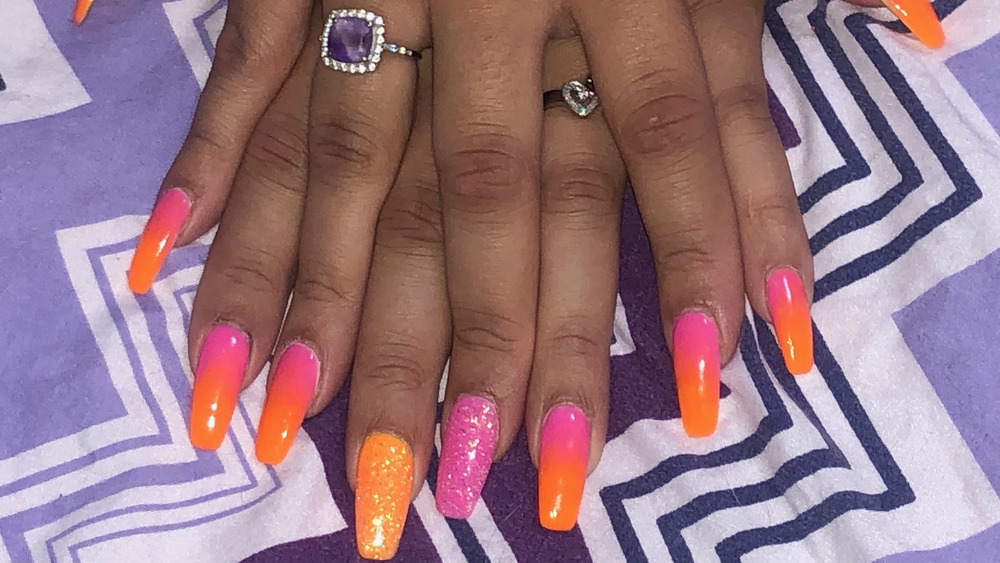 Shutterstock
In the mid '90s, ballerina nails — aka coffin-shaped nails — became incredibly popular. In the meantime, celebrities like Kylie Jenner have maintained their prominence as a consistent nail trend. In 2021, it is predicted that amateur and professional nail artists alike will stick to tapered square and coffin-shaped nails outfitted in abstract art and brown tones (per O, The Oprah Magazine). To achieve this look, your nail file is your best friend — simply use the file to shape the coffin nails of your dreams. They're edgy, stylish, and a fresh shape in comparison to the usual rounded or squared off tips many opt for in salons.
Muted tones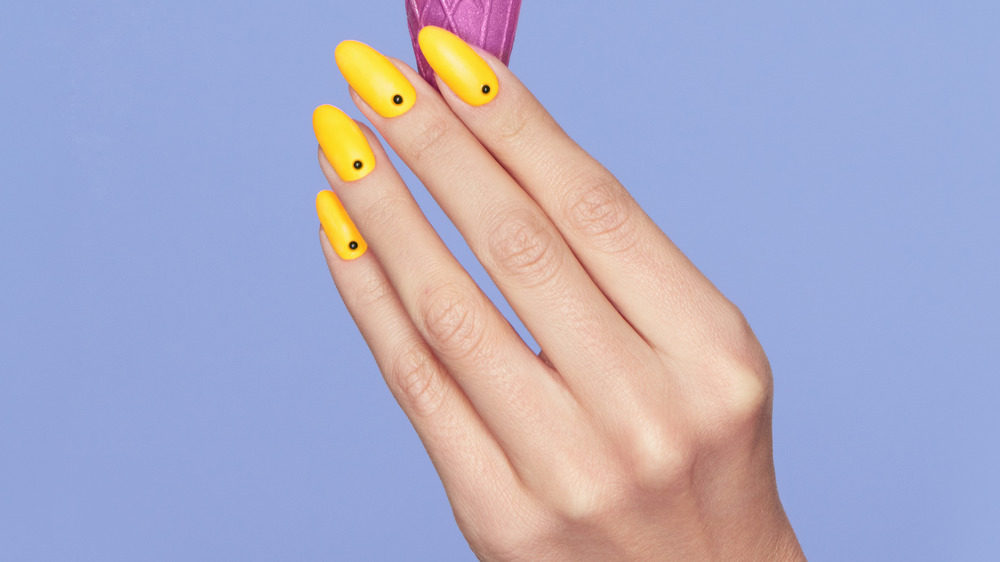 Shutterstock
Especially in the coming year, bright colors with muted undertones, like sage, melon, and buttery yellow, will be outfitting every nail shape and design. "Celebrities gravitate towards these colors for red carpets, cover looks, and everyday wear because they complete any look without a glaring statement," nail artist Elle told Allure. They are also calming colors that have a feel-good mood." Although bright hues are instant mood-boosters, this subdued version serves as a trendy and sophisticated take that still adds plenty of color.