The Truth About Kacey Musgraves And Harry Styles' Relationship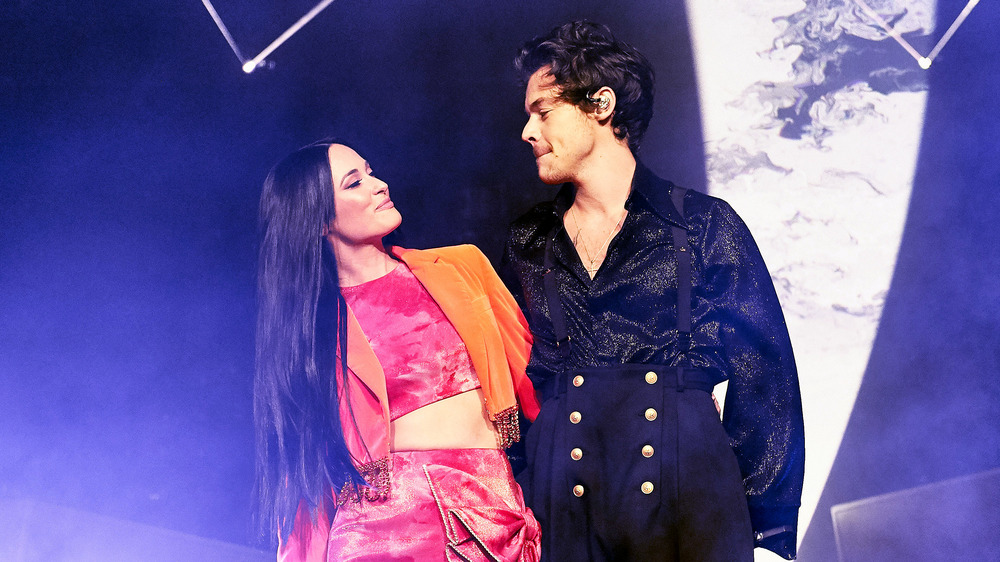 John Shearer/Getty Images
They're two of the hottest stars in music, in all senses of the word, but they're not the most obvious pairing — at least they weren't until now. With the recent news of her divorce from musician-husband Ruston Kelly, country superstar Kacey Musgraves is primed for a new relationship with former One Direction member Harry Styles. They recently partook in a swoon-worthy duet of her hit song "Space Cowboy," leading fans to pair them up romantically, too (via YouTube).
Rolling Stone notes that Styles reportedly gushed to the assembled crowd, "As a peer, and someone I like to call a friend, it's always a pleasure, an honor to share the stage with this lady." The duo collaborated previously, during Styles' 2018 tour, with a rendition of Shania Twain's iconic love song, "You're Still the One." Is it just a musical connection, or is there something deeper between these two?
Kacey Musgraves and Harry Styles really love performing onstage together
In an interview with the Sun Sentinel, Musgraves said that going on tour with Styles was a no-brainer. She explained, "I love the challenge of being put with an artist that you normally probably wouldn't think to put me with. I think it's a brilliant combination ... When I got asked to [tour with Harry Styles], I was like, 'Yes, I can totally see this being so fun and making sense.'"
That tour had long since ended by the time the country star reunited with the pop icon for "Space Cowboy," at Kacey's 2019 concert in Nashville, however. After several photo-booth shots were posted online, fans pointed out that Styles made a major effort to be there, flying all the way from London to Nashville to perform with her.
Fans are dying for Musgraves and Styles to couple up
After two years of marriage, Musgraves and Kelly split, confirming in a statement to the Associated Press, "We've made this painful decision together — a healthy decision that comes after a very long period of trying the best we can. It simply just didn't work." Now that she's free and single, fans of both the country star and Styles can't help putting the two of them together. "Why is nobody bringing up the idea that if Kacey Musgraves and her husband are over she can be with Harry Styles?" one fan asked on Twitter.
"I'm not mature enough to accept whoever Harry Styles ends up with, but if it's Kacey Musgraves I will be OK," another fan tweeted. It remains to be seen whether they'll collaborate on anything but music, but Musgraves and Styles would certainly make a gorgeous couple if they ever did get together.