Taylor Swift Sets The Record Straight About A Possible Woodvale Album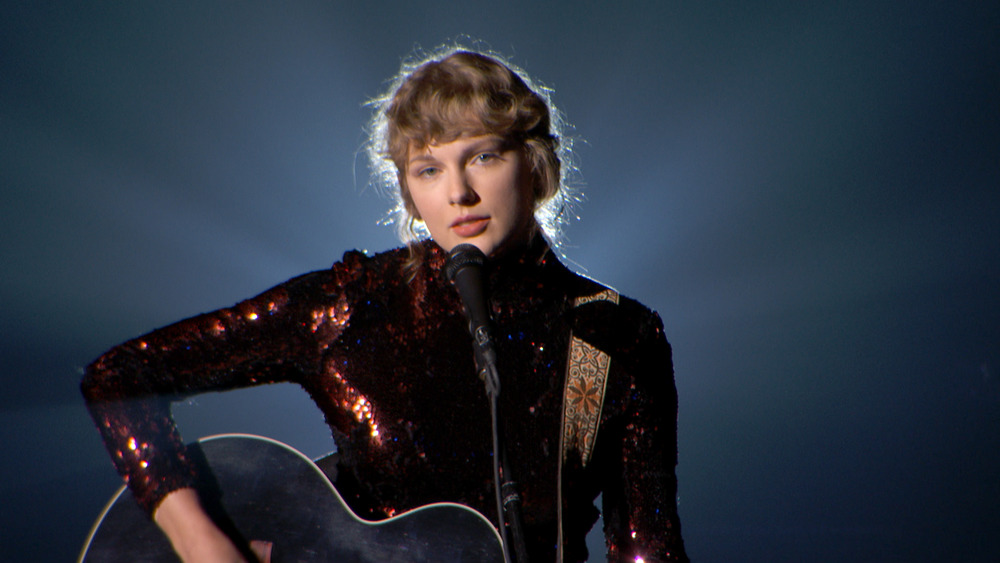 Acma2020/Getty Images
First, Taylor Swift delighted the quarantined world when she dropped a surprise album in July. Of course, this was the widely-acclaimed Folklore, which we assumed was the singer's gift to us in a year without much to look forward to. Then, shocker of all shockers, Swift announced she was releasing a sister album to Folklore, called Evermore. This exciting new 15-track compilation was dropped just days shy of the songwriter's 31st birthday to equally rave reviews. And of course, the internet couldn't stop talking about how Swift had basically saved 2020 with her dual albums.
But wait. Would there be more? After all, we didn't expect one new album from the prolific performer this year, let alone two. Could a third release be in our future? Fans certainly thought so, with one pointing out the word "Woodvale" was hidden on the cover of Folklore among leaves on a tree (via ET Online). On Twitter, a Swiftie even predicted, "woodvale will be the third #TaylorSwift album which will come out in the spring and it'll be like a trilogy- woodvale, evermore & folklore." 
So is there any truth behind the notion that Woodvale is about to drop?
Woodvale was the result of a mistake on the album cover art
Appearing remotely on Jimmy Kimmel Live on Monday evening, Swift admitted she does enjoy planning secrets for her fans (via CNN). "I tend to be sort of annoyingly secret agenty about dropping clues and hints and Easter eggs and it's very annoying, but it's fun for fans and it's fun for me because they like to pick up on things," she told Kimmel, adding, "And they'll notice lots of things in music videos or photos or whatever and then sometimes I take it too far and I make a mistake."
This was the case with "Woodvale," which Swift chose as a way to keep the real title of Folklore a secret. She had a mock-up created so she could see what the cover would look like — and apparently her team forgot to remove the word. Likewise, she decided upon "November," as the code name for Evermore.
"We remembered to take it off all the mock-ups of the album cover this time," she assured fans, adding, "We learned our lesson." She also noted she had tired herself out creating two albums — so a third will not be forthcoming. Sorry fans!