Billie Eilish Has A Good Reason For This Unusual Sleeping Arrangement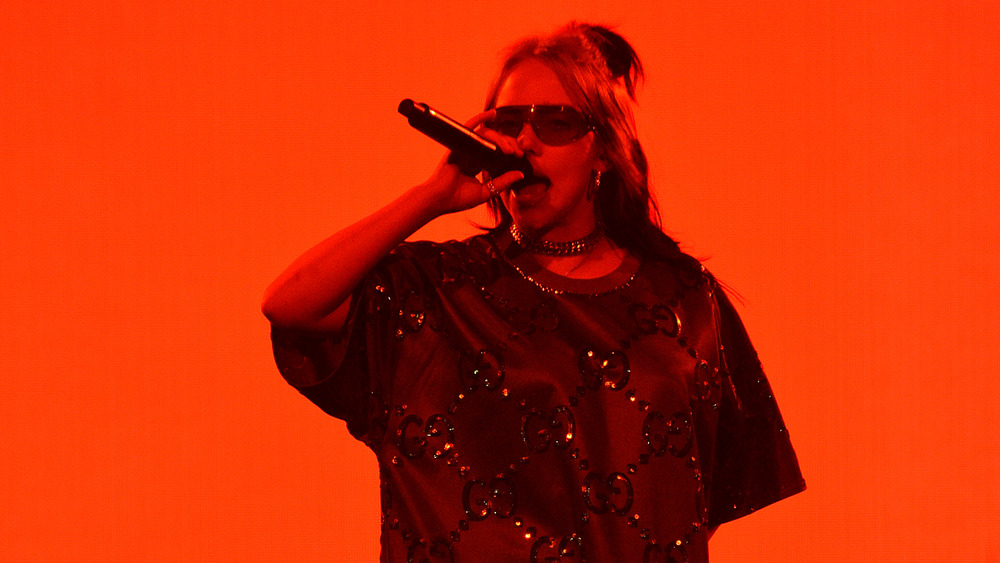 Kevin Mazur/Getty Images
We're about to get to know Billie Eilish on a whole new level. Apple TV will be premiering the singer's first documentary film, The World's A Little Blurry, with a trailer that was released this week. The singer has never been one to shy away from presenting a more personal side of her life, often sharing anecdotes about her family, her upbringing, her quirks, and even giving James Corden a tour of her family home during an episode of Carpool Karaoke. But the trailer for the upcoming documentary, projected to premiere on February 26, 2021, seems to hint that it will divulge more of this personal side of her life, as well as including concert footage and behind the scenes moments.
But one moment of the trailer that fans can't help but zero in on? Eilish is still so close with her family that she even admits that she sleeps in her parents' bed — and the reason is pretty adorable. Despite her enormous success, which the trailer reminds us looks a little bit like 141 nominations, 137 million followers, and 56 billion streams, the 17-year-old reminds us that she is just that: 17 years old. "This is my parents' bed," she said as she laid down and scrolled through her phone. "I sleep in here because I'm scared of monsters in my room" (via E! Online).
The documentary will remind us all just how young Eilish really is
This isn't her first time mentioning her fear of monsters. In a 2019 interview with Rolling Stone, Eilish explained that she still jumps into bed at night in case there's a monster underneath waiting to grab her. "I actually had to stop watching horror movies, because everything started flipping me out," she said. "I saw creatures outside my windows. I had sleep paralysis. I'm done with the fake s*** — real life is way too scary" (via Rolling Stone).
Eilish is still so young, which is often forgotten due to her incredible career. When she's at home with her family, she's just like every other teenager out there. Eilish has famously spoken about the fact that she still lives at home with her parents in the house that she grew up in. "I'm living with them at home, and then on tour, they're living with me. That's what it is" (via Cheat Sheet).
The trailer shows Eilish performing to gigantic crowds, and then quickly juxtaposes that incredible image of success with footage of her taking her driving exam, washing her first car, cuddling with her parents, and goofing around with her brother.
We can't wait to see this vulnerable and relatable side of Eilish and will be keeping our eyes out for the February documentary.