Alexandria Ocasio-Cortez Has Strong Words About Nancy Pelosi's Leadership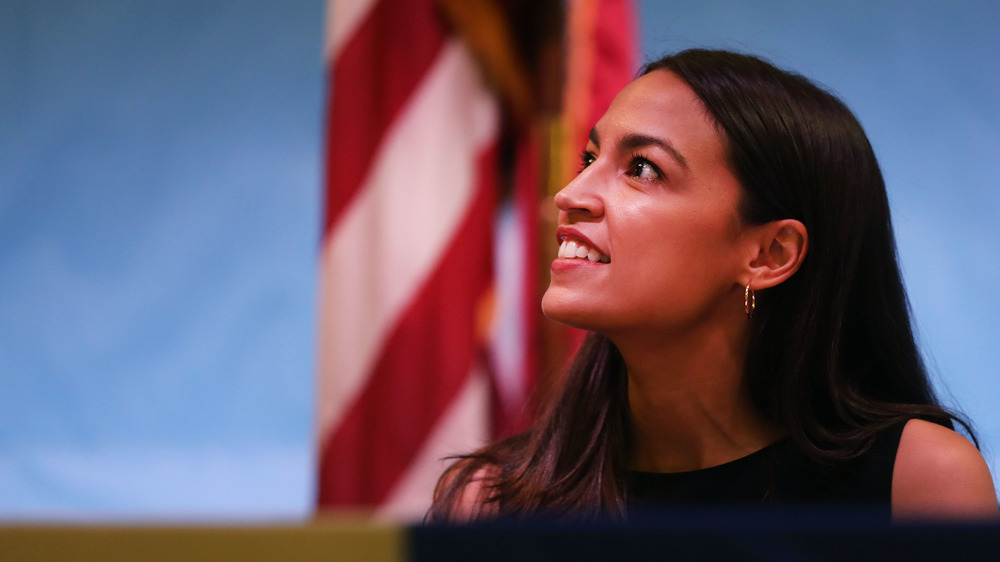 Spencer Platt/Getty Images
Alexandria Ocasio-Cortez doesn't want Nancy Pelosi's job. Don't get her wrong: "The House is extraordinarily complex and I'm not ready," she told The Intercept, "It can't be me. I know that I couldn't do that job." But with The New York Times reporting that even Mitch McConnell has now congratulated President-elect Joe Biden on his win, Republican resistance to a Democratic administration is waining. And the congresswoman from New York, who'd thrown her weight behind the Democratic party apparatus during election season, is now refocusing her attention on what she considers to be much-needed reforms within her party.
"We aren't in a free fall to hell anymore," Ocasio-Cortez told The New York Times after the election was called, "the question is if and how we will build ourselves back up." There's no doubt that the congresswoman's vision stands in stark contrast with Speaker of the House Nancy Pelosi's center-left leanings. Ocasio-Cortez is the kind of politician who gets as much media coverage for gushing about Harry Styles' Vogue Cover as she does for purportedly procuring President-elect Biden's support for a $2 trillion climate plan in the form of a Green New Deal (via ABC). She's become, says Vox, the face of what might become "the future of the left," young, charismatic, Twitter-comfortable, and unafraid to push an agenda of "guaranteed health care, higher education, living wages, and labor rights." And, as she, recently told The Intercept, Ocasio-Cortez doesn't think that Pelosi has a place in Democratic Party's future.  
Ocasio-Cortez criticizes Nancy Pelosi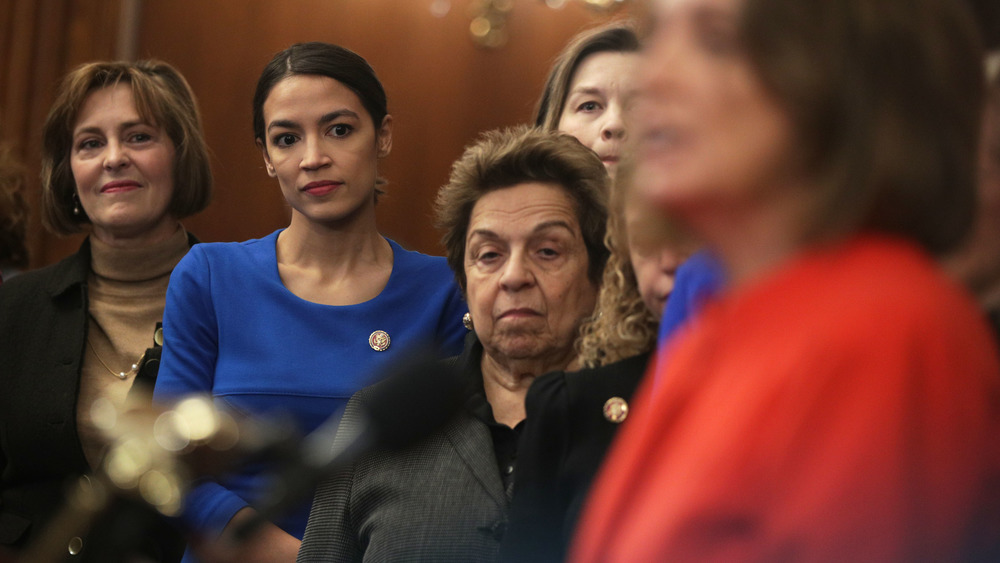 Alex Wong/Getty Images
In Ocasio-Cortez's ideal world, Nancy Pelosi would no longer serve as Speaker of the House during the Biden administration. (Neither, she told The Intercept, should Senate Minority Leader Chuck Schumer). But Ocasio-Cortez also sees no way to make her dream world a reality. She's worried about who might take Pelosi's place, should she be voted out in January. "If you create that vacuum, there are so many nefarious forces at play to fill that vacuum with something even worse," Ocasio-Cortez reflected, noting that nobody within the Democratic Party had concerned itself with "real grooming of a next generation of leadership."
Ocasio-Cortez's criticism might well have an effect on January's vote. As Politico recently observed, Nancy Pelosi is up against "tight margins" and thus needs "near-perfect showing from rank-and-file Democrats" to win the speakership. Pelosi, has not, to date, responded to her colleague's criticism, although she's downplayed Ocasio-Cortez and the so-called "Squad's" influence in the past. "All these people have their public whatever and their Twitter world," Pelosi told The New York Times in 2019 referring to Ocasio-Cortez and fellow congresswomen Ilhan Omar, Rashida Tlaib and Ayanna Pressley, "But they didn't have any following. They're four people and that's how many votes they got."