What Barack Obama Really Thinks Of Malia's Boyfriend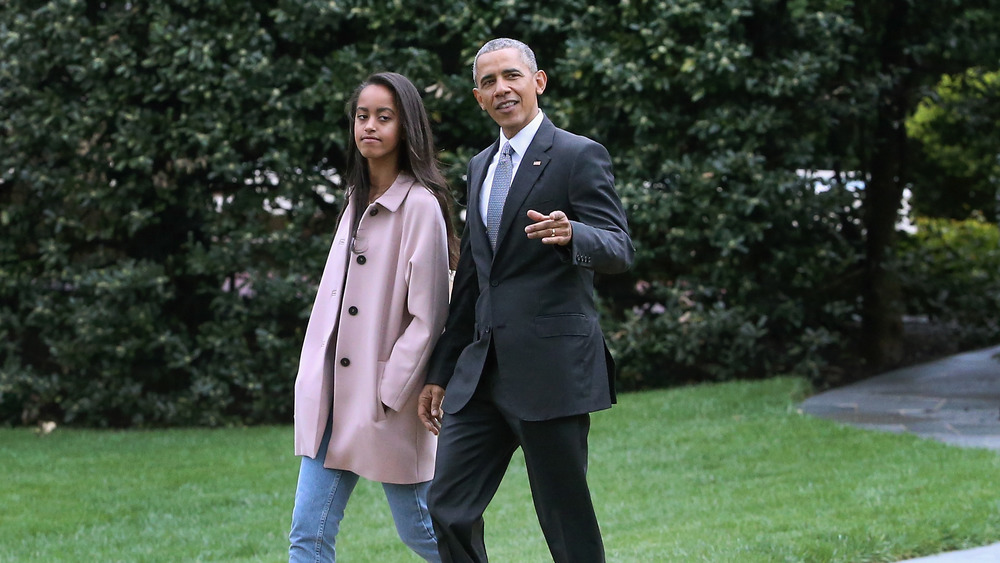 Mark Wilson/Getty Images
Malia Obama and her millionaire boyfriend of approximately three years, Rory Farquharson, may not be engaged (Gossip Cop discredited that rumor in March 2020), but they're certainly going strong. Malia, for one, reportedly spent the Christmas holiday with Farguharson in London. In January 2020, The Daily Mail wrote that a witness to their holiday spotted the couple near the Duke of Cambridge pub in north London, "keeping a low profile but looking really happy and relaxed together." In the summer of 2019, the pair reportedly lived it up at a luxury resort in California with Farguharson's parents. It was a vacation that, according to Express, Michelle and Barack Obama also participated in. They, apparently "brunched" together with his parents. Because, we'd imagine, nothing is better for bonding than mimosas and avocado toasts, right?
Clearly, the two are close. And, it turns out, they're even tighter than we previously thought. Barack Obama dropped the bomb during his recent appearance on The Bill Simmons Podcast, during which he talked about the time his family spent in quarantine. Remember how Michelle Obama admitted that the family spent their evenings playing Spades on her podcast back in August 2020? "They've got a spades tournament," Michelle Obama narrated, "Barack has taught the girls spades, so now there's this vicious competition" (via People). Barack Obama didn't just teach his daughters. He also taught (wait for it) Malia's boyfriend, who, the former president admitted to Bill Simmons, "was with us for a while."
Barack Obama gives Malia's boyfriend the thumbs up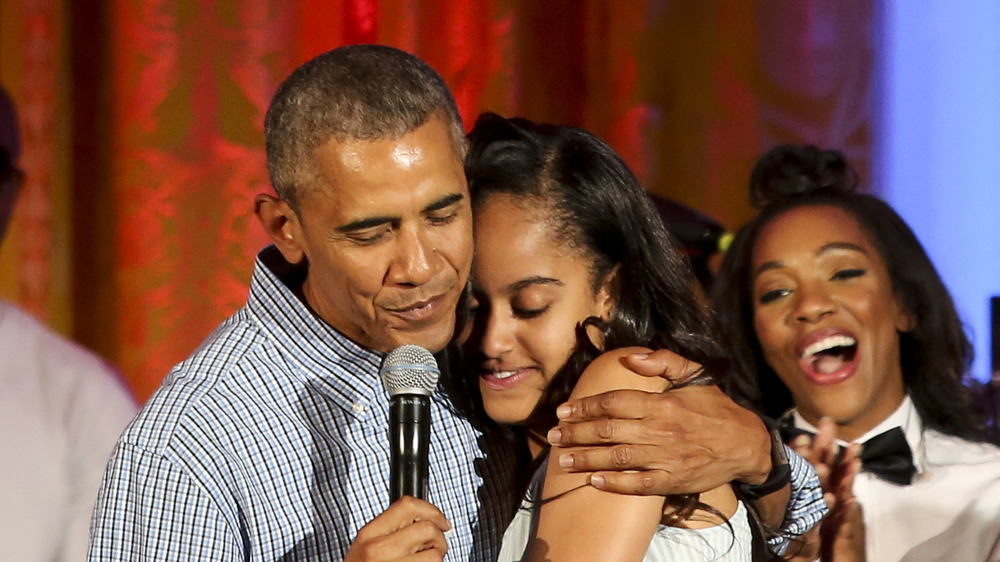 Pool/Getty Images
"He's British, wonderful young man, and he was sort of stuck because there was a whole visa thing and he had a job set up," Obama explained, "So we took him in and I didn't want to like him, but he's a good kid" (via Glamour). (For what it's worth, Farguharson also has a connection to the British royal family. Per Express, his second cousin, Andrew, once served as the Queen's Master of the Household, a post for which he lived in Buckingham Palace. All of which means that there's an outside chance that we might see Malia Obama in The Crown one day.)
"The only thing you discover — [and] this is not a surprise to you, Bill, because you've got a son — young men eat," Obama continued, "It's weird to watch them consume food. My grocery bill went up about 30%." If Obama seems relaxed about having had the young man as a visitor in his house, that's not a new attitude. In 2016, he had a similar attitude when he gave an interview to WDCJ in Raleigh, North Carolina. His laissez-faire attitude has everything to do with his wife. "She's such a great example of how she carries herself, her self-esteem not depending on boys to validate how you look or you know, not letting yourself be judged by anything other than your character and intelligence," Obama told the radio station (via ABC News).