Inside Anne Hathaway's Friendship With Emily Blunt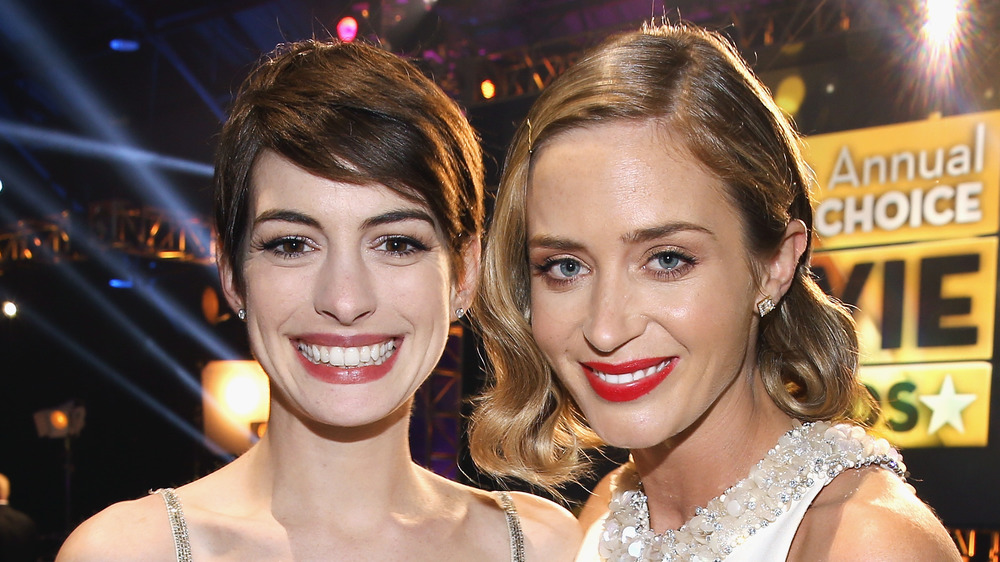 Christopher Polk/Getty Images
Anne Hathaway and Emily Blunt have a friendship that dates back to 2006, when both actresses starred in The Devil Wears Prada. Years later, in 2008, Hathaway and Blunt found themselves sharing the cover of Vanity Fair's Hollywood issue and, at the time, Hathaway had nothing but kind words for her former co-star during the photoshoot. She told Entertainment Tonight, "It was a really exciting time. I was also happy. Emily, we just really bonded on The Devil Wears Prada, so to be there with one of my favorite people that I've met at my job, you know, was really special" (via Yahoo! Entertainment).
The pair have kept their friendship going strong ever since. In fact, even Blunt's husband, The Office star John Krasinski, has his own funny Anne-and-Emily story! According to People, Krasinski is a pretty big fan of The Devil Wears Prada. While appearing on The Graham Norton Show, he explained that it is just one of those movies he loves to watch.
"It's one of those things that back in the day, us elderly people used to channel surf," he explained. "Nobody does that anymore. It's just one of those movies that whenever you're going through the channels, you just stop and you look."
John Krasinski had a crush on Anne Hathaway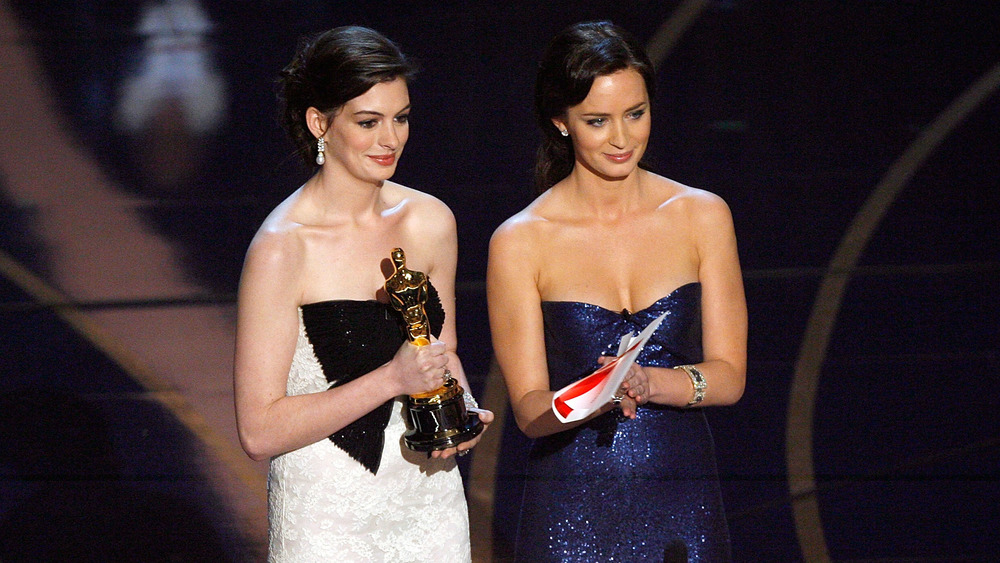 Kevin Winter/Getty Images
That's not all John Krasinksi had to say about the movie, though, and about his wife and her famous co-star. He went on to share that he confessed his fandom to Emily Blunt when they met. "When we first met, I was like, 'I just want to get it out of the way — I'm a huge fan of yours.' I was full stalker-status. I was like, 'Hey, you want to go out on a date with me?'" (via People).
In fact, Krasinksi likes the movie so much that he still watches it. His fandom has even become an inside joke that he shares with Blunt. She told Graham Norton, "There's a sort of montage sequence where Anne Hathaway's got numerous fabulous outfits that they go through. And John, one day I came home, and he was watching it and he was watching the montage bit. And he goes, 'That's my favorite outfit'" (via YouTube).
Krasinksi jumped in and added, "I couldn't get Annie and so I was like, 'Ohhhh...'" and implied that he began dating his wife since he could not date Hathaway. However, it seems everything worked out in their favor because Blunt and Krasinski have been happily married since 2010.