Why Kamala Harris And Joe Biden Are Staggering Their COVID Vaccinations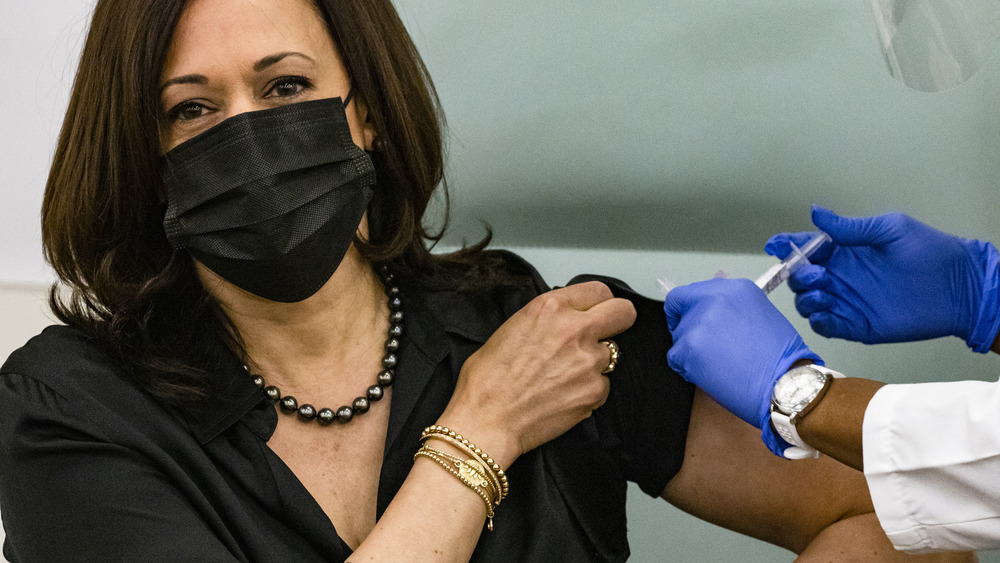 Samuel Corum/Getty Images
Vice-President Elect Kamala Harris has received her first dose of the COVID-19 vaccine on live television today at the United Medical Center in Washington, D.C. After receiving the Moderna vaccine, she said "That was easy," after receiving the shot in her left arm. "Thank you. I barely felt it" (via CNN). Harris made sure to use this time to encourage everyone not to be afraid of the vaccine and to take it when they get the opportunity to. "I want to encourage everyone to get the vaccine," she encouraged. "It is relatively painless. It happens really quickly. It is safe." She informed sources that her husband, Doug Emhoff, will also receive the Moderna vaccine today.
"I want to remind people that right in your community is where you can take the vaccine, where you will receive the vaccine, by folks you may know, folks who are otherwise working in the same hospital where your children were born. Folks who are working in the same hospital where an elderly relative received the kind of care that they needed," Harris said.
President-Elect Joe Biden echoed the same sentiments when he received the Pfizer and BioNTech vaccine last week (via the Mercury News). According to CNN, there was a very deliberate reason for spacing out the vaccinations between Harris and Biden.
Biden and Harris encouraged the public to get vaccinated as soon as they can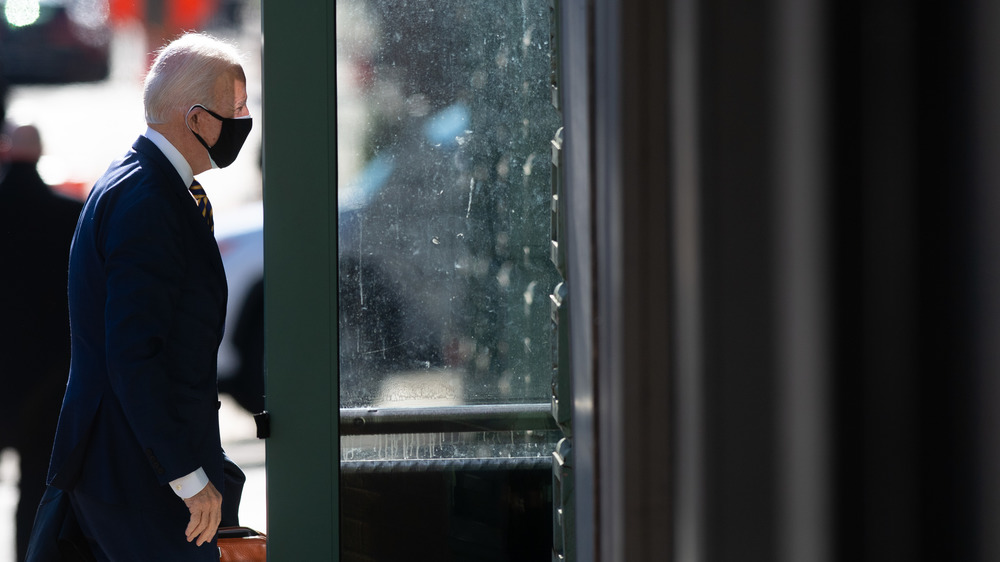 Mark Makela/Getty Images
According to transition spokesperson Jen Psaki, medical experts strongly encouraged Biden and Harris to stagger their vaccinations (via U.S. News). While the reasoning for this recommendation hasn't been officially confirmed, speculations suggest it was due in part to attempting to minimize the possibility of Biden and Harris experiencing side effects on the same days. According to the CDC, the most common vaccine side effects include fever, chills, tiredness, and headache. Heathline says that these side effects can last for an average of 1 to 2 days, and the majority of people only experience mild or moderate symptoms, with severe symptoms being much less common.
Biden reassured Americans to get vaccinated as soon as it became available to them, speaking to his belief in its safety and efficacy. He and Harris were vaccinated shortly after Dr. Anthony Fauci told ABC that he strongly recommended that Biden and Harris be vaccinated as soon as they could. "I feel extreme confidence in the safety and the efficacy of this vaccine and I want to encourage everyone who has the opportunity to get vaccinated so that we can have a veil of protection over this country, that would end this pandemic," he said (via ABC).
Harris said after the receiving her vaccine, "I want to remind people that they have trusted sources of help and that's where they will be available to go to get the vaccine. So I encourage them to do that."