Inside Dr. Dre's Rocky Marriage To Nicole Young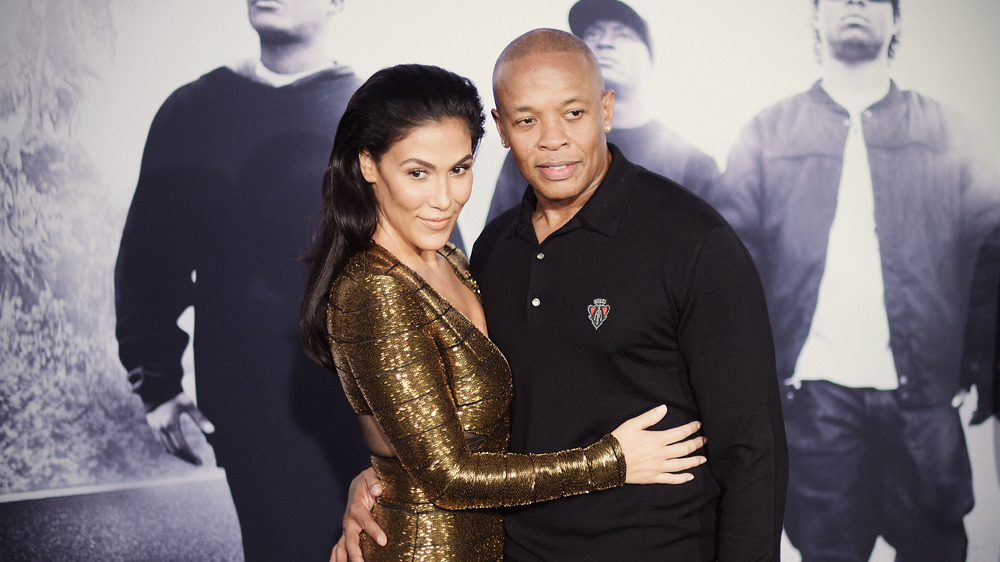 Jason Kempin/Getty Images
The divorce proceedings between Dr. Dre and Nicole Young sound like the script of a romance that's about to become a whodunnit: including a supposedly torn-up prenup, reports of lavish monthly spending, accusations of illegal activity, suggestions of extra-marital children, and a confusing one-night reconciliation attempt on the pair's wedding anniversary.
In June 2020, The Blast dug up Nicole Young and Dr. Dre's divorce papers, in which Young (once a practicing attorney) cited "irreconcilable differences." In this case, "irreconcilable differences" seems to be a euphemism for, to take CNN's Jake Tapper's words out of context, "a hot mess, inside a dumpster fire, inside a train wreck."
To recap: in October TMZ reported on an LAPD investigation into whether or not Young had embezzled nearly $385,029 from Dr. Dre's business partner Larry Chatman's and Dr. Dre's business account. And while, per TMZ, the rapper claims to be paying for Young's Malibu estate and sends over cash whenever she wants it, Young's insisting on $2 million monthly spousal support payments, well above the 293,306 that Dr. Dre wants to pay her. Which brings us to a prenup that Young insists that she signed only due to "the extraordinary pressure and intimidation," and which Young insists Dr. Dre destroyed "in an act of love and regret" a couple of years after they married (via Vanity Fair). The prenup would not exempt Dr. Dre from paying spousal support, although any property Dr. Dre acquired during his marriage to Young would belong solely to him. 
Dr. Dre's alleged infidelity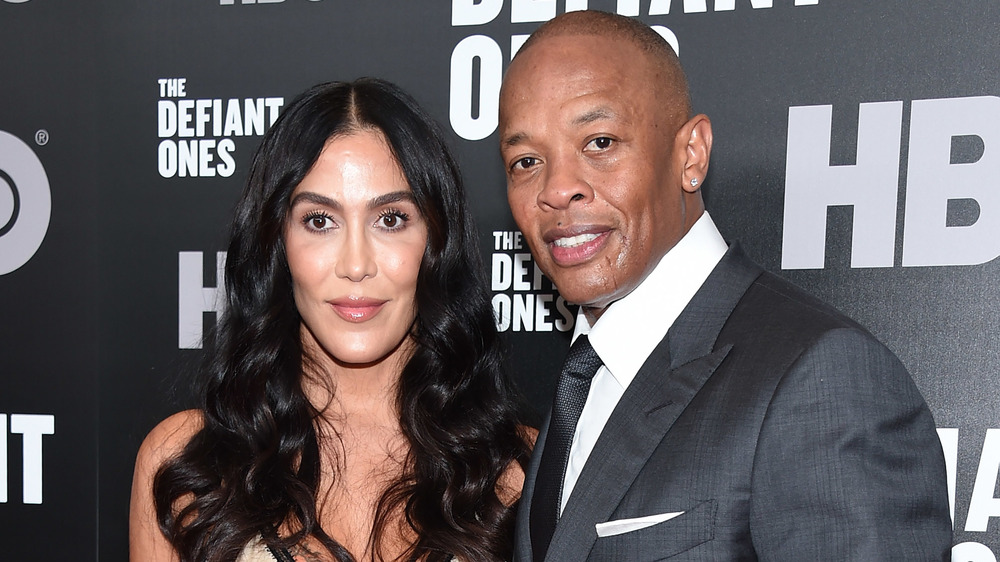 Michael Loccisano/Getty Images
Court papers unearthed by The Daily Mail give us further, troubling insights into Dr. Dre and Nicole Young's rocky relationship. Here's what we know. Young apparently moved out of their shared home in March or April 2020. She now claims she suffered domestic violence during the course of their 24-year relationship. Dr. Dre vehemently denies these claims. He holds up a wedding anniversary reunion in May 2020 as supposed proof of Young's dishonesty, although how a one night stand refutes allegations of years of marital abuse is a bit of a mystery to us.
Meanwhile, TMZ reports that Young has filed court documents asking to see proof of whether Dr. Dre had any secret children during their marriage. She has further asked the judge in her divorce case to subpoena Jillian Speer, Kili Anderson, and Crystal Rogers (who you might know as Crystal Sierra) as Dr. Dre's supposed mistresses in their divorce trial. In an email that Young sent her husband before filing for divorce, and which are included in the divorce proceedings, Young writes, "In my heart and my gut, I know that you are with other people...I'm sure I don't have to tell you the incredible amount of hurt and pain I am in knowing you are not faithful."
 Dr. Dre has not publicly denied accusations of infidelity.