The Weeknd's New Look Is Turning Heads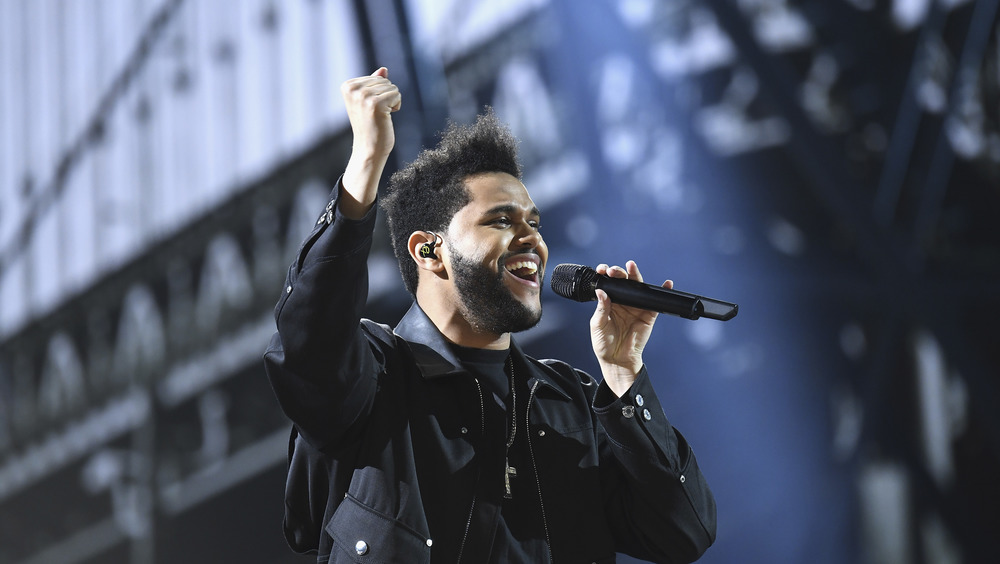 Pascal Le Segretain/Getty Images
The Weeknd posted a new picture on Instagram, and "Handsome Squidward" (any Sponge Bob fans out there?) is one of the kindest reactions we found to it. "Either it's fake or this ur real alien form," wrote another, stunned Abel Makkonen Tesfaye follower. At least his record label's CEO, Wassim Slaiby, gave his look a thumb's up. And model and actress Emily Ratajkowski thinks it's "so good."
You might have been a little taken aback by The Weeknd's mummy-like bandages at the 2020 AMAs. You may even have learned to appreciate his 2020 VMA bruises. But if you haven't seen Tesfaye's new face yet, you may want to sit down. And then, take a deep breath and dive into his new music video, "Save Your Tears," for some context (via YouTube). Without his newest track, all we're left with is "ouch" or some seriously grotesque plastic surgery — complete with scarring around dramatic cheek fillers and gloriously puffed-up lips. 
Did The Weeknd really get plastic surgery?
One Youtube viewer mused that The Weeknd's new face "is definitely inspired by the movie that stars Jim Carrey, The Mask." They'd be forgiven for thinking that everything the Weeknd does seems like scenes out of a horror movie. That's probably the point. As Tesfaye told GQ, from a young age, he fell in love with what the magazine terms "dark, psychologically disturbing films." And, as Vice points out, his passion for the genre has long permeated his music videos, which often reference classics like Nightmare on Elm Street, The Birds, and Dracula. If Abel Makkonen Tesfaye is an artist, "The Weeknd" is his drawing board. The Weeknd's face, be it covered with bruises, bandages, or prosthetics, is a spectacular part of the act. 
The Daily Mail will assure you that no true plastic surgery was involved in the Weeknd's latest look. We assume. Probably. You'll remember (as Billboard does) that the last time The Weeknd preformed "Save Your Tears," his face was bandaged at the 2020 AMAs. In this latest continuation of dramatizations from his album, After Hours, The Weeknd, still suited in red, sings the song's lyrics, his face-gone-wrong finally revealed. As the artist croons, "You could've asked me why I broke your heart, you could've told me that you fell apart, but you walked past me like I wasn't there," his twisted, almost monstrous plastic surgery falls poignantly into place.