Hillary Clinton Reacts To The Georgia Election Results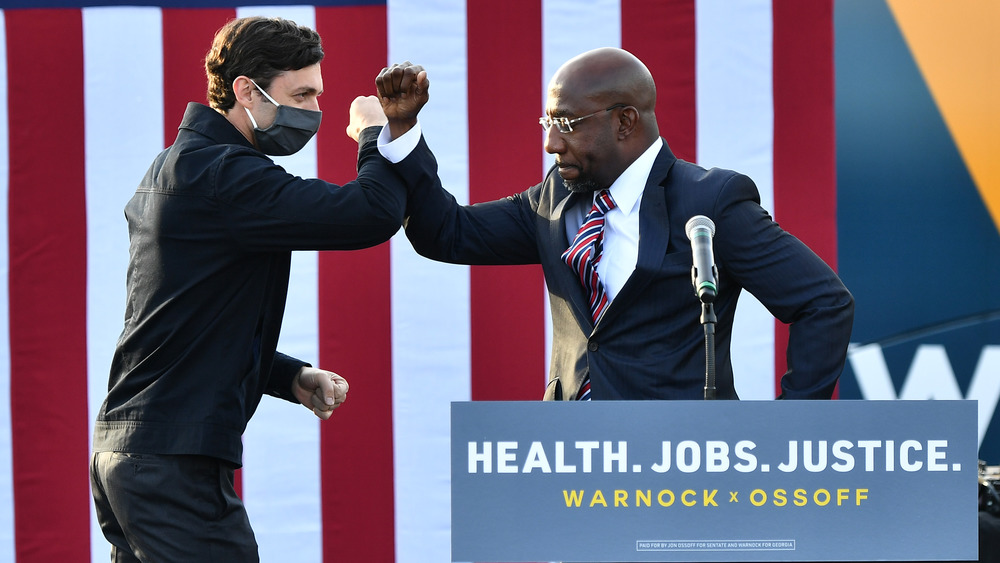 Paras Griffin/Getty Images
Reverend Raphael Warnock, on the brink of becoming Georgia's first Black senator, wants people to know how important this moment is. "The other day, because this is America, the 82-year-old hands that used to pick somebody else's cotton picked her youngest son to be a United States senator," Warnock said in his victory speech, "Tonight, we proved with hope, hard work and the people by our side, anything is possible"(via the AP).
If Warnock needs to remind everybody else about the significance of his election, he certainly does not need to tell Hillary Clinton. Clinton, who has been busy assuring voters that Georgia's senate runoffs "will help determine how far the Biden administration can go to provide COVID relief, put people back to work, and help Americans through one of the toughest periods in our history," was no doubt nervous ahead of Tuesday's voting. After all, she has credited her 2016 loss in Georgia in part to voter suppression (via The Washington Post). In 2020, she re-voiced her concerns after waiting times, and abnormalities with voting machines and lack thereof impeded voting in June. Now, the former presidential candidate is finally breathing a sigh of relief. 
Hillary Clinton celebrates a Democratic victory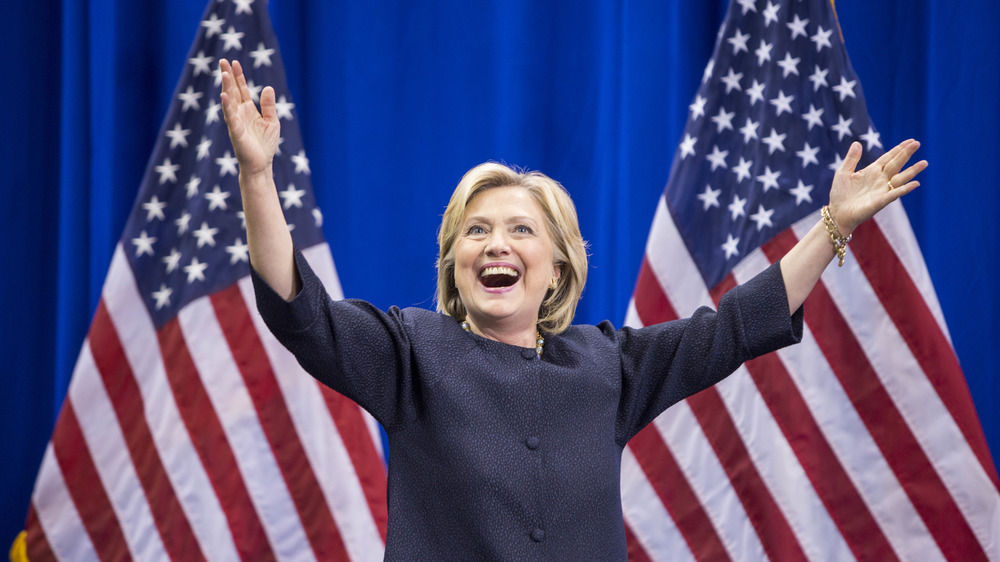 Scott Eisen/Getty Images
At the time of this writing, The New York Times has only called the race for Warnock. Clinton, however, is confident that both Democratic contenders, Raphael Warnock and Jon Ossof, will pull off what many thought was impossible. "Congratulations to the new senators from Georgia, and to everyone who organized and voted to get them there. It's a new day," she popped open the champagne via Twitter.
In some ways, while she lost the state herself, Clinton set the stage for a new Georgia in 2016. When President-elect Joe Biden won Georgia, bringing in, according to the AP, 600,000 more votes than Clinton did, CNN political analyst Lisa Lerer noted that Biden and Clinton's campaigns marked a shift in Georgian politics. "It's hard to imagine any Democratic presidential candidate not contesting in Georgia in the future," she wrote. As The Washington Post points out, regardless of the results in the Ossof-Perdue race, Warnock became the first Georgian Democratic candidate to win a Senate seat in 20 years. Georgia is solidly "purple."