The Surprising Way Jon Ossoff Just Made History In Georgia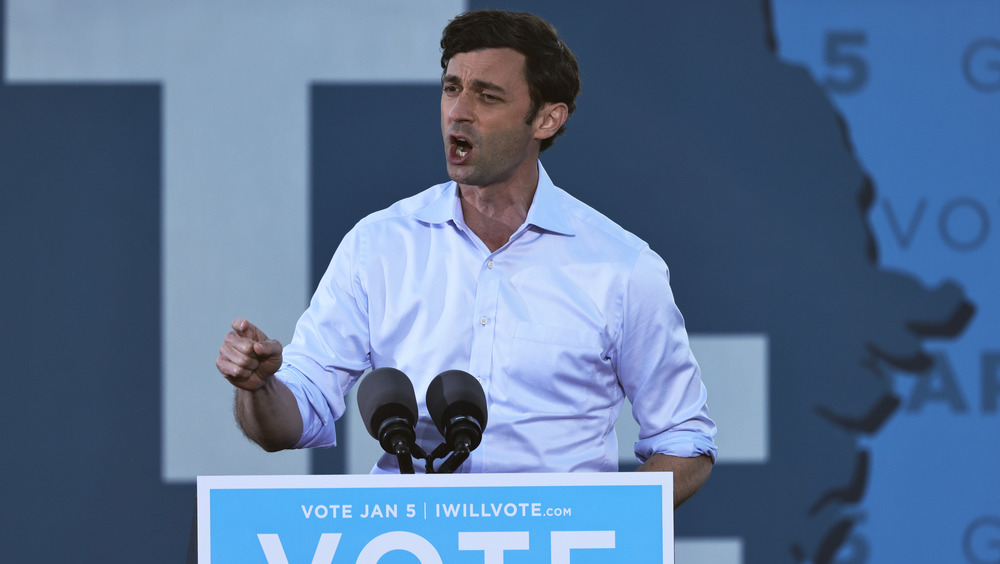 Michael M. Santiago/Getty Images
January 6 will be remembered as a historic day, not only for the year 2021, but also for America itself. Although the biggest news of this Wednesday was the assault on the U.S. Capitol building by Trump supporters, it was also a landmark day for the state of Georgia.
As CNN reported, the Peach State held a runoff election for its two Senate seats after the November election failed to bring in enough deciding votes to declare definite winners. Democrats Rev. Raphael Warnock and Jon Ossoff were up against Republican candidates David Perdue and Kelly Loeffler, and in a stunning upset, both newcomers won against the incumbents. Even more surprisingly, Georgia voters came forward in record numbers to cast their ballots a second time; per Rolling Stone, voter turnout usually drops sharply in an election like this one.
The win is significant for two reasons. First, it flips Congress to a Democratic majority, with soon-to-be Vice President Kamala Harris able to cast the deciding vote in case of a tie on any issue. Second, the two new senators reflect incoming president Joe Biden's vision for a more inclusive government.
Ossoff's faith and age are a first for a Georgia senator
Rev. Raphael Warnock will be Georgia's first Black senator, not to mention the first Black Democratic senator from any Southern state. Not to be outdone, Jon Ossoff will make history on three counts, per the Israeli paper Haaretz: the first Jewish senator from Georgia; the first Jewish senator from any Southern state in more than 120 years; and, at 33, the youngest Democratic senator since Biden himself, way back in 1973.
Haaretz also notes that voters may have soured on Sen. Perdue after he ran a Facebook ad with an apparently doctored photo of Ossoff that made his nose appear larger — a dig which Ossoff called "the oldest, most obvious, least original anti-Semitic trope in history."
Once the election was called in Ossoff's favor, he immediately took to social media to thank voters for their faith in him, and to announce his priorities for his term. Chief among them: attacking the COVID-19 crisis head-on. "Let's work together to beat this virus and rush economic help to the people of our state and the American people," he declared in a video on Instagram. "I will work in the U.S. Senate to support a robust public health response so that we can defeat this virus."