Michael B. Jordan's New Girlfriend Has A Father You'll Recognize
You may remember in November, when Michael B. Jordan was named People Magazine's Sexiest Man Alive, and he shared with the public how hard it is to get into a relationship when you're an ultra-recognizable A-lister. Now, just a couple months later, it seems like he's figured it out. Jordan just made his relationship Insta-official with an admittedly somewhat cryptic, caption-less Instagram post showing Jordan and his partner posting intimately together, but it's hard to make out their faces.
His partner, on the other hand, made things a little clearer for us: model Lori Harvey shared some clearer photos of the couple with her own 2.6 million Instagram followers. In Harvey's heartwarming post, we can see some adorable polaroids of Jordan kissing Harvey on the cheek and of the couple standing in front of a lit up Christmas tree. 
You may recognize Harvey's last name. Here's why it sounds familiar.
Lori Harvey's famous family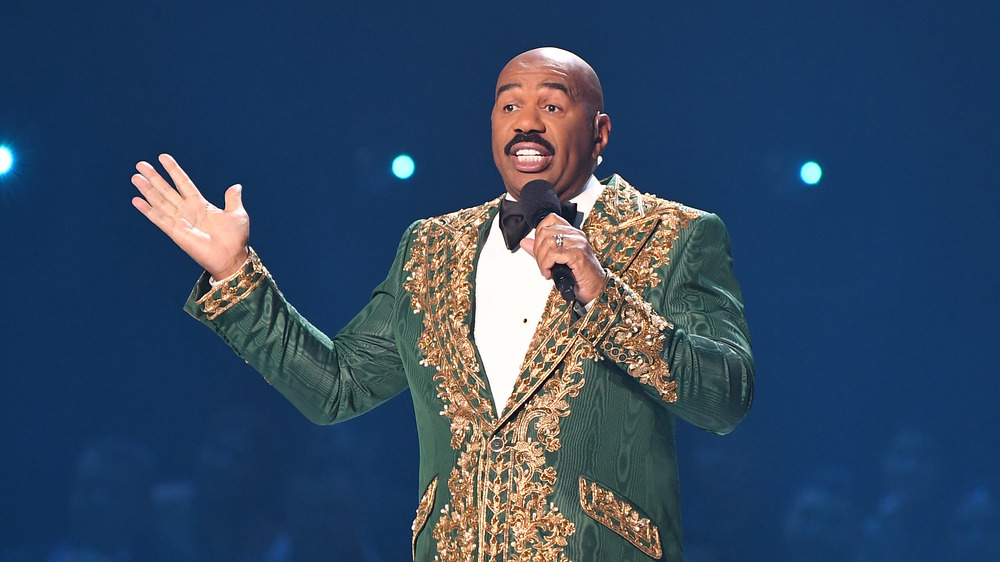 Paras Griffin/Getty Images
Lori Harvey is the biological daughter of Marjorie Harvey and adopted daughter of Marjorie's husband, Family Feud and Steve Harvey Morning Show host Steve Harvey (via USA Today).
"When you're dealing with a blended family, everyone is coming from a place of broken," Marjorie Harvey once told People. "...I just told [the children], 'Everyone is included. Everyone has access to their parents. Whatever you didn't have before, don't let that interfere with what you can have now.'"
At this point, Lori Harvey must be fairly used to the spotlight. In addition to her famous father and her new relationship, she's also dated some other A-listers in the past couple years. She dated Sean "Diddy" Combs for three months in 2019 (via E!), and she dated rapper Future shortly after, though the couple reportedly broke up last summer, according celebrity news site The Blast.
No word on exactly when Harvey and Jordan started dating, but based on this shot of them arriving in Atlanta for Thanksgiving, it's presumably been several months now (via TMZ).