Where Do Emily Wilkinson And Baker Mayfield Live And What's Their House Like?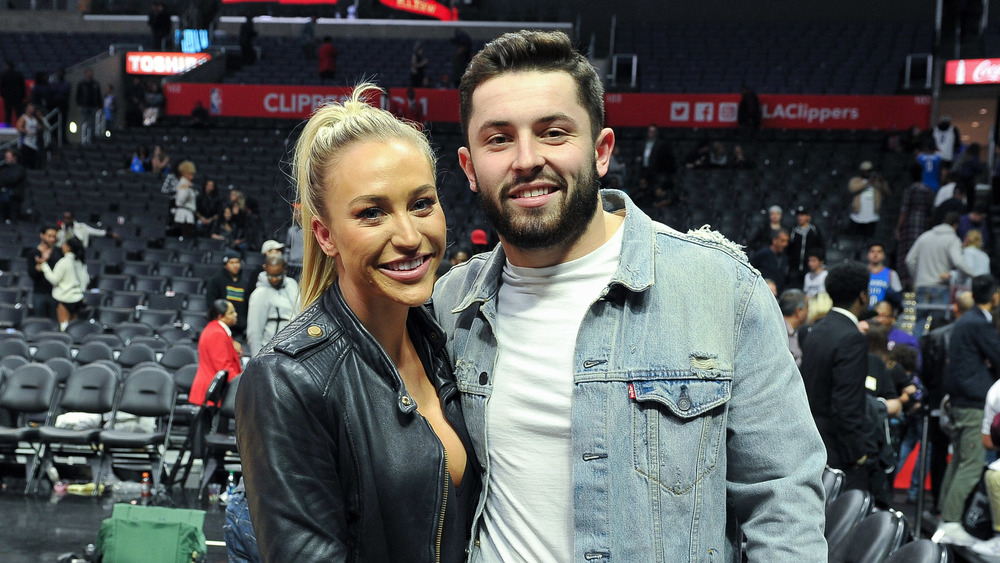 Allen Berezovsky/Getty Images
As per Page Six's indispensable gossip, Emily Wilkinson and Baker Mayfield married in Malibu, Calif. But Wilkinson and Mayfield have called Ohio home since 2018, when Mayfield was drafted by the Browns (via Arhaus). They don't, as Progressive Insurance's commercials might have you believe, live in Cleveland's First Energy Stadium. Their Cleveland, Ohio home has a much gentler feel. "I would describe our aesthetic as cozy first and foremost," Wilkinson told Arhaus, "We tend to go towards earthy tones, with statement walls, colors, and furniture pieces. We both like a lot of texture, and not a lot of clutter."
A peek into the quarterback's house he shares with Wilkinson, doesn't disappoint. Their home is decorated in neutrals, with a nod to a modern industrial look. But it's also soft and accented with vibrant green plants. The clean, mellow, and sturdy aesthetic that their home gives off is hard not to fall for. It's no studio apartment, either: it's multi-storied. In 2018, Wilkinson admitted to Arhaus that the couple had "at least four guests stay at our house for every home game this fall." We don't have square footage details, but we do know that they've housed up to 14 people at a time in their home. 
What's it like to visit Emily Wilkinson and Baker Mayfield?
Stay with Mayfield and Wilkinson, and you might feel like you're in an upscale hunting lodge as you relax in front of a fireplace on a sturdy, gray couch, covered in soft throws, and accented differently-textured pillows. If that living room area doesn't appeal to you, however, choose to hang out in a second one. We caught a glimpse of it on Mayfield's Instagram: with a brown leather sofa, wrought iron wall hangings, curved doorways, and plenty of natural light. If you're there to hang with Baker Mayfield, he might invite you up to his "basement man cave." In 2018, he was renovating it with "a home theatre, bar, and other cool stuff" (via Arhaus).
Want to stay fit? Mayfield might let you use her Peloton exercise bike. And, after a long day, (watching football?), and "unwinding" like Mayfield and Wilkinson do, over "a glass of red wine, cooking, board games, good movies," retire to a guest room (via Arhaus). We assume they have one or two. If your bedroom's like theirs, it'll come complete with statement pieces, in the form of a "headboard, mirror, and bench for the foot of the bed."
Fair warning, you may find Mayfield's dirty laundry lying about. Mayfield admitted, "I've been trying all this time to adjust to putting my dirty clothes in the right place.....and I'm still not really doing that.