Meghan Markle Looks A Lot Different Than She Used To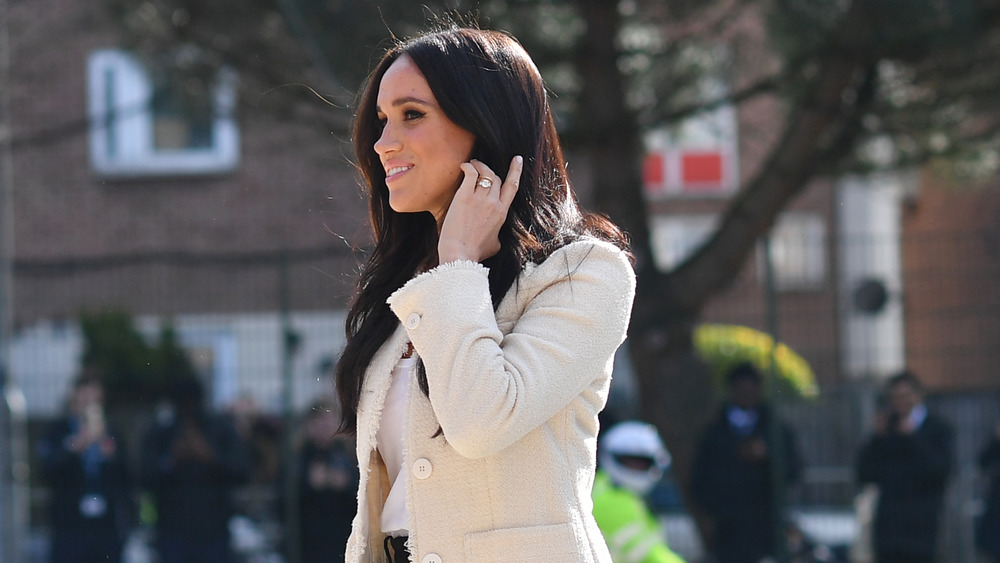 Wpa Pool/Getty Images
Ever since the world at large learned who Meghan Markle is, the Duchess of Sussex has been a renowned style icon, leaving fans to wonder what her next look may be. Markle looks just as comfortable rocking a casual denim look (via Glamour) on the streets of Montecito, California, as she does donning a fascinator for any high-society events (via Hello!). Although, admittedly, there will be fewer of those now since she and Prince Harry officially stepped down from roles as senior royals (via the BBC).
But while Meghan isn't afraid to go casual, black tie, or maybe even somewhere in between, thus far the fashion world has yet to see Markle opt for anything other than her signature, sleek-looking locks, which she often wears in beachy waves, or in an elegant updo (per Allure).
However, there's a whole other hairstyle in Markle's arsenal that she's yet to invoke. Back in 2017, Kamie Crawford, co-host of MTV's Catfish and former Miss Teen USA posted to Twitter that Meghan Markle's hair is naturally curly. "SOLVED MY OWN CASE!," she shared, alongside some enthusiastic emojis and adorable pictures of Meghan as a teen. "We got curls in the royal palace y'all!!! Starting a petition to get Meghan to wear a fresh wash & go around the palace. #MeghanMarkle."
A number of Twitter users agreed with Crawford, tweeting her original post to add their enthusiasm and noting, "Oh look at her beautiful curls" and writing, "OMG I love love love her curls."
Meghan Markle has taken control of her own look
While it's solely Markle's choice as to how she should wear her hair, some have noted how powerful it would be to see Markle, who is biracial (her mother is African American and her father is Caucasian), wear her hair naturally (via HelloGiggles). It can be rare to see Black natural hair depicted in the media — both because there isn't enough diversity onscreen and because Black actors and actresses are often not accommodated with competent hairstylists, per The Hollywood Reporter. In fact, Black actresses have become accustomed to styling their own hair "It's a real disservice to actors of color who are effectively doing someone else's job and not getting paid for it," actress Natasha Rothwell told the outlet in February 2020.
While it can be difficult to imagine any royal hairstylists knowing how to handle Black hair, now that Markle has stepped down from her royal duties, we have already seen her start to take more control of her own look.
In July, when Markle appeared on video during the 2020 Girl Up Leadership Summit with waist-long locks, some wondered if Markle had gotten extensions. However, Markle's former hairstylist, George Northwood, insisted this wasn't the case.
"She's making a statement with hair that long — it represents strength and a sense that she's really got everything sorted," Northwood told The Telegraph. "This straighter, longer hairstyle marks a new chapter in her life without such strict protocols."
Meghan Markle's current haircare routine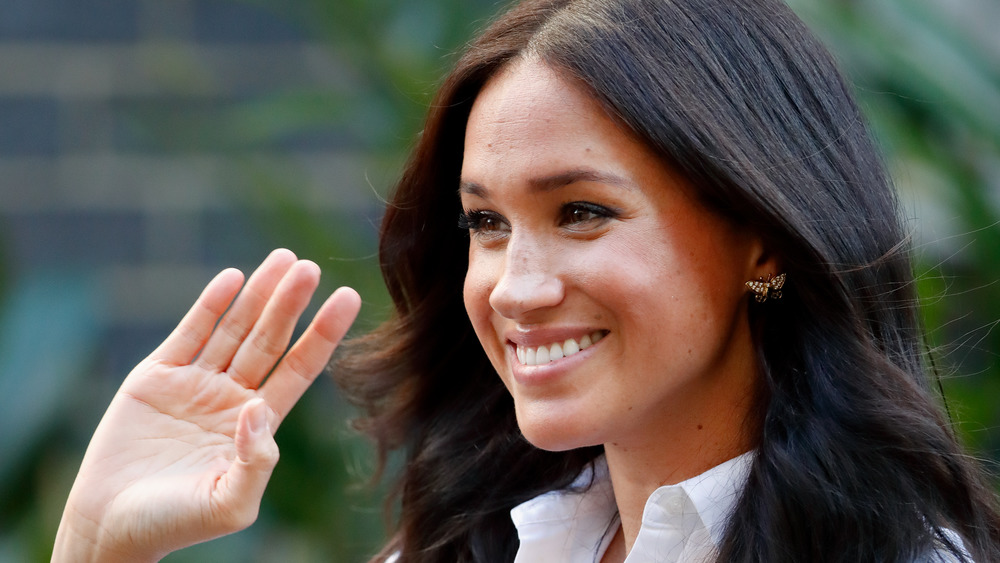 Max Mumby/indigo/Getty Images
So, now that Markle has had the opportunity to embrace the hairstyle of her choosing, perhaps wearing her hair naturally isn't too far off in the horizon. In the meantime, if you're curious as to how Markle gets her hair so straight, Theonie Kakoulli, a stylist at the Nikki Clarke salon in London, has your answer.
"Meghan came to see me at least twice for keratin treatments," Kakoulli told People in 2018. "It's great for people with naturally curly hair like Meghan, it takes the frizz out and makes it more manageable — she said it made a real difference" (via Byrdie).
Markle isn't the only celebrity who's a fan of keratin treatments. Sarah Jessica Parker and Jane Krakowski are both fans of the popular de-frizzing technique (via The Observer). Of course, treatments like keratin can only go so far – upkeep of your hair is just as important, and Markle is (not surprisingly) no slouch in that department.
"She has really beautiful hair," Kakoulli said. "Her hair was in such lovely condition, and you could tell that she really looks after it and that she was proud of it — it's really stunning."