Who Is RuPaul's Drag Race's Tina Burner?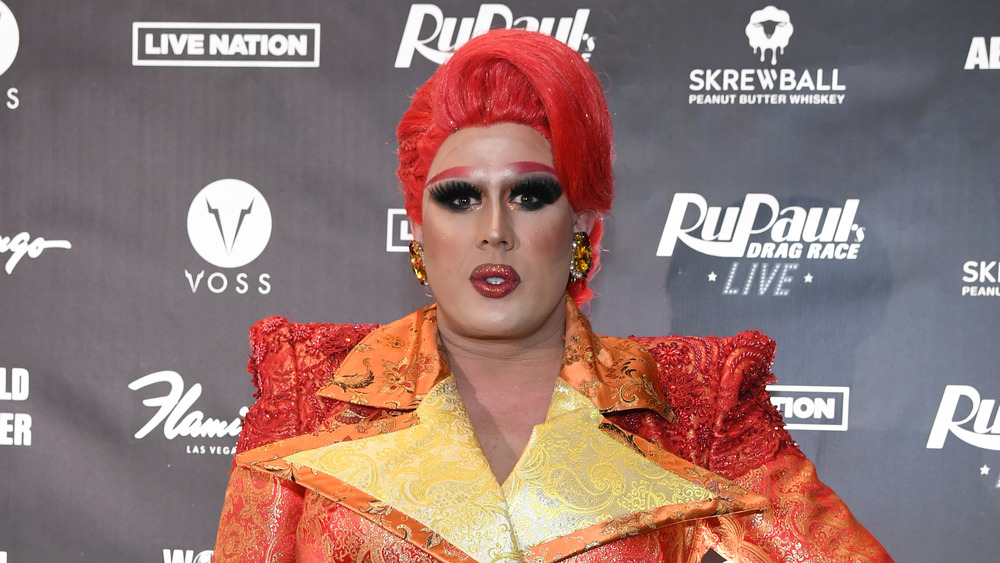 Ethan Miller/Getty Images
RuPaul's Drag Race is 13 seasons strong and shows no signs of slowing down. Far from giving fans fatigue, the season premiere was the most watched in the show's "herstory," as Deadline reports. Boundaries are being broken this time around too, from casting Gottmik, the first ever trans male contestant on the show, to splitting the cast down the middle, as per Screen Rant, to accommodate COVID-19 restrictions. Clearly, legendary host RuPaul Charles still has a few tricks up his fabulous sleeve. 
Tina Burner introduced herself as a legend of the New York drag scene, but her look immediately drew comparisons to beloved comedy queen and Season 11 contestant Nina West (as well as more unflattering allusions to Season 12's disqualified Sherry Pie, which Burner took issue with personally in an Instagram post). Suffice to say, this lady is more than capable of making her mark on Drag Race entirely on her own merits. 
Tina Burner's celebrity connections run deep
Plenty of jokes have already been made at Tina Burner's expense on the show, specifically about her boy band past. As Reality Titbit reports, the New Yorker was in 5th Ring (check out her singing here). Allegedly, they only had one song, "Can't Say," released in 2001, though the lads also recorded a Spanish version — so it must have been reasonably popular at the time. Somewhat more shockingly, Burner, whose real name is Kristian Seeber, previously dated bonafide celebrity Graham Norton.
The beloved Irish TV host and author broke up with the drag queen in 2006, according to NZ Herald, describing him as a "bad boyfriend." The Irish Independent notes Burner moved to the U.K. to be with Norton when he was just 24, while the Mirror confirms they were involved for five years. Although Burner reportedly agreed he wasn't very good to Norton, the two remain civil, with the talk show host tweeting to congratulate his ex following a benefit in 2016. 
Drag gives Tina Burner freedom
Speaking to Get Out magazine, Tina Burner revealed her drag inspiration — Tina Turner — and noted simply, "I wanted to do a job where I can drink and dress as a woman." At 39, she's the most seasoned queen out of this year's slate, with EW reporting that the comedian has been a fixture of the New York drag scene for 17 years. "I'm 6'3 out of drag, so I've got them stems," she reasoned. However, getting on Drag Race wasn't a guarantee. 
Burner admitted she's "auditioned more than I've had sex in my life." Her past was actually in sports, with ice hockey and flag football standing in for her true desires of figure skating and baton twirling. Performing affords Burner the freedom to truly express herself. As the New Yorker acknowledged, "Drag gave me the opportunity to become this super monster. If I said what I said to people whilst out of drag, I mean, I would hit me."