Who Is RuPaul's Drag Race's Kandy Muse?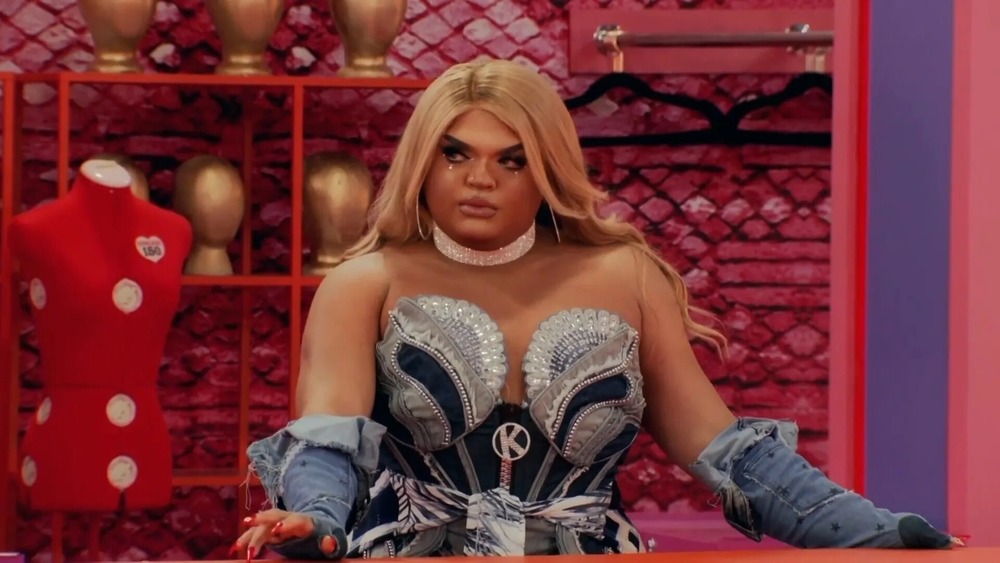 Vh1
RuPaul's Drag Race is back for a whopper 13th season that promises to be the wildest yet, not least because it was shot during the COVID-19 pandemic. This necessitated some changes in the "Werk Room," since all 13 contestants couldn't be in there together, leading to six lip-syncs that divided the queens up into winners and kind-of losers, relegated to the Porkchop Loading Dock (named after the iconic Victoria "Porkchop" Parker, who went home first). 
The first queen to enter the Werk Room, and technically the first lip-sync champion of the season, was Kandy Muse. The New York-based queen will already be familiar to fans, thanks to her connection to previous winner Alaska, as well as Dragula star Meatball, who's perpetuating a rumor Muse's full name is actually Kandice Musical on her podcast, Sloppy Seconds. That may not be true, but there's plenty of other juicy info to glean about this talented performer. 
Kandy Muse's Drag Race connections run deep
Aside from counting the likes of Alaska as friends, Kandy Muse was previously a member of the Haus of Aja. The New York-based collective was created by the titular queen, who competed on season 9 and again on All Stars 3. Although Muse advised on Drag Race that the group disbanded due to jealousy and in-fighting, according to Aja herself, that's not quite the case. As she told Them, the group's 2018 breakup came about because Aja didn't want to be viewed as a drag queen at all anymore. 
Aja explained, "I kind of let go of the idea of being a drag queen because, for most people, the stereotypical drag queen lip syncs and performs." She acknowledged, "It's something that is part of me, but it's not something that I'm carrying into the future, so I'm kind of leaving the term behind." Following the split, Muse, Dahlia Sin (of Drag Race season 12), and Janelle No. 5 created their own group called Doll Haus.
Kandy Muse is the same person in and out of drag
In a 2019 interview with Paper magazine, Kandy Muse confirmed she'd been doing drag full time "for about five years." However, the Drag Race standout briefly stopped performing, admitting, "I got kind of bored with drag so I started working at Sephora."
Naturally, drag soon began calling her name once more, and before long, it'd taken over as a full-time job leading Muse to quit her retail post after just a couple months. She first gained prominence on Instagram and is completely self-taught, though a background in theater certainly helped cultivate her unique stage presence. 
The no-nonsense New Yorker is quick to note, "People always say when they're in drag they try to do this completely different thing, but I am exactly the same, b***h, in and out of drag." Although she acknowledged, "I'm a little shyer when it comes to boys out of drag," Muse maintained her personality is the same, describing herself as a "loud ass b***h."