What We Know About Lady Gaga's Relationship With Joe Biden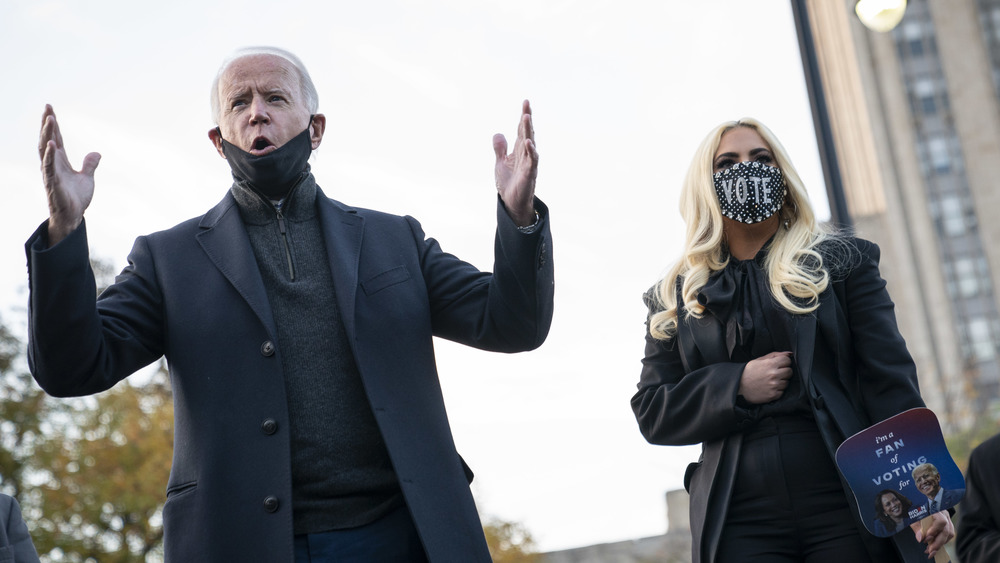 Drew Angerer/Getty Images
Lady Gaga may be known for her incredibly over the top spectacles in the music world (we're pointing a cleaver at you, VMA's meat dress) but in the world of politics, her beliefs are stated rather plainly. "Vote for Joe, he's a good person," she writes (via Variety). The singer-actor-global superstar and Joe Biden may not have the type of BFF relationship their adoring fans would hope for, but it is clear they support each other. Here's how we can tell.
After Biden won the election, Gaga tweeted, "Joe Biden, Kamala Harris and the American people, you just gave the world one of the greatest acts of kindness and bravery humanity has ever seen" (via Rollingstone). And the nine-time Grammy winning artist isn't just 'fan girling' from afar. On the eve before election day, Biden made a final speech in Pittsburgh and had Lady Gaga as his opening act (via C-SPAN).
Lady Gaga is set to perform at Joe Biden's Inauguration Day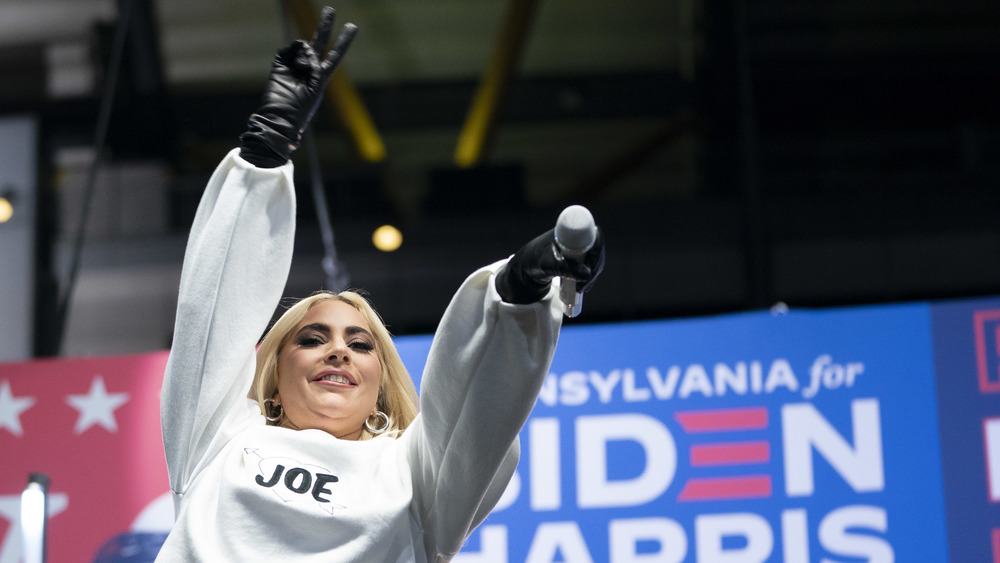 Drew Angerer/Getty Images
We're not sure if Biden thinks of Lady Gaga as a good luck charm, or as an important part of his success, but it appears he's absolutely taking her along for the final stretch to the White House. It was recently announced that the musician is set to sing "The Star Spangled Banner" at Biden's and future Vice President Kamala Harris' inauguration on Jan. 20 (via Variety). "I am deeply honored to be joining @BidenInaugural on January 20 to sing the National Anthem and celebrate the historic inauguration of @JoeBiden and @KamalaHarris" she tweeted (via People).
However, Lady Gaga's relationship with Biden goes back even further then just his most recent campaign trail. When he was Vice President under former President Obama, he teamed up with Lady Gaga for his "It's On Us" awareness campaign to address sexual assault on college campuses (per Deadline). The future president and artist have clearly created a successful resume together. We're excited for Lady Gaga's performance on Inauguration Day and we're quite sure, Biden is as well.