Biden's Blunt Response To Trump Skipping Inauguration Day
Joshua Roberts/Getty Images
It seems Joe Biden and Donald Trump can agree on one thing: Trump should sit out Inauguration Day. After the attacks on the Capitol, Trump was suspended from Twitter for 12 hours, after posting three tweets that were in "severe violation" of the social media platform's rules, according to NPR. Shortly upon his return, the President tweeted that he "will not be going to the Inauguration on January 20th" (via CNN). 
Biden agrees that Trump not showing up would be a "good thing." The President-Elect told reporters that Trump "has been an embarrassment to the country" and "embarrassed us around the world," so sitting out the inauguration is a great idea (via The Hill). This will not be the first time a sitting president has skipped out on a successor's inauguration — but the last time was over 150 years ago, according to CNN. In 1869, the impeached and resentful President Andrew Johnson chose not to attend President-Elect Ulysses S. Grant's inauguration, and even then, it was seen as improper and rude. 
Trump plans to leave DC before Biden's inauguration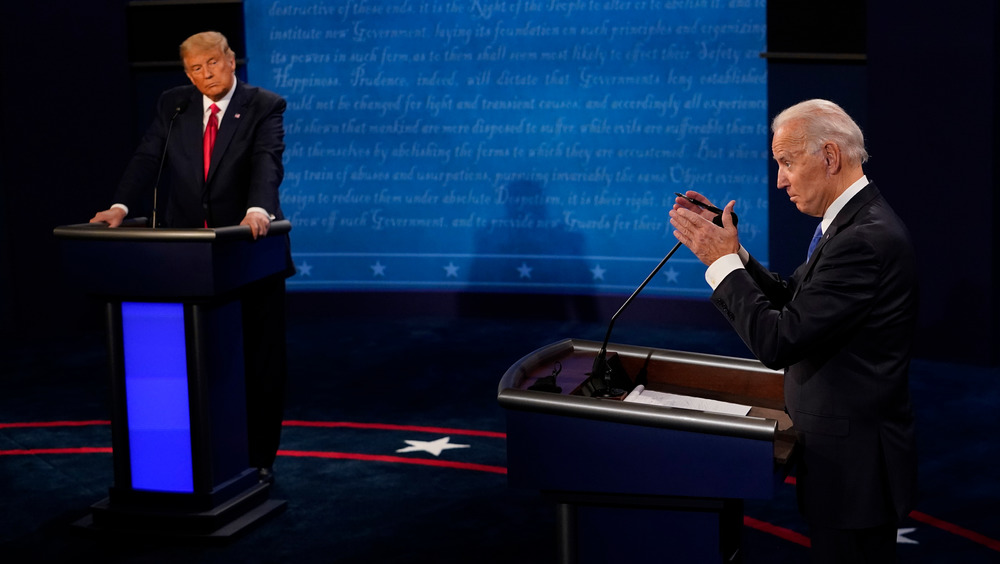 Pool/Getty Images
According to Newshub, Trump plans to leave DC on January 19, the day before the ceremony. A source told CNN that Melania Trump would also be skipping out with her husband, but VP Mike Pence is expected to attend, according to The Hill. On Thursday, a Pence representative tweeted, "You can't attend something you haven't received an invitation to." But according to the Joint Congressional Committee on Inaugural Ceremonies, outgoing VPs are never given "formal invitations" to the ceremonies. It's just expected, so we'll see if Pence decides to attend. 
Even without a formal invitation, Biden told reporters that he hoped to "stick to what have been the historic precedents and circumstances of how an administration changes should be maintained" and said Pence is "welcome to come" (via CNBC). With the official day less than two weeks away, we'll just have to wait and see what happens. After the attacks on Wednesday, and with the ongoing coronavirus pandemic, Biden's inauguration is set to be a scaled-back ceremony with less of the traditional celebrations we're used to, according to AP News. According to Barack Obama's former chief of staff, Bill Daley, Biden is the perfect president for this kind of inauguration, because he's ready to start his term and doesn't need "to stand there on the podium celebrating himself very long."