Here's What Bon Jovi Really Thinks About Joe Biden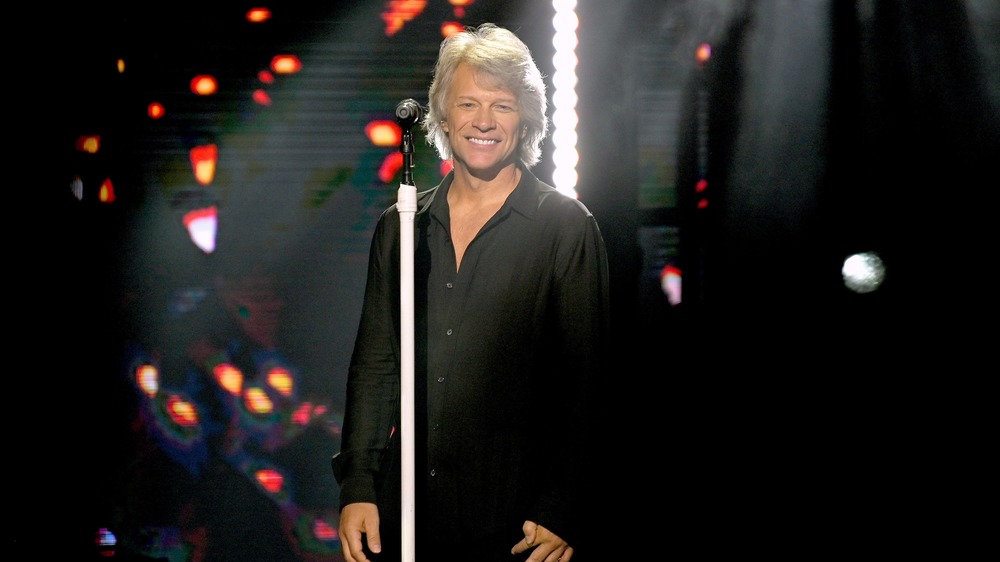 Jason Kempin/Getty Images
Jon Bon Jovi is one of the biggest rock stars alive. The New Jersey native, along with the band that bears his name, has recorded such classics as "Livin' On A Prayer" and "Wanted Dead or Alive" that have stood the test of time. Further, as an artist and an individual, Jon Bon Jovi has shown an immense amount of heart and a devotion to his country and his fans.
Not all of Bon Jovi's fans were thrilled about the rock star's support of Joe Biden during the 2020 presidential election. He's also spoken and sang about some of the issues facing our country today. He spoke with The Washington Post about how he processes the idea that fans have written him off as a socialist because of his candidate of choice. "When I am on the stage, I never preach politics. I would never use that as my soapbox," he said. "If in private life I am doing something like campaigning for a candidate or working at one of our kitchens or building houses for those in need, that's who I am."
Bon Jovi's founder continued, saying that he was now a man in his late 50s and that it was no longer 1987: "Folks have been along for the journey. Some have gotten off; some have gotten on the ride. If a fan wants to get off the ride because I made a topical record, not a political record, then I'm sorry, but that's okay. I don't make music to pander."
Bon Jovi performed at a Biden campaign rally in Pennsylvania to show his support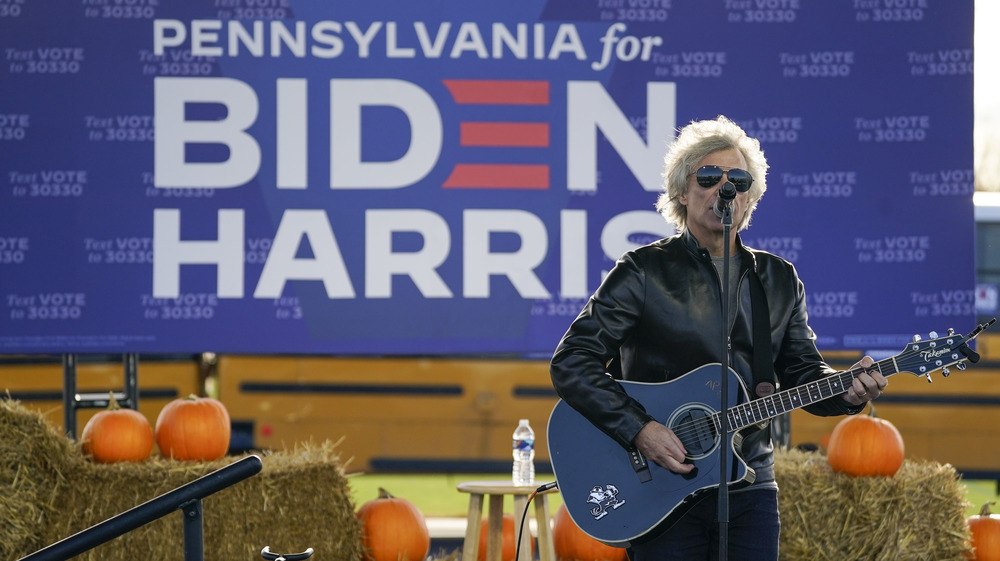 Drew Angerer/Getty Images
Ultimately, it was Biden's response to and plans for COVID-19 that won Jon Bon Jovi over, as he shared during remarks made prior to his October 2020 performance. "I wrote my comments down because I've never played at a drive-in with all the horns honking, so it's a little different," he told the crowd (per NBC Philadelphia).
While talking about the health crisis, he pointed out that Biden was taking a true position of leadership. "Joe knows that masks are not a sign of weakness, they're a sign of strength," he said. He then went on to play acoustic versions of "Who Says You Can't Go Home?," "Livin' on a Prayer," and "Do What You Can."
President Trump was none too happy about Bon Jovi's comments, taking a jab at him during a subsequent campaign rally. "Jon Bon Jovi, every time I see him, he kisses my ass: 'Oh, Mr. President,'" Trump said, as he continued to explain Bon Jovi only agreed to the performance because he'd "get something out of it," per The Hill. "But you know what happens, he'll sing a song or two and then he'll leave, and the crowd will leave, and Sleepy Joe is up there talking."