The Real Reason Jim Bob Duggar Sold One Of His Homes For $1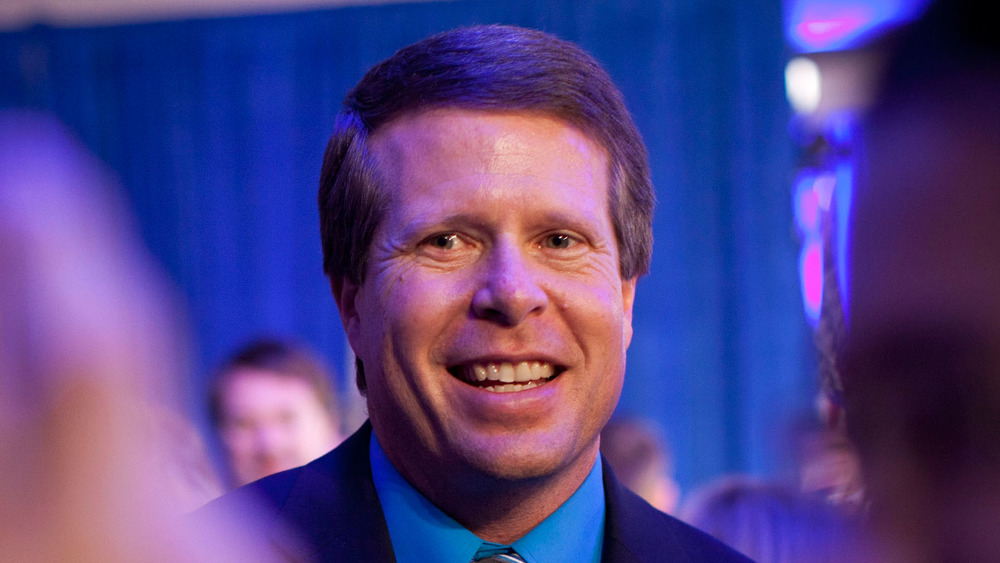 Andrew Burton/Getty Images
Jim Bob Duggar just sold one of his mobile homes for the princely sum of $1, but before you assume the politician and reality TV star is losing his chops as a realtor, you'd have to look who's the recipient of his generosity. Justin Duggar, the 14th child of the Duggar family, who recently became engaged to sweetie Claire Spivey, was offered the home for a dollar, according to a source who spoke to InTouch saying that Jim Bob wanted to give the pair "a good head start."
Unsurprisingly, the source also added that Jim Bob's generosity came with one major caveat. "they can't spend the night or move into the home until they're married." The Duggar Family, is best known for their reality series 17 Kids and Counting, which was renamed 18 Kids and Counting, and then 19 Kids and Counting, before spinning off into the more simply titled Counting On. Though the Duggars have declined to identify with the Quiverfull movement specifically (via People), they are well known for their fundamentalist Christian beliefs which place strict restrictions on premarital cohabitation and intimacy.
The Duggars believe in self sufficiency, with a step up from family
The Duggars are big proponents of hard work and self sufficiency, but they also believe in providing a solid foundation for their children, especially for their marriages. As a source close to the family revealed that the mobile home "will also come in handy when they start working on a family of their own," adding that Jim Bob has "sold homes to his kids from $10 to $5,000 to $50,000, depending on the location and square footage. It's kind of his thing" (via InTouch).
Justin proposed to Claire in November of 2020, while celebrating his birthday in Texas (per InTouch). Spivey addressed online skepticism about who paid for the ring, defending her husband-to-be's work ethic saying "Justin paid for the ring! Not a dime of it was someone else's money. He's been graduated for quite a while and has a full-time job. He also worked part-time while in school, so he'd be prepared to be on his own."
Per the source who spoke to InTouch this week, the gift of a mobile home was "all about giving them a step up to help their marriages succeed. They [Jim Bob and Michelle] know marriage can be hard work, but they both truly believe that a happy home makes a happy family." We expect they'll want to move in pretty soon and get started on their new life together, so wedding plans are certainly in the works.