What You Don't Know About Why Don't We's Zack Herron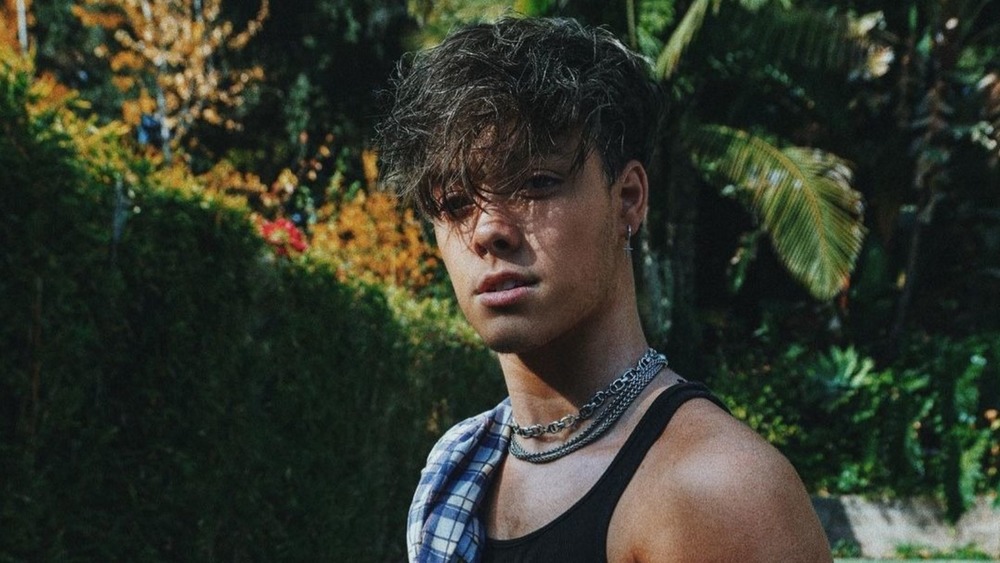 As of 2017, if he wasn't on tour, you might have found Zack Herron living with his Why Don't We bandmates in Los Angeles and doing almost-grown-up things (via People). Herron might kill it on the piano and guitar. He may be a part of a band that, having recently released its second studio album, The Good Times and the Bad Ones, is plastered all over headlines. Nevertheless, a look at Zack Herron's socials, and it's hard not to picture him as a part of a happy-go-lucky sitcom storyline like Boy Meets World or Saved By The Bell. He's a shark-loving, beach-going teenager who recently told YouTube fans: "If I were invisible, I would just prank everyone possible."
Herron is a kid, who's almost a man, who, in 2018 happened to spend his 17th birthday (noted on Instagram) on tour in London; who knows how to sit on a skateboard but hasn't quite mastered riding it; who doesn't usually organize his suitcases; who does slightly dangerous things like sit in the middle of roads for photo-shoots and almost get hit by the trucks; and who isn't a fan of yellow clothes, but proudly posts a picture of himself for Instagram adulation when he puts them on. Herron is also a fan of Minnie Mouse. Once, he downed a bunch of soda in an attempt to achieve a burp, something that he claimed to People that he's never been able to do, like, ever. That attempt, too, failed. 
How Zack Herron got his start in music
People will tell you that Zach Herron rocketed to fame as a Youtube star in his teens. He got his start much, much younger, playing "Twinkle Twinkle Little Star" concerts for his parents. "Ever since I was really little my parents said I would always put on a show for them, whether it was doing magic tricks, singing, or dancing, being on stage is where I always felt the most comfortable," he once recounted and demonstrated on Instagram with this adorable video. The Texas native picked up his guitar skills on his own, with the help of YouTube videos, imitating songs like Jason Mraz's "I'm Yours" and Shawn Mendes' "Stitches" (via American Songwriter). If he had to pick just one song to sing over and over and over again, however, Herron told Celeb Mix that it would be "September" by Earth Wind and Fire.
What's his favorite part of performing? Celeb Mix asked. "Personally it's [the audience] singing back our music," Herron answered, "They know all the lyrics especially in places like Europe and some of them don't even know much English and they are singing our music."