The Awkward Thing Kamala Harris Just Revealed To Doug Emhoff About Their First Date
We might know Kamala Harris and Doug Emhoff as the Vice President-elect and the Second Gentleman, but after their interview on CBS News, we discovered something new about the incoming Washington power couple — that they're just like us, especially on the dating front.
During the interview, Harris revealed something she said she had never been asked before. "So, yes, my best friend set us up on a blind date," she tells CBS' Jane Pauley. "And she [my best friend] said, 'Just trust me. Just trust me. Just don't ...' You know, she wanted me to just kind of go into it, and she said, 'Don't Google him.' I did," Harris says. Emhoff's reaction? ""Ooh. This is a reveal!"
But he had a dating secret of his own, too. He tells Pauley that when it came to getting the ball rolling, he had made the first move — with a bit of help from a friend. "One of my buddies was in town, and we went to a Laker game. And so, you know, we [had] a couple of beers, I told him the story. I said, 'What do you think I should text her?' So, we sat there in the stands and we came up with this text, which was something like, 'Hey, it's Doug. Awkward! I'm texting you,'" he confesses. When Harris asked her husband: "You guys composed it together?" He responded: "We did. So, that's my reveal!"
Kamala Harris and Doug Emhoff met on a blind date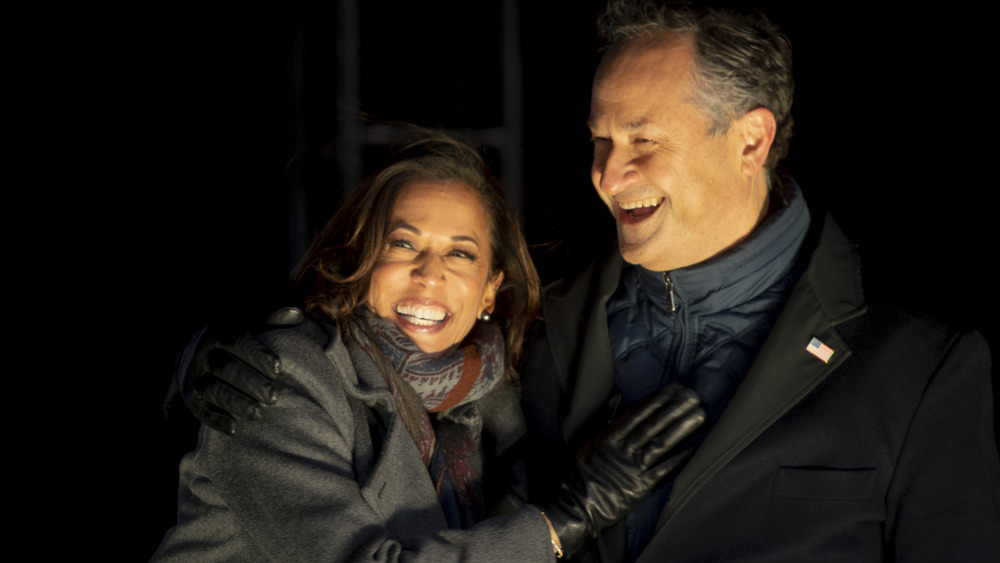 Mark Makela/Getty Images
For those who don't believe in blind dates, Harris and Emhoff were successfully set up by a mutual friend, Chrisette Hudlin. She knew Emhoff professionally in 2013, a time when Harris was California's Attorney General. Emhoff reached out to Harris on the same day and told CNN they spent the whole time on the phone laughing. They went out on their first date shortly after that call (via The Mercury News). The Harris described the day after on an Instagram post commemorating Emhoff's birthday, saying: "The morning after our first date, @DouglasEmhoff emailed me a list of his available dates for the next couple of months. He said, "I want to see if we can make this work.' We've been making it work ever since."
And in a post marking her birthday, Emhoff tweeted: "Blind date, love at first sight, marriage, family, and an incredible life together. Through it all, no matter what, she is ALWAYS there for me and our family without hesitation."
Harris will be making history in more ways than one on January 20. Not only will she be the first woman vice president; but also the first of African-American and Indian descent. She also brings with her a blended family that includes Emhoff's ex-wife and their children Cole and Ella.
As Harris' niece, Meena Harris, points out on Instagram: "Omg Dougie why are you guys so cuuuute."