Where Does Tiger Woods Live And How Big Is His House?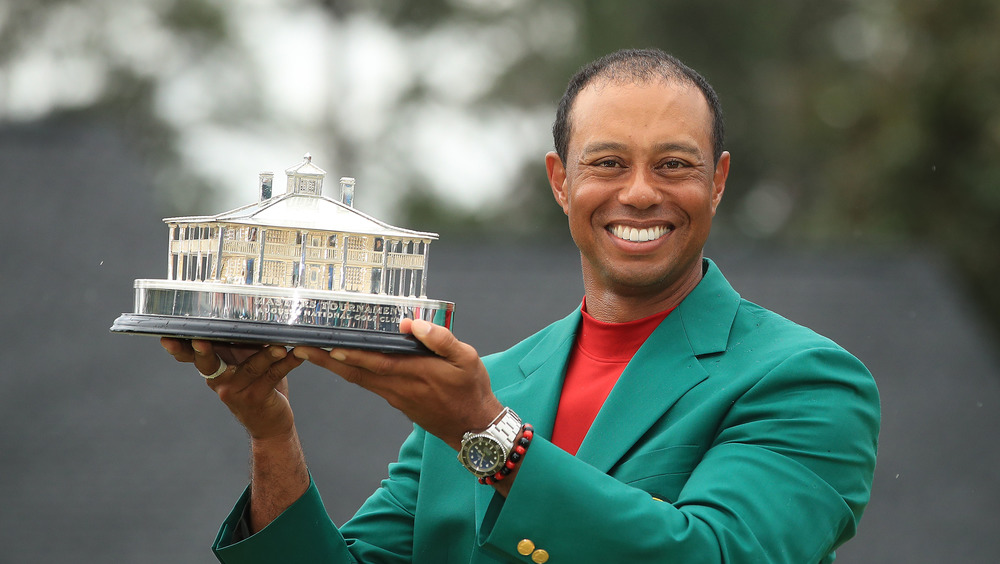 Andrew Redington/Getty Images
If Tiger Woods isn't on the sea in his 155-foot-long yacht, your best bet might be to look him up at his ocean-front Jupiter Island, Fla. mansion (via Business Insider). Good luck finding the gulf legend there, though. You'll have to look through 12 acres of land, on which you'll find multiple swimming pools, a tennis court, a gym, a basketball area, 3.5 acres of golf course, and two sections of mansion totaling more than 9,687 square feet and broken up into a 3,229-square-foot living quarters and a 6,458-square-foot multipurpose building, which you can access through a glass-covered walkway (via The Sun).
If Woods hadn't broken it off with his wife Elin Nordegren, he might have been sitting pretty on his own private island next to Stockholm, Sweden. But you can't exactly call Woods' current $54 million digs a compromise. You might have watched Woods show his office space in the series, At Home With Tiger Woods (via Golf Digest). When he's done doing work in his home office, (or lounging on the office's couch and staring at himself in the form of his own, life-sized cardboard cutout?), the athlete can browse through the wines in his wine cellar or relax in his own, private movie theater, or game room. 
This is Tiger Wood's favorite room in his house
Tiger Woods has four greens and six bunkers on his estate, according to what he wrote in a 2011 blog post (via Golf Monthly). "If no wind is blowing, the longest club I can hit is a 7-iron. It's also set up so I can hit shots out of my second-story studio," he explained. No surprises here: his favorite inside space is also devoted to golf. When Sport Casting watched At Home With Tiger Woods, they ogled jealously at his golf club-lined virtual reality golf room, complete with a golf simulator. That's where Woods spends most of his time.
If he gets bored of his estate (although it's unclear why he ever woulds), Woods can visit his uber-rich and famous neighbors (as per The Palm Beach Post), which include or have included Michael Jordan, Celine Dion, Kid Rock, Olivia Newton-John, Justin Bieber, and the late, great Burt Reynolds. Reynolds, apparently, once called Jupiter Island "the best place in the world."
After gawking at Tiger Woods' place, it's not hard to tell why.