Fashion Expert Predicts Which Designer Kamala Harris Will Wear At The Inauguration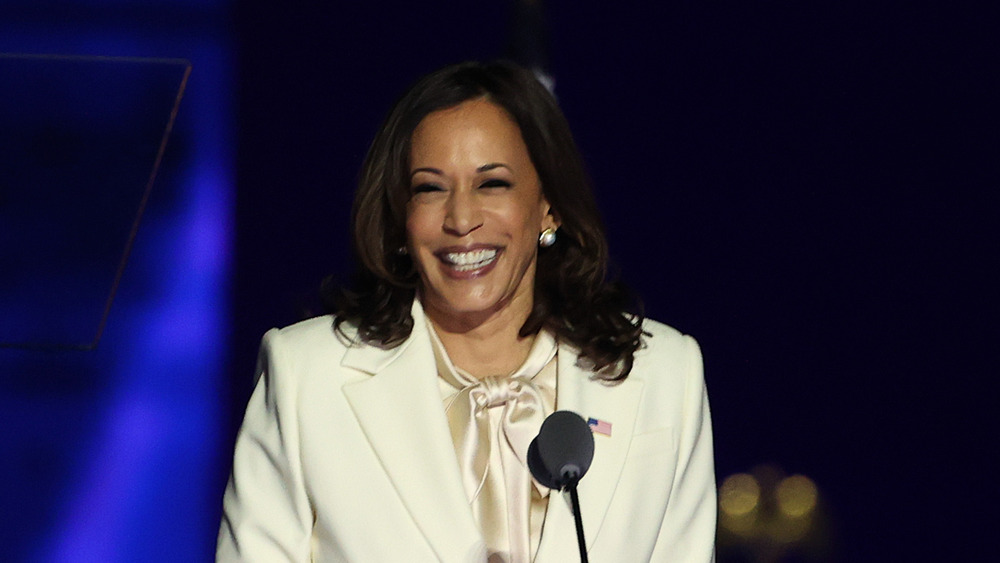 Tasos Katopodis/Getty Images
When Vice President-elect Kamala Harris took to the stage to give her victory speech on November 7, commentators applauded her choice of a white Carolina Herrera pantsuit, which fashion bible Vogue then called "suffragette white," along with a pussy-bow blouse. The color was seen as a departure from her preference of black and navy suits and was also considered a nod to the last time she wore a white suit: when she took the oath at the first impeachment trial of outgoing President Donald Trump, per her official Senate site.
So what does one wear when one is making history as the country's first woman Vice President? Cindy Conroy, fashion stylist and TV personality, says she completely expects Harris to rock a look that might stop someone in his or her tracks — but is also approachable at the same time. "I'm getting excited just thinking about it," Conroy exclusively tells The List. "I can totally see Kamala Harris donning a double-faced wool ensemble. With impeccable tailoring, expert detailing and a monochromatic hue. We've seen Harris' impressive collection of Converse sneakers that are constantly on rotation, so a relaxed yet fierce pantsuit is definitely on the table as well."
Kamala Harris' victory speech "marked the beginning of her transformation"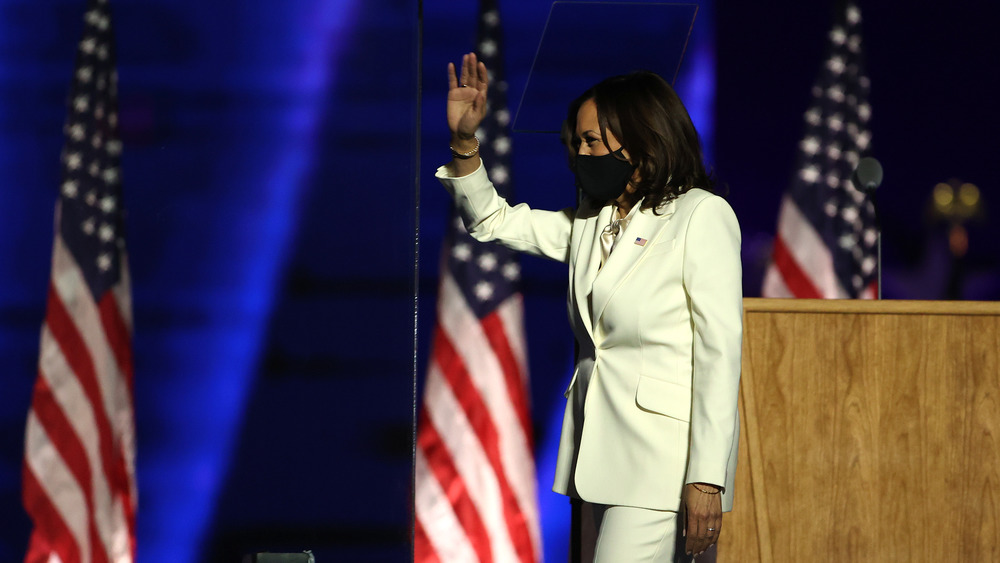 Tasos Katopodis/Getty Images
Conroy also tells The List that Harris made waves with her victory speech, because, " ... when [Harris] stepped out it [also] marked the beginning of her fashion transformation." As such, Conroy says she believes a solid style team will keep Kamala Harris on the same fashion metamorphosis track on Inauguration Day.
Conroy doesn't expect Harris to stray too far from a look that she knows works well for her, so it will only be appropriate for the Vice President-elect to stay well within the fashion boundaries she set for herself. "Harris lives for a suited look (and rocks it so well), so I'd love to see her in a blue pinstripe, check contrast panelling or velvet blue tailored suit. Something that screams: I came to make change but also to slay," she tells The List.
Kamala Harris lives for a suited look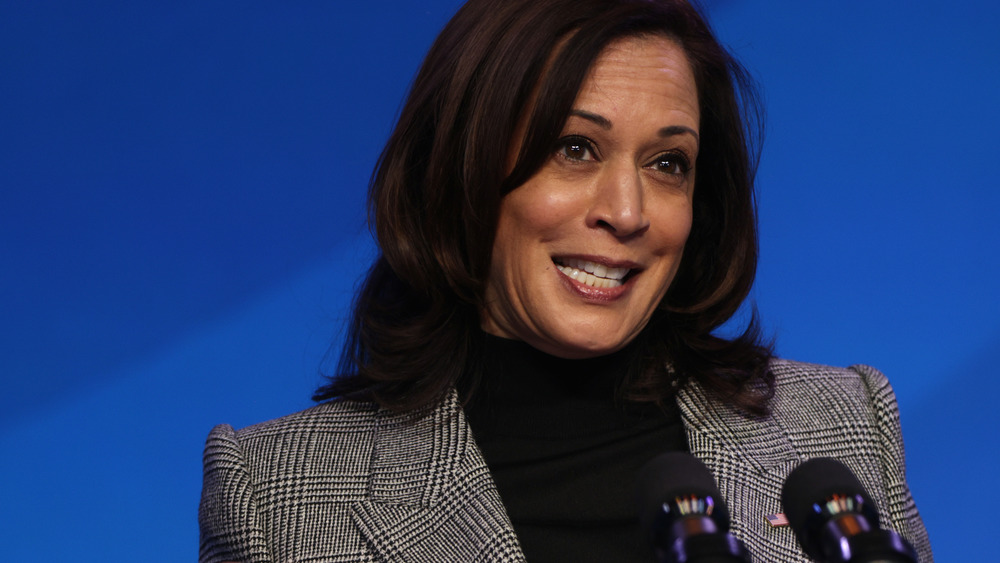 Alex Wong/Getty Images
In terms of color, Conroy says she wouldn't be surprised if the Vice President-elect chooses to break away from a more traditional red, white, and blue palette. "Opting for a powerful yet subtle color is the perfect way for Kamala Harris to signify the beginning of a new administration. A new era. A royal purple or emerald green would do just the trick to further advance Harris' fashion arc," Conroy says. 
Whether Kamala Harris chooses to wear Oscar de la Renta, Emilia Wickstead, Ralph Lauren, or a gem from a rising fashion designer. Conroy expects the Vice President-elect to turn heads, in much the same way she did when she first stepped onto the stage in Delaware in her powerful suffragette white suit on the historic night of November 7, 2020.