The Truth About Queen Elizabeth's Great-Nephew, Arthur Chatto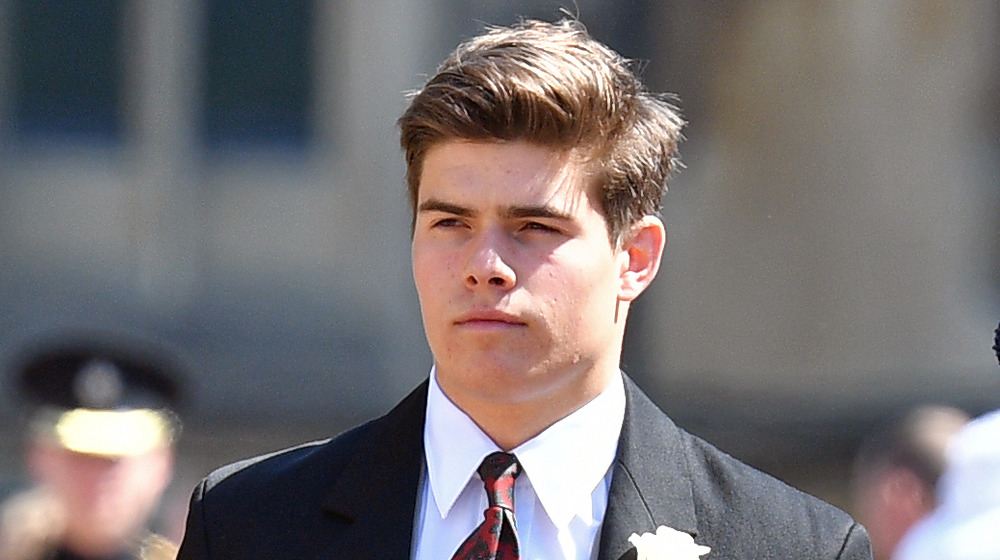 Pool/max Mumby/Getty Images
The British royal family is a large one. While the exploits of royals like Prince William, Prince Harry, Kate Middleton, and Meghan Markle, frequently make headlines, many of its members live comparatively normal lives. One of those royals is Arthur Chatto, Queen Elizabeth's great-nephew. Chatto may not be a prince, but he's a lot closer to the throne than his lack of a royal title might lead you to believe — 26th in line, to be precise (per Marie Claire). His grandmother was Princess Margaret, Queen Elizabeth's younger sister.
Chatto may not be super famous, but all of that could be changing as the 21-year-old comes into his own. The Eton College alum is currently a student at the University of Edinburgh where he's studying geography and no doubt making people swoon on campus if his Instagram is any indication — more than 200,000 people follow his posts, which frequently feature shirtless pics and workout videos that flaunt his toned physique. Chatto seems quite down-to-earth despite his royal pedigree and works as a personal trainer.
Arthur Chatto is a world record holder
Chatto's Instagram bio reveals other surprising details, like the fact that he holds two world rowing records. Not only is he the youngest person to have ever rowed around Great Britain, but he was also part of the youngest team ever to do so. Per Tatler, Chatto and his team were at sea for 38 days and raised thousands of dollars for charity through their record-setting accomplishment. Chatto is also an ambassador for British watchmaker Elliot Brown Watches and clothing company Jöttnar.
Chatto is becoming something of a social media sensation. While he's not subject to the same scrutiny as the more famous members of the family, he's still careful about what he posts online. "Um, I am learning as I get older that there are more rules than I thought," he told The Telegraph. "When I first started, obviously Instagram was a less big thing, so I had a bit less sort of, um... I mean, I don't think I really have that many guidelines to be honest, but obviously I like to check in with the family and make sure everything's alright."
Arthur Chatto watches The Crown
Chatto has an impressive following, but his internet popularity is a far cry from the public spotlight that is on the royals closer to the throne. Perhaps his more normal upbringing is why he's able to enjoy The Crown more than some of his relatives. "Yes, I have watched it," he told The Telegraph, "I guess it's only an interpretation. So I just kind of remember what they're actually like and don't let the TV persona mar my judgment of any of them."
That's a far more generous reaction to the show than others in the royal circle have given. The show has become something of a thorn in the royal family's side, to the point that the British government even wanted Netflix to add a disclaimer to the show asserting that it's a work of fiction (via Deadline).
"The worry for me is that people see a program like that and they forget that it is fiction," Princess Diana's brother, Charles Spencer, said on Love Your Weekend with Alan Titchmarsh (via Town & Country). "They assume, especially foreigners, I find Americans tell me they have watched The Crown as if they have taken a history lesson. Well, they haven't."