Why Garth Brooks' Inauguration Performance Has Fans Seeing Red
Shannon Finney/Getty Images
Earlier this week, Grammy-award-winning country singer Garth Brooks confirmed he would be performing at President-elect Joe Biden and Vice President-elect Kamala Harris' inauguration on January 20. However, it seems his decision to do so has angered some of his Republican fans, who believe he is making political statement by supporting the Democratic party. Many took to twitter to express their anger, with some even calling for a boycott of Brooks.
But as Brooks said himself during a press conference (via Variety), "This is not a political statement. This is a statement of unity." Explaining his decision to get up on stage alongside artists like Lady Gaga and Jennifer Lopez for the daytime portion of Inauguration Day, the country legend said, "I might be the only Republican at this place, but it's about reaching across and loving one another because that's what's going to get us through probably the most divided times that we have [ever had]."
Garth Brooks is set to perform music that represents love and unity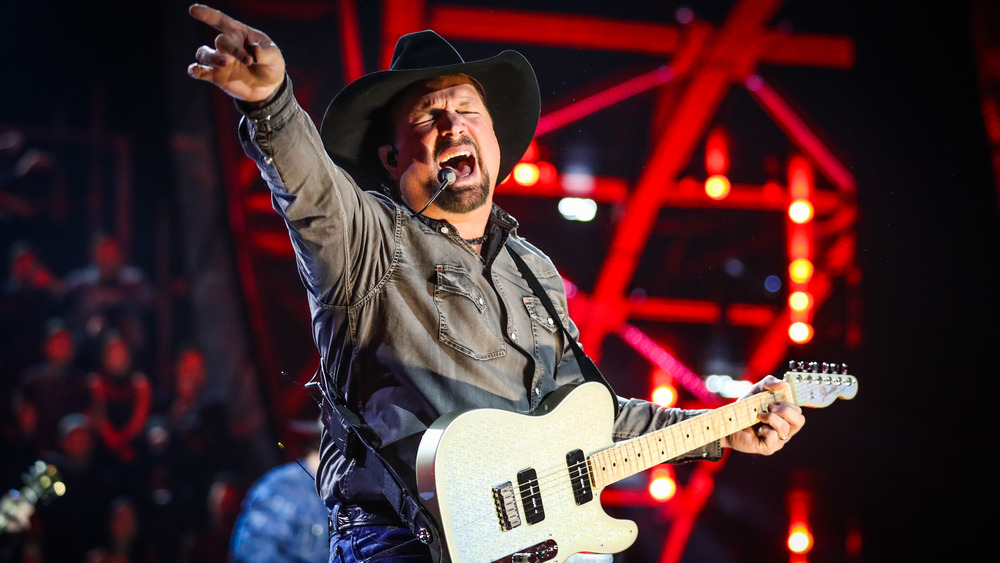 Rich Fury/Getty Images
According to Brooks, the main reason he got on board was to help bring people together (via Newsweek). "The message they're pushing is unity, and that's right down my alley, man," Brooks said. "If we're gonna get anywhere, we're gonna get there together." Brooks also has a history of playing at Inauguration Day.
While the singer has yet to confirm what songs he will perform, he has confirmed it won't be "We Shall Be Free," which he performed for President Obama's inauguration (via Entertainment Weekly). Instead, he reportedly wants to sing music that represents "love and unity." 
As The Hollywood Reported reveals, he wants those at the performance (and presumably those watching online or on TV) to leave it "loving each other more than the way they came in."