Garth Brooks Reveals The Important Reason He's Performing At Biden's Inauguration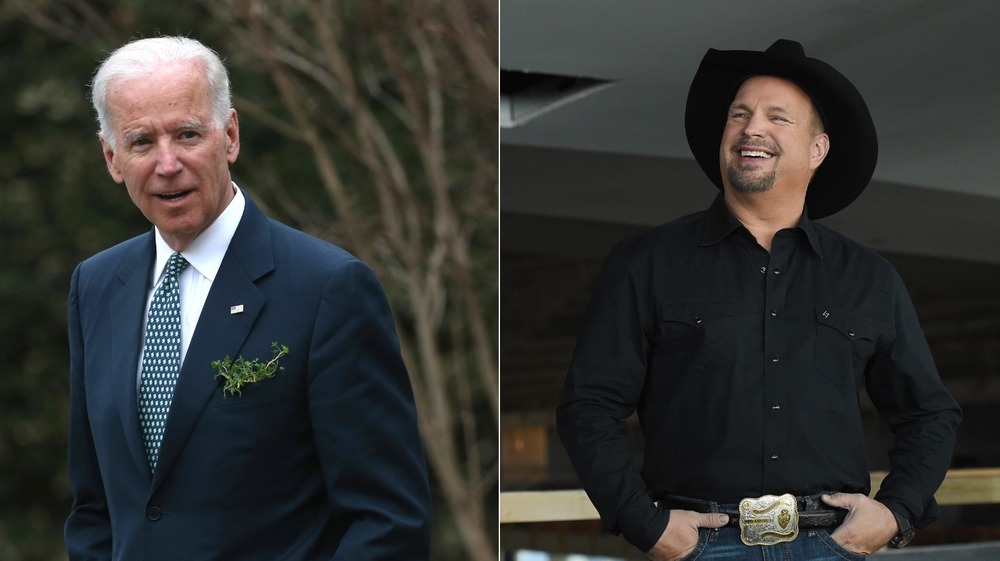 Mark Wilson, Ethan Miller/Getty Images
There's no word yet on who, if anyone, will be performing at President Trump's goodbye ceremony, which is scheduled, per Bloomberg, for 8 a.m. ET on Jan. 20. But Republican country star Garth Brooks announced via a press conference Monday that he will perform at Joe Biden's inauguration. This will be Brooks' second inauguration following his 2009 performance at President Obama's second ceremony (via Variety). Billboard will remind us that four years ago, Brooks had rejected President Trump's inaugural invitation, excusing himself by saying he was "solidifying tour dates." The artist says he has performed for every U.S. president since Jimmy Carter, with the exception of Ronald Reagan.
As the news of Brooks' 2021 inaugural performance took Twitter by storm, even a Fox News anchor (Jake Hamilton) reached out to Brooks to ask if he needed assistance. And while the country legend's upcoming Jan. 20 appearance admittedly has some Trump supporters swearing off his music forever, Brooks insisted that his motivations were not partisan. "This is not a political statement, this is a statement of unity," Brooks explained in the press conference, "This is kind of how I get to serve this country."
The song that Garth Brooks won't sing at Biden's inauguration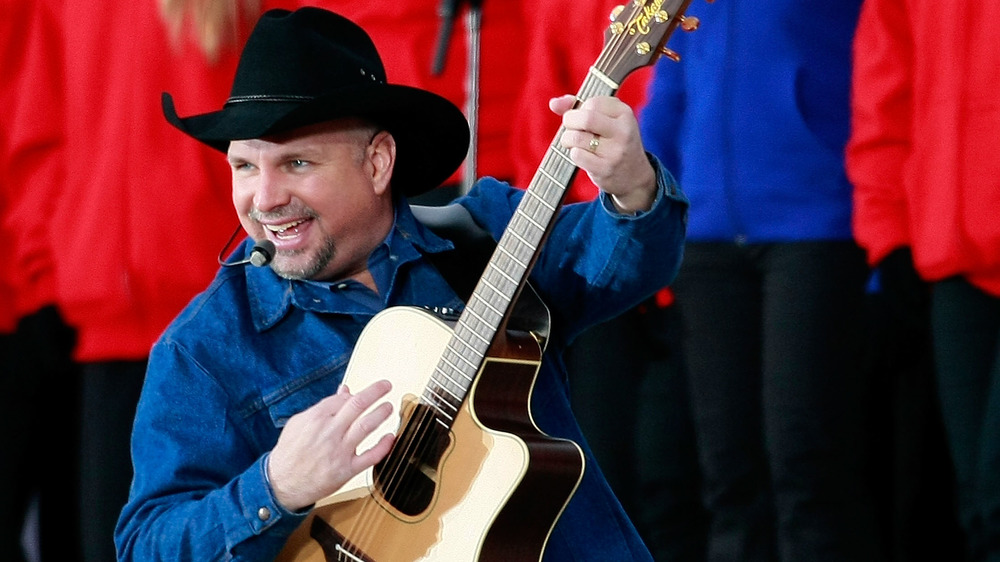 Mark Wilson/Getty Images
"As long as you have people like the Bidens who are hell-bent on making things good," Garth Brooks said, in further explaining his decision to perform at Biden's swearing-in ceremony, "That makes me feel good because I want to spend the next ten years of my life not being divided. I'm so tired of being divided." Brooks' expressed desire for unity is shared, apparently, by Lady Gaga's father, Joe Germanotta. Germanotta, a staunch Trump supporter, recently told Fox News that he was "extremely proud that [Lady Gaga was] able to participate" in Biden's inauguration, and that he's "looking forward to watching it."
Lady Gaga announced via tweet in mid-January that she'd be singing the national anthem at Biden's inauguration. And, according to her fiancé, Alex Rodriguez, Jennifer Lopez also has something "really cool [planned]" for her inaugural performance. "You're going to be surprised. You're gonna love it," A-Rod assured The Tonight Show's Jimmy Fallon (via ET).
We have absolutely no clues yet as to what Brooks is planning on singing. We do, however, know what he's not going to perform for the nation's 46th president. "We were lucky enough to do 'We Shall Be Free' at the Obama inauguration, so I don't think you'll see that here," he teased at his Monday press conference.