Here Is What Trump Is Doing On Inauguration Day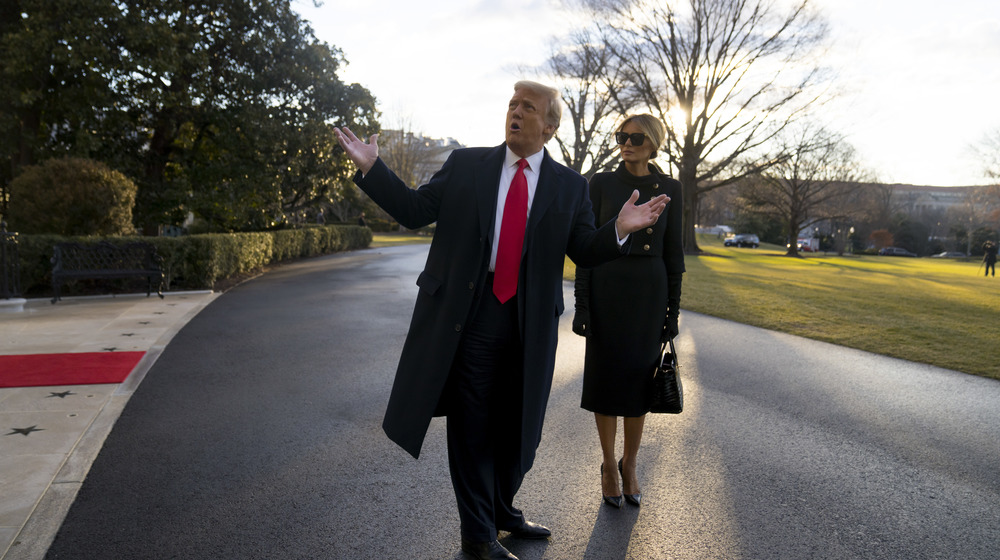 Eric Thayer/Getty Images
He bucked tradition by choosing not to greet his successor, President-elect Joe Biden, at the White House. He's left Washington D.C. instead of choosing to attend his successor's inauguration. Instead, outgoing President Donald Trump left Washington D.C. and the presidency on his own terms: with a 21-gun salute and a color guard before saying a few words and departing on Air Force One before he loses his privileges as commander-in-chief.
There was no sign of Vice President Mike Pence or his wife Karen when Trump boarded a Marine One helicopter that took him and First Lady Melania Trump to Joint Base Andrews. During its live coverage of Trump's departure, CNN quoted sources that said Pence had said his goodbyes the day before. The couple then flew to Joint Base Andrews where they reunited with members of the Trump family and well as with supporters, where Trump then talked about the achievements he'd made during his four years as president, before wishing the new administration "great luck and great success."
Marine One left the White House shortly behind schedule; if the Trumps' the plane touches down in Florida after President-elect Biden is sworn in, Trump's plane will change call signs in mid-flight, so that it would no longer be known as Air Force One, but "SAM45" which stands for Special Airlift Mission, and 45 because Trump was the 45th president (via Defense One).
Donald Trump issued last-minute pardons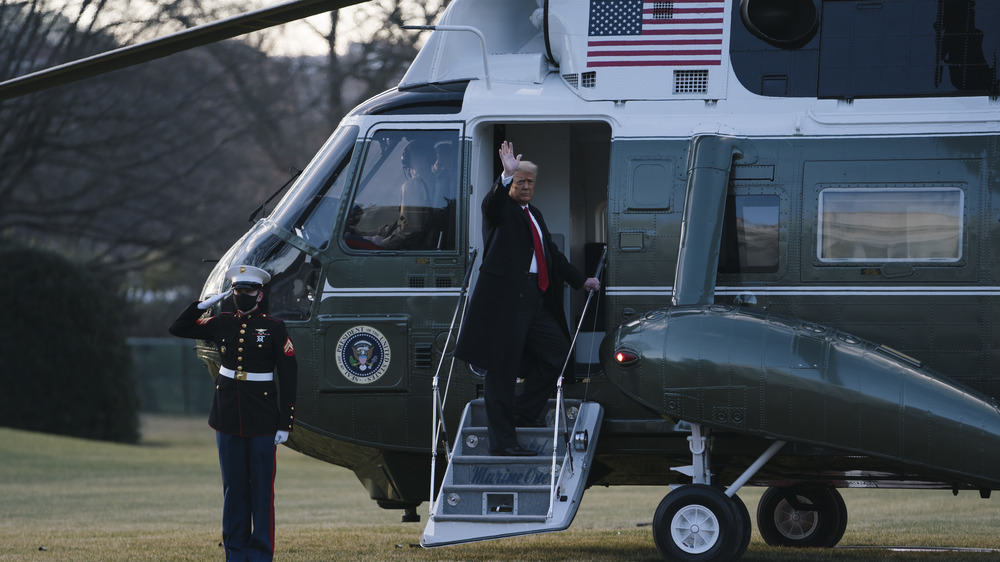 Eric Thayer/Getty Images
Trump rocked the boat until the very end; hours before he was meant to leave and as the clock ticked down to his departure, he issued 70 commutations and 73 pardons, including one for former Chief Strategist Steve Bannon, for defrauding donors during an online fundraising campaign (via CNN). Pardons were also issued to rapper Lil Wayne, as well as former Detroit mayor Kwame Kilpatrick who was serving time for corruption. Two members of Congress who had been serving time for corruption were also pardoned.
Even though hours still remain before Joe Biden is sworn in as president, social media had thoughts on news of the Trumps' departure from Washington D.C. Actor Mark Ruffalo tweeted: "He is finally gone. The nightmare has come to its fitful end. A bunch of trump elite criminals pardoned in the shroud of night. The Golden Toilet Presidency is over. A turd is a turd no matter where it lays."