The Daring Jacket Doug Emhoff's Daughter Wore On Inauguration Day Is Turning Heads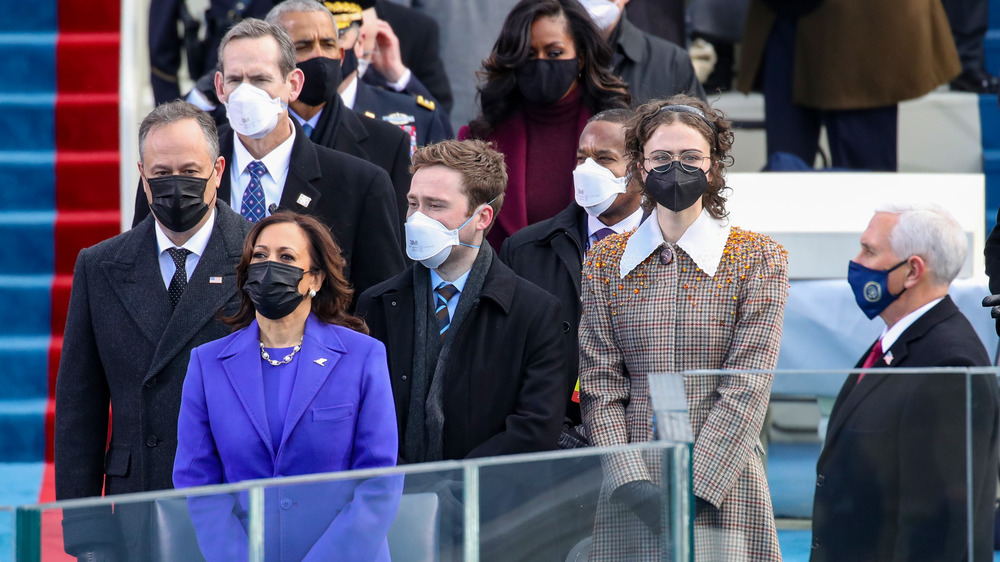 Rob Carr/Getty Images
The D.C. mayor has urged Americans to stay home and watch the inauguration of the 46th President from home in light of the January 6 violence (and the ongoing coronavirus pandemic), and they are (via NBC News). As the ceremony gets underway, the world watches the event from home and from work. And, along with the historic event and the palpable political tensions, there was still time for some more innocuous opinions floating around social media, like people commenting on the coat worn by Kamala Harris' stepdaughter.
Ella Emhoff, daughter of Doug Emhoff and stepdaughter of Kamala Harris, caught the eye of inauguration-watchers with her choice of coat for the occasion, even if they didn't recognize her. If you're not familiar with Ella, you're not alone. The many tweets about the fashionista's inauguration look were mixed with questions about who she was. A quick primer: She's an artist, student at Parsons school of design in New York, and that's just the tip of the creative iceberg, considering she designs her own knitwear (via The Washingtonian).
Ella's ensemble for the inauguration included a long, brown, embellished plaid coat with a white, embroidered collar which she accented with a black patent headband. The look did not go unnoticed by the internet; for instance, one user tweeted: "Who is she?! I'm a fan #InaugurationDay" with two photos of Emhoff in the background of the inauguration. Another user was quick to reply: "I'm p[retty] sure that's Doug Emhoff's daughter. (Kamala's stepdaughter) they call her Momala." 
Of course, more opinions were quick to rush in about the coat.
What Twitter has to say about Ella Emhoff's coat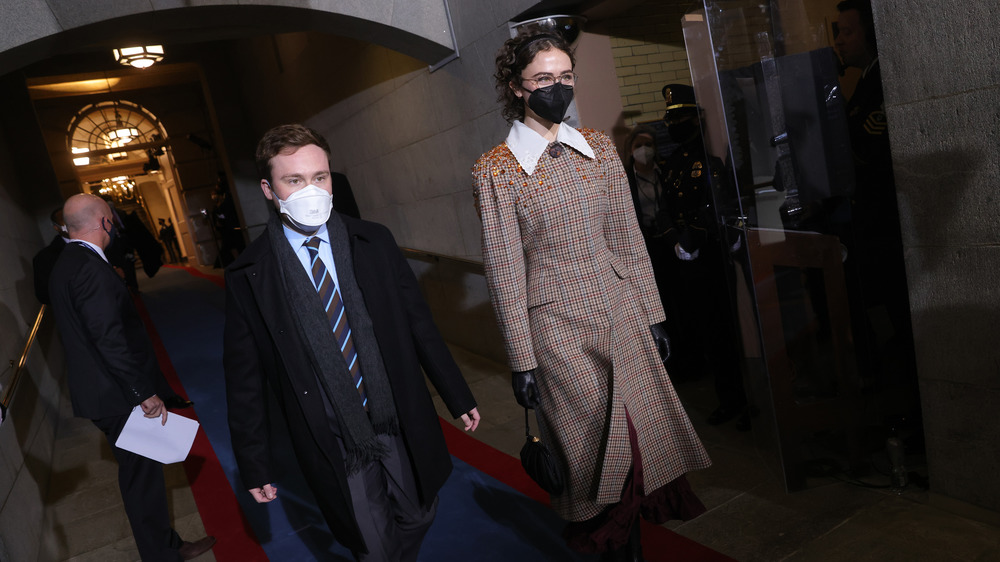 Win Mcnamee/Getty Images
For the most part, Twitter seems to be on board with the more individual fashion choice of Kamala Harris' stepdaughter. Fans quickly weighed in with statements like, "Excited for Ella Emhoff to become a style icon over the next four years" getting over 1,000 likes in less than an hour (via Twitter). Another tweet showed Ella's inauguration look next to another stunning coat ensemble with the comment: "Kamala Harris' stepdaughter Ella Emhoff wearing Thom Browne & an embellished coat. Let me tell you, I am excited for the next 4 years!" 
If you're surprised by this style newcomer, you shouldn't be. Given that Ella is an artist by trade and attends Parsons School of Design in New York, she is likely to provide us with plenty of iconic moments over the next four years (via Town & Country). Oh, and If you can't wait for more Emhoff style inspiration, just go ahead and check out her Instagram (where she already has 60,000 followers).
The truth behind Ella Emhoff's artistic style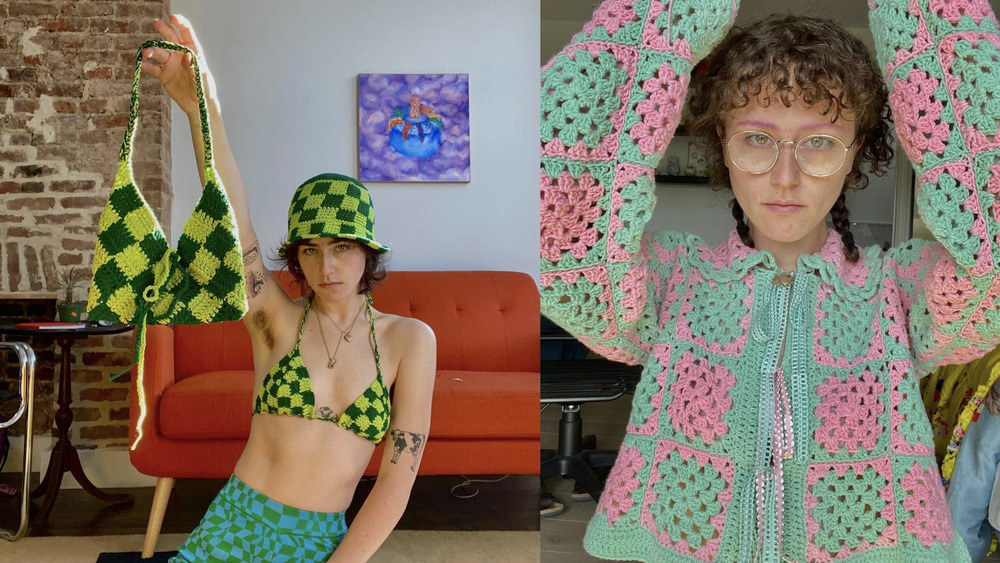 Instagram
One look at Ella's Instagram promises more phenomenal fashion choices in the coming four years with plenty of color and pattern. For instance, in one post she's wearing a hand-knitted jacket in mint green and pink with her eyebrows filled in pink to match (via Instagram). Another recent photo shows Ella modeling a green-checked knit bikini top with matching bag and hat; the caption reads simply: "I feel truly complete now" (via Instagram) So, if you were looking forward to a boring administration, don't extend those expectations to the wardrobe of the new Second Daughter. 
However, Ella's artistic interests extend beyond fashion. According to The Washingtonian, she also cares about social issues. She recently auctioned off a pair of hand-made pantaloons to raise money for The Gworls, a fund that supports black trans individuals (if you're also interested in the cause, you can check out their Instagram). She also paints, creates ceramic art, and even does stick-and-poke tattoos; talk about a versatile artist.