Here's What Jennifer Lopez Said In Spanish During The Inauguration
Alex Wong/Getty Images
The iconic Jennifer Lopez took to the Capitol stage for the inauguration of Joe Biden and sang "This Land Is Your Land" and "America The Beautiful." And the Puerto Rican singer made the performance unique by including a spoken line of Spanish in the midst of her performance (via PBS). "Una nación, bajo Dios, indivisible, con libertad y justicia para todos," which translates to a line from the Pledge of Allegiance: "One nation, under God, indivisible, with liberty and justice for all."
Dressed in an all-white outfit for the inauguration, as perhaps a nod to women's suffrage and women's rights activism, Lopez also snuck in a little nod to her own music, singing "Let's get loud," before finishing her medley. New York Times fashion director Vanessa Friedman also noted that, next to Lady Gaga's red gown and Garth Brooks' blue jeans, the three musical performers represented the colors of the American flag.
Lopez's fiancé Alex Rodriguez had hinted that the singer might be doing something a little different in her performance when he was on The Tonight Show Starring Jimmy Fallon, saying "she has something really cool. You're going to be surprised. You're going to love it" (via YouTube).
Jennifer Lopez was a vocal supporter of Biden's during the election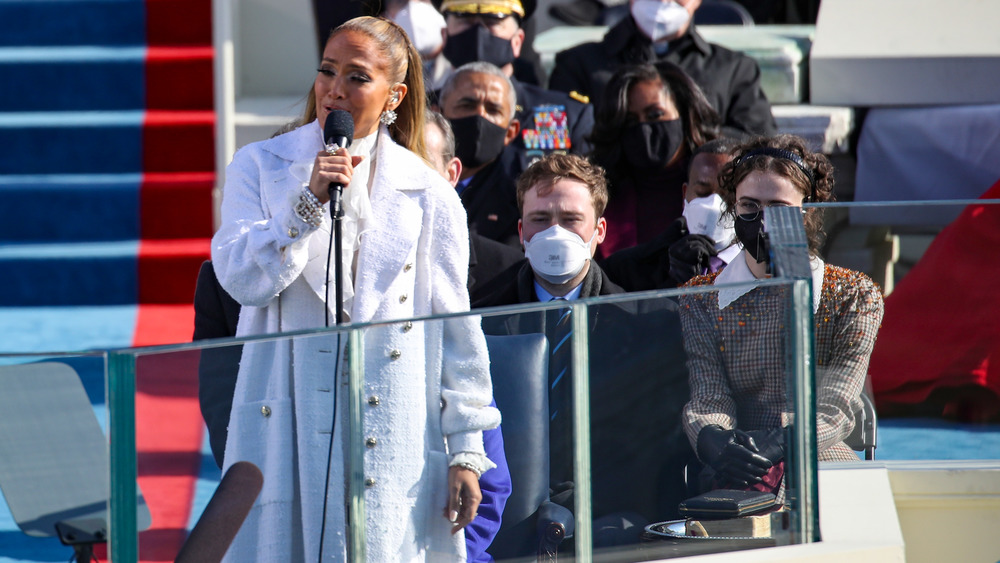 Rob Carr/Getty Images
Rodriguez also revealed on The Tonight Show that, even after performing at the Super Bowl and Times Square New Year's Eve, that the inauguration was nerve-wracking for her, "She's most nervous about Washington D.C. because of the responsibility. And she wants more than anything, like all of us, to bring people together, to inspire."
Lopez has been a vocal supporter of Biden, and she and A-Rod sat down for a virtual chat on YouTube with then candidate Biden and Dr. Jill Biden in October to talk about the election and Covid and how it's more negatively impacted the Latinx community than others. During the chat, Lopez w, "I'm here representing women and moms, and Latinos and Americans." After the election was called for Biden, she posted an Instagram video of her dancing in celebration. 
The day before the inauguration in Washington, Lopez took some pics with military service members and tweeted, "What an honor to spend a few moments with these brave men and women. Thank you for your service and sacrifice. I honor you today and everyday. Tomorrow I sing for you and all Americans. #inauguration2021."
Fans were moved by Lopez's performance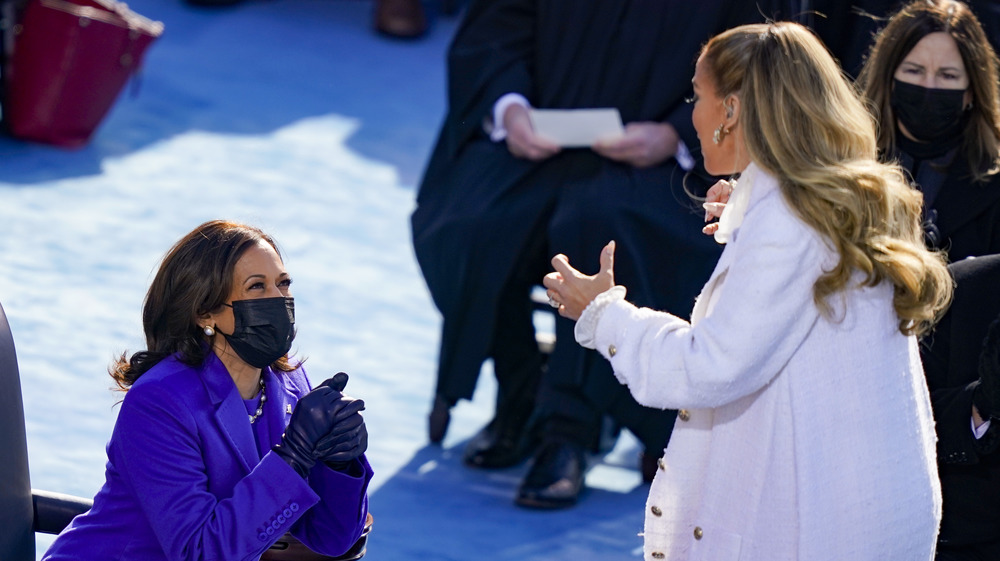 Drew Angerer/Getty Images
Fans were impressed by Lopez's performance, not only for her vocal performance, but for her representation for Latinas. One user tweeted, "First off J-Lo was toooooo cute today. Rocking that suit. but I was full of tears as she sung that song. I felt like I was part of this country and represented." Another said, "Oh my god @JLo just spoke Spanish on the Capitol during the inauguration! This is going to be a different 4 years!" Lopez even made fans out of politicians, with one-time presidential hopeful Andrew Yang tweeting, "JLo and Lady Gaga both phenomenal."
Some fans noted that Lopez's performance was timely, considering that she had performed in the Super Bowl halftime show about a year ago. One tweeted, "Jennifer Lopez was the last major performance before the world shut down in 2020 and here's hoping her 2021 performance is the start of our world beginning to open back up again."
Of course, there were plenty of jokes to go along with the admiration. Jokesters took aim at Lopez including her own lyrics in her performance. "If JLo could sneak 'Let's get loud' into her inaugural performance I'm just really confused as to why we didn't get 'I wanna take a ride on your disco stick' in Gaga's National Anthem??" one quipped.