Kamala Harris' Inauguration Outfit Selection Is Deeper Than You Think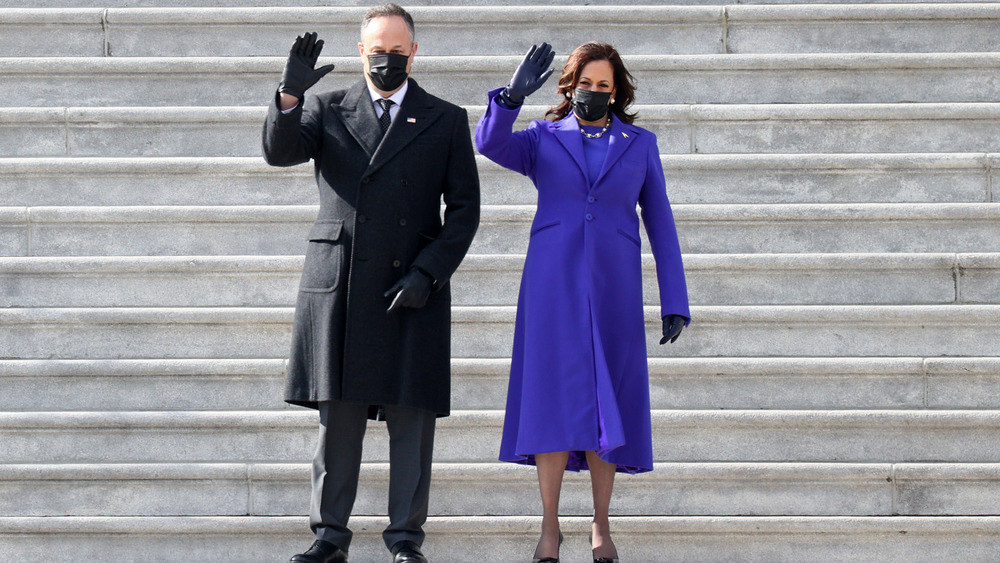 Joe Raedle/Getty Images
It's official. Kamala Harris has been sworn in as vice president of the United States of America, making it the first time in history a woman has held the political office. Filled with tradition and celebratory ceremonies, the new administration joined former presidents and vice presidents, as well as Supreme Court justices and Senate and House members from both parties to mark the transition into a new presidential term (via CNN).
Upon her arrival for the day's momentous events culminating in her official swearing in, Harris made a boldly beautiful style statement, and fashion expert and TV personality, Cindy Conroy, joined The List to reveal the deeper meaning behind her inauguration ensemble.
Following in the footsteps of former First Lady Michelle Obama, the vice president opted to feature up-and-coming American designers in her style, to signify not only loyalty and faith in her country, but a return to putting Americans and their interests first. Conroy explained, "For such a historic day, Kamala Harris, the first female vice president, forgoed her typical pantsuits and wore thoughtfully designed pieces by Black fashion designers."
Specifically, our fashion authority put to words what everyone watching Harris' arrival was thinking: "it left you breathless." Adding, "She was an utter vision in a saturated royal purple wool coat. Designed by the 2020 CFDA American Emerging Designer of the Year, Christopher John Rogers... Paired with a Sergio Hudson purple dress, the ensemble was more than beautiful, it was a statement."
Cindy Conroy notes that Kamala Harris' choice to wear purple was meant to signify a hopeful future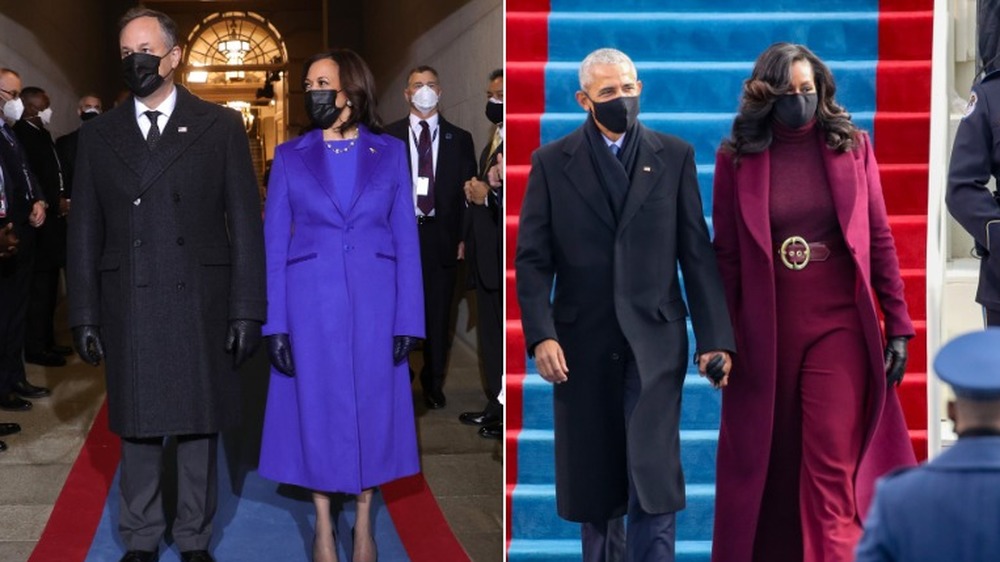 Win Mcnamee, Rob Carr/Getty Images
Choosing a bold coat by Christopher John Rogers, a designer who, as noted by CNN, not only dressed former First Lady Michelle Obama as well as Beyoncé and Rihanna, was a statement in and of itself, and it likely wasn't a coincidence that the former FLOTUS and the new Veep were also simultaneously wearing designs by Sergio Hudson, as Marie Claire reported. The message Harris seems to convey is a promise to Americans to try and return to the traditions and values of the Obama administration. 
Our famous fashionista, Cindy Conroy, further adds that the beautiful purple jewel tone of the ensemble held meaning for Kamala Harris, as well. Explaining, "Opting for purple further signifies what a truly momentous day it is. A day filled with hope and representing a bright future ahead." It's truly a message every American, regardless of politics or partisanship can get behind. And as Conroy poignantly noted upon watching Harris arrive at St. Matthews on inauguration morning, "I could almost hear the gasp of the nation — their joy."