The Surprising Person Mike Pence Ignored In His Farewell Message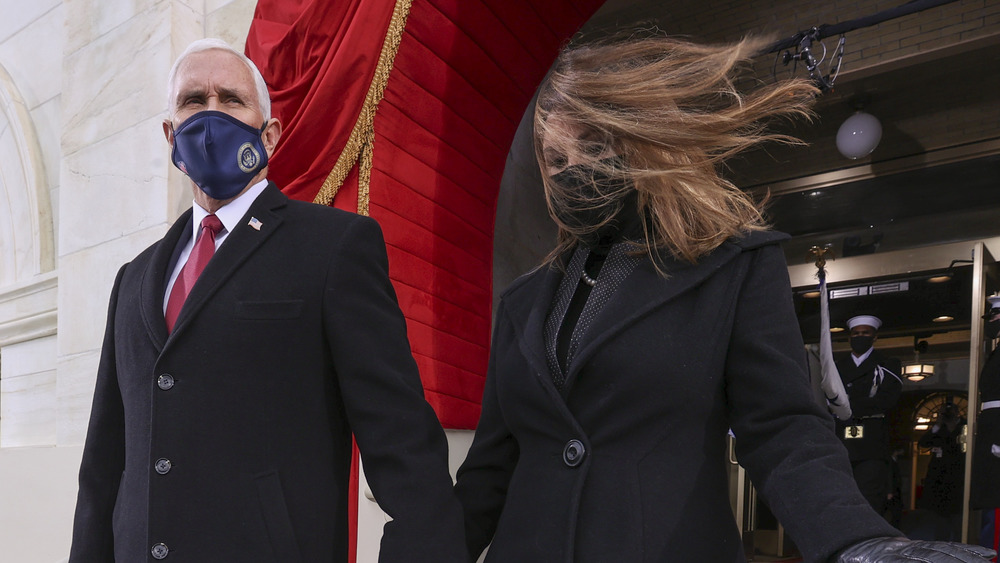 Pool/Getty Images
Unlike Donald and Melania Trump, Mike and Karen Pence did choose to attend President Joe Biden's January 20 inauguration. There, after he was (per Metro) initially applauded, the vice president got a Twitter send-off of sorts: the social media platform blew up after Lady Gaga (allegedly) refused to look him in the eye (via Marie Clare). A day before the event, Pence sent his final, goodbye tweet of his own from his now-archived vice presidential account. "Thank you for the privilege of serving as your Vice President these past four years," he wrote, "it has been the greatest honor of my life. On behalf of our Wonderful Second Lady, Karen Pence, and our entire family, Thank You and God Bless America."
Alongside his farewell words, Pence attached four photos from his time in office. Conspicuously absent from his words or his photos? The former president of the United States, Donald Trump.
Why did Mike Pence ignore Donald Trump in his farewell tweet?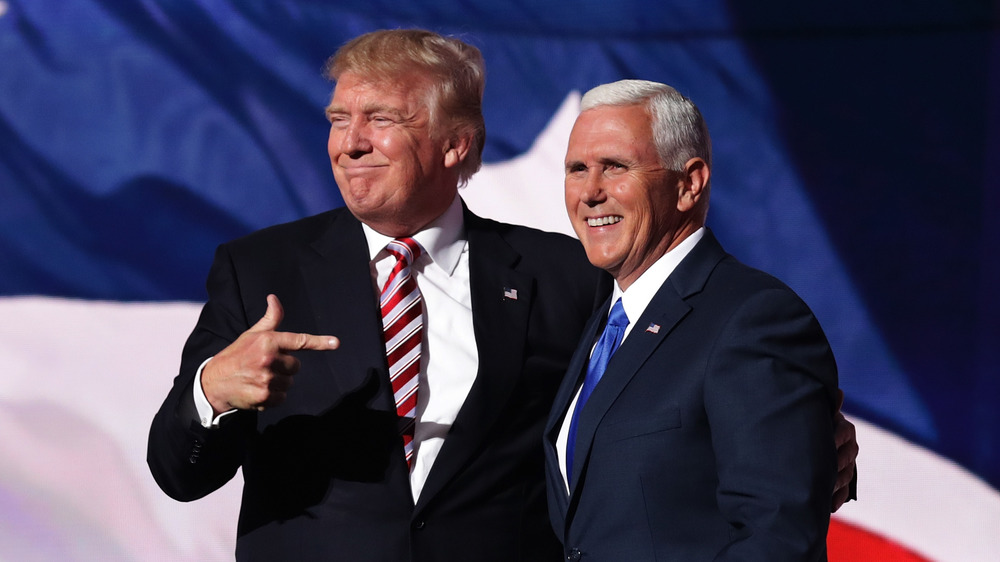 Chip Somodevilla/Getty Images
If Trump and Pence's relationship during his presidency were some kind of political soap opera we'd all be binging on in Netflix, then we'd all be obsessing over its ending. Need a recap? The Capitol riots shocked the nation, Twitter banned Donald Trump's account, and Mike Pence affirmed Biden's win, inciting Trump's fury (via New York Times). Pence was livid, too. "I've known Mike Pence forever," Senator Jim Inhofe told Tulsa World after the attacks, "I've never seen Pence as angry as he was today ... [Pence] said, 'After all the things I've done for (Trump).'" On January 11, 2020, Fox News reported that Pence and Trump broke their "post-riot estrangement" with what insiders called a "good conversation." Given Pence's Twitter farewell, their January 11 meeting may not have been as "good" as Fox's sources originally portrayed it to be.
 Mike Pence, of course, may have had another reason for snubbing Trump than his temper. The former vice president is rumored to have presidential ambitions of his own. Bloomberg reported in February 2020 that Pence's 2024 presidential campaign was already underway. So too, may be Trump, or one of his family members' campaigns. (Did you catch Trump's cryptic "We will be back in some form," line in his farewell address? The New Republic did.) If so, Pence's farewell snub is likely to become one of many. The two former allies may soon turn into staunch political adversaries.