Inside Jay Cutler's Relationship With Southern Charm's Madison LeCroy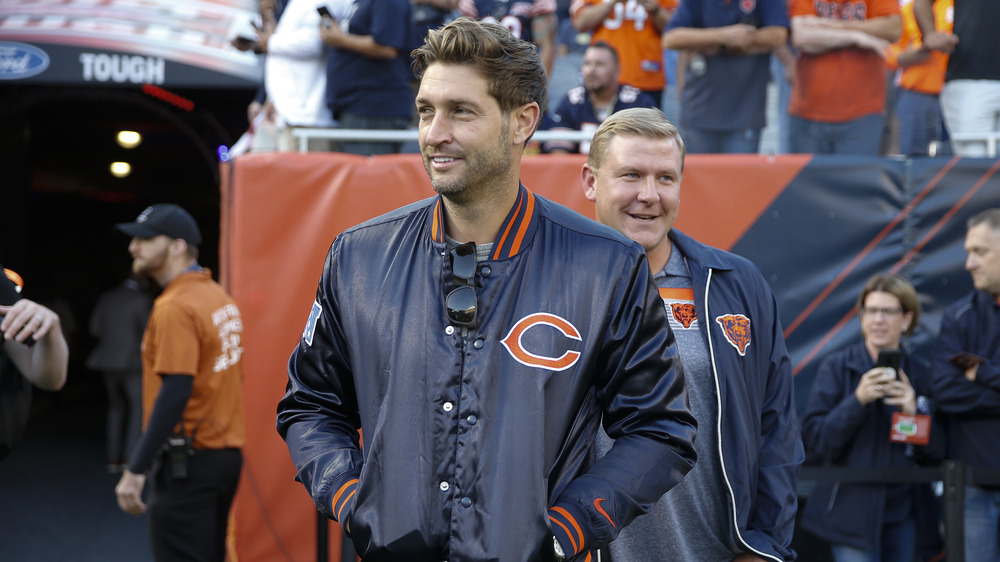 Nuccio Dinuzzo/Getty Images
You're gonna want to settle in and grab your popcorn, because this reality TV love triangle drama is next-level. We are, of course, referring to Jay Cutler, Kristin Cavallari, and Madison LeCroy, and the recent barrage of social media shade the three spent the weekend flinging at one another.
Last year Cutler and Cavallari broke up after 10 years together, but continued to co-parent their three children as they moved on with their own lives.
If you missed the LeCroy drama (more on that in a minute), you may have had a "Did Kristin and Jay get back together?" moment over the weekend. It's a totally understandable question given the matching Instagram posts the pair shared on Saturday, January 23. Cutler and Cavallari posted the same photo of themselves, accompanied by the caption: "The world is full of users. 10 years. Can't break that."
Cue immediate rumors that the pair has reconciled, which were quickly debunked (via People). So what's up with the photo? Speculation is the post was a direct response to Southern Charm star Madison LeCroy.
Jay Cutler and ex Kristin Cavallari seemed to put up a united front against the drama
According to BuzzFeed, the drama started back in December when there were rumors that Cavallari was dating Southern Charm's Austen Kroll, who was previously in a relationship with LeCroy. Then things got all sorts of awkward when Cutler was romantically linked to ... LeCroy.
In an Instagram live that recently re-surfaced, LeCroy appeared to mom-shame Cavallari over a video of The Hills alum dancing with Kroll and several other friends (via US Weekly).
Shortly after Cutler and Cavallari used Instagram to seemingly put up a united front, LeCroy hopped back on the app and doubled down. She shared text messages that she claims are between her and Cutler in which he appears to ask permission to visit her.
The texts she shared quickly took a dramatic turn when Cutler apparently told LeCroy he "didn't appreciate" that she'd spoken about him publicly.
In a screenshot of LeCroy's texts posted by BuzzFeed, she responded to Cutler saying that she was "disgusted" by the whole situation and claiming that he initiated ... whatever the heck it was that happened between them. "I came into this honestly with good intentions," LeCroy's text continues. "I want no part in being involved in a payback or drama. But you initiated and pursued."
Yesterday, perhaps in response to Cutler and Cavallari's matching posts, LeCroy shared a photo of herself on a boat, accompanied by the caption, "Blocking more than the [sun emoji]."
Let's hope the Insta "block" feature puts an end to this drama.