Inside Patrick Mahomes' Relationship With His Athletic Father
Jamie Squire/Getty Images
Breakout NFL star Patrick Mahomes has become a household name after taking the Kansas City Chiefs to the Super Bowl two years in a row. But, the name Mahomes may ring a bell to people who watched Major League Baseball in the 1990s as well. According to ClutchPoints, Patrick Mahomes Sr. went pro in the sport as a pitcher straight out of high school, even though he had only started playing in that position during his senior year.
After spending seven years in the league, the pitcher headed to Japan to play in their national league — making his sports journey a world-wide affair. Patrick Sr. eventually returned to the MLB and played for various teams, the outlet notes. But, as far as his relationship with his son goes, it appears that Patrick Jr.'s initial affinity for football fell out of line with the family game. Like many parents, he worried about the risks of his son playing a high-contact sport like football. 
According to SportsCasting, Patrick Jr.'s time in the ballpark as a child influenced his dream to play professional sports. Seeing the likes of Alex Rodriguez preparing for his games from close up helped him understand what it was like to play sports professionally — only, for him, his dream was to walk the tunnels of the NFL's greatest stadiums.
Patrick Mahomes' parents divorced when he was young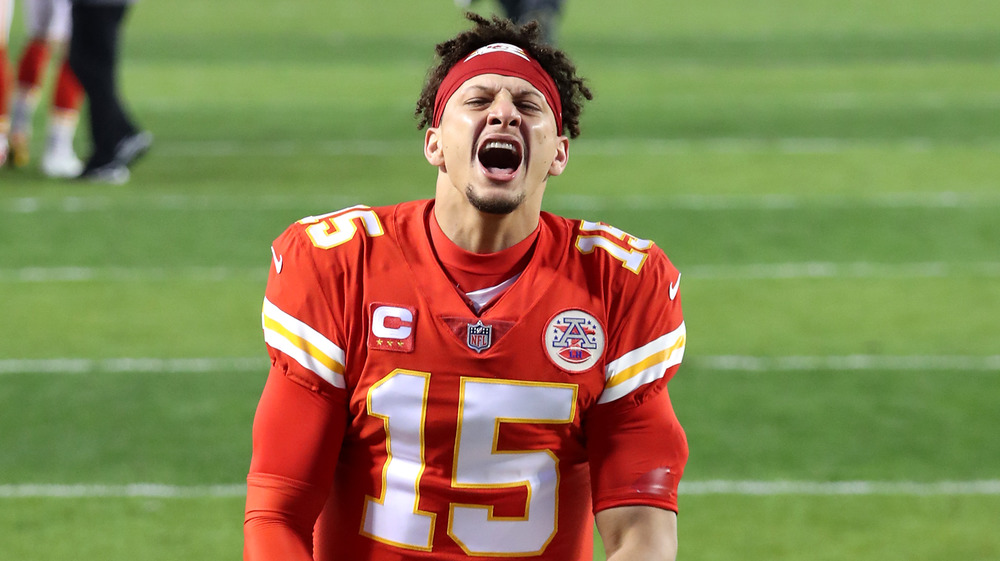 Jamie Squire/Getty Images
Between shuffling to MLB stadiums with his dad and diving into his passion for football, Patrick Mahomes Jr. also stayed close to his mother, Randi. According to The Sun, Patrick Mahomes Sr. and Randi divorced when their eldest son was 6, but stayed connected. The two remain extremely close, even though she often attempts to avoid the spotlight. While the quarterback's father seemed to be the athletic supporter of the family, his mother harped on schoolwork, ClutchPoints reported.
Patrick Jr. continued to play baseball and football throughout high school, ultimately having to make a decision to declare for the MLB draft or take a football scholarship. It appears his mother advocated for taking the academic route and encouraged him to take the scholarship option, thereby getting a great education in the process. Making one of the choices that would change football history, he opted for the football route under the guidance of both his parents.
Today, both Patrick Sr. and Randi are actively involved in the Chiefs organization. Randi works as a stand-in for her son at charity events and helps out around the team, SportsCasting notes. And as far as parenting goes, the younger Mahomes will soon have a crash course — he's expecting a child with fiancé, Brittany Matthews, reports TODAY. His second Super Bowl appearance presents him with a record-making opportunity as well — to win back-to-back championships. Between his support from his parents and his new family, Patrick Jr. certainly has a worthy fan club.