What You Don't Know About Rob Gronkowski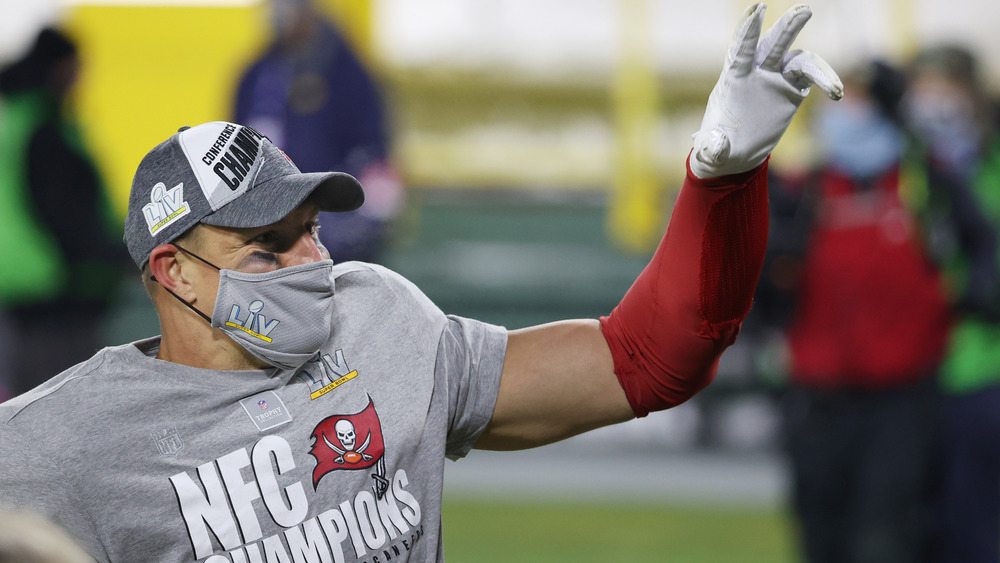 Dylan Buell/Getty Images
Anyone who's paid even a little bit of attention to football over the past decade knows that Rob Gronkowski, the scene-stealing tight end lovingly known by fans as "Gronk," spent the majority of his professional career playing for the multi-championship-winning New England Patriots and now plays for the Super Bowl-bound Tampa Bay Buccaneers. Gronk has been a household name and face for a decade now; as Boston.com recalled, he was the 42nd pick in the 2010 NFL draft, joining a team that was ruled by Tom Brady.
It didn't take long, however, for Gronk to make himself known. He soon helped lead the team to three Super Bowl championships while racking up impressive stats. All the while, his goofy, friendly, sociable nature earned him a bevy of fast friends in the Boston area from college coeds to club managers. GQ writer Devin Friedman says that in addition to his aptitude for football, "his infectious irrepressible nature" and "meathead exuberance" draw in fans. "It's that he brought his own party bus to one of the Patriots' Super Bowl parades," Friedman continues. "It's that he says he loves getting hit, and he's convincing about it. It's that he loves practice. And if you made him swim across a frozen lake before practice, he'd be like, F*** yeah, let's go HAM on that hypothermia, bro!" 
Gronk's early life and family legacy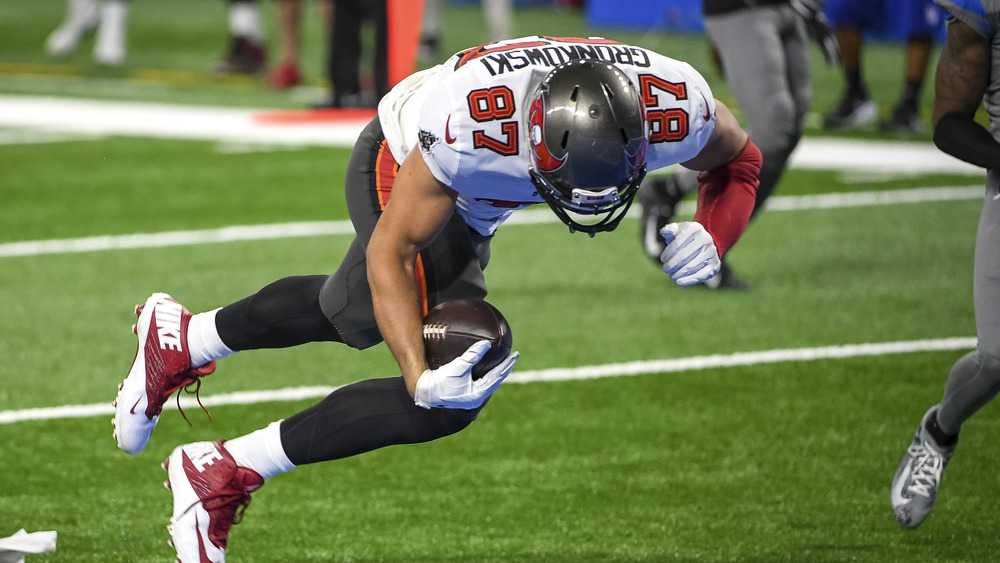 Nic Antaya/Getty Images
While Gronk may be a famous footballer in his own right, he comes from a family so enmeshed in the sport it'd be easy believe it's simply in their DNA. Rob is one of five brothers, and four of them have played football for the NFL. Four! And the fifth? According to GronkNation.com, Gordie Gronkowski was a baseball player. Athleticism runs in this family as clearly as height and wide smiles. Rob was born on May 14, 1989 in the New York state town of Amherst, and he went on to play football on the high school and collegiate level. According to GronkNation.com, the future Super Bowl champ's high school football career included a number of accolades, such as being named SuperPrep All-American. 
After high school, Rob went on to play tight end for the University of Arizona. There, as the school's website noted, he wasted no time in breaking the school record for yards per reception, was declared the John Mackey National Tight End of the week, and had "three career 100-yard games." It's no surprise that The Patriots scooped him up when they had the chance. As GronkNation.com pointed out, in his first year, he became "the first rookie in Patriots history, and the youngest rookie in NFL history" to catch three touchdown passes in one game.
Rob Gronkowski's good works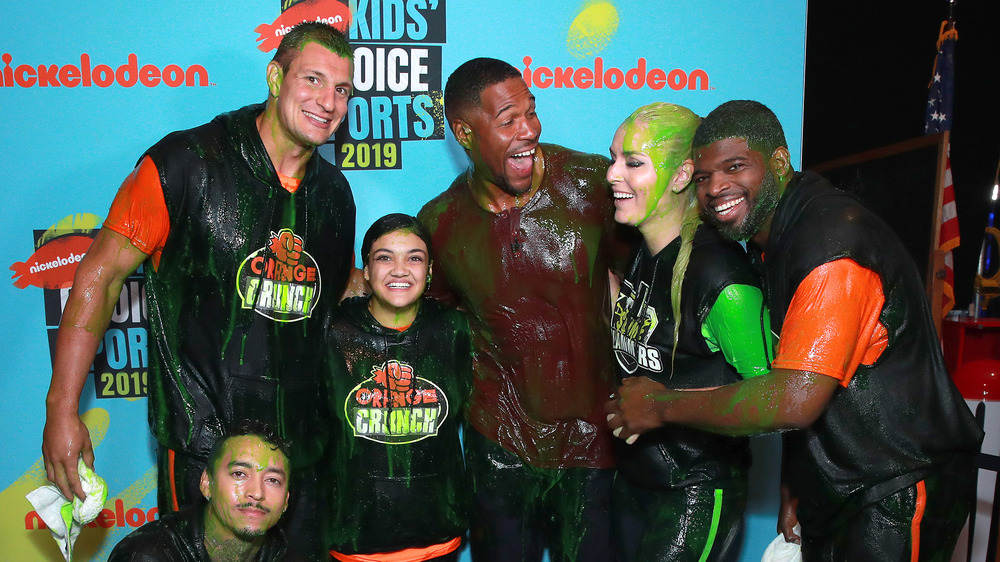 Rich Fury/kcasports2019/Getty Images
Gronk has used all that fame not just to party, but also to do some good. The Gronk Nation Youth Foundation's mission is to inspire youth "to reach their maximum potential through sports, education, community and fitness," according to the foundation's website. The group aims to do this by helping kids "stay actively involved in school and sports and provide them with the tools needed to help them follow their dreams and live a happy and more successful life." 
The Nickelodeon Kids' Choice Sports Award recipient says that his own childhood inspired him to help others have the same resources and change at success that he had, telling TheBuccaneers.com, "I remember having everything accessible to me...If we wanted to play in the backyard, we could. If we wanted to play in a park, we could. If we wanted to play in a baseball league, our parents could sign us up and we could play in a baseball league. I just felt like it was definitely an advantage to have all the tools and all the equipment growing up to help lead me down a successful path." 
As the Patriots' website noted, he's also donated a ton of money to hospitals in New England. Additionally, Gronk regularly participates in One Mission's Buzz Off event, where he shaves his head in support of kids with cancer. And that only skims the surface. As ESPN.com wrote, "Few Patriots give as much time to charitable and community endeavors as Gronkowski."