Jared And Ivanka's Former D.C. Home Comes With A Major Price Tag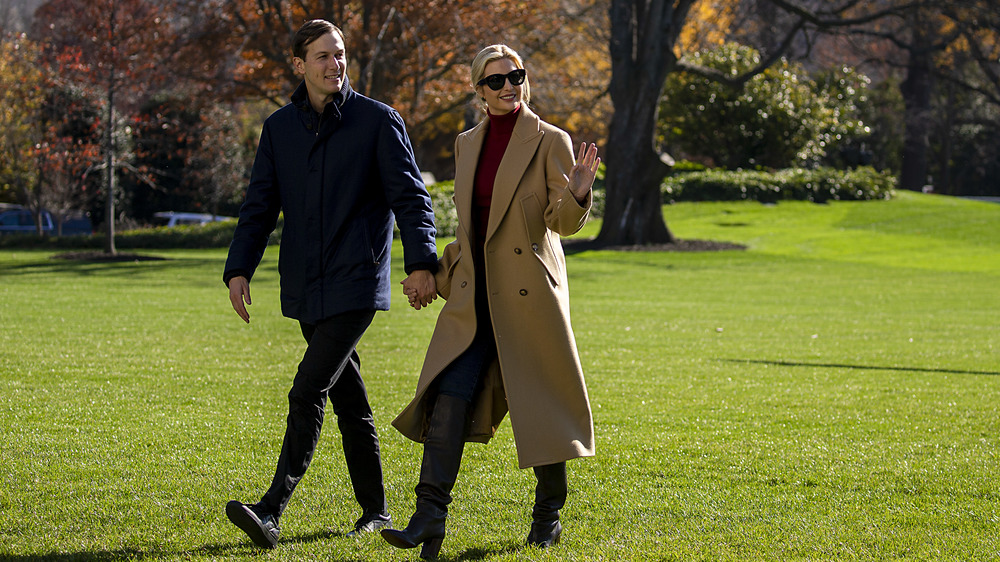 Tasos Katopodis/Getty Images
If you've ever wanted to wake up to the same view as Jared Kushner or Ivanka Trump, then you're in luck. Though it will cost you a pretty penny. The house that they rented in the swish neighborhood of Kalorama Heights is on the rental market for the tune of $18,000 per month (via Miami Herald).
That's $3,000 more per month than Kushner and Trump paid. According to The Wall Street Journal, the couple rented it for $15,000 from a Chilean billionaire who bought the house for $5.5 million after the 2016 election. Per the listing on Realtor.com, the 7,299-square-foot home, with its six bedrooms and 6 ½ baths, is "one of the most well known and photographed houses on the planet, given recent tenants."
While they don't exactly name drop, it seems like they expect you to know that those recent tenants were, of course, Trump and Kushner. The ad goes on to say: "Former Pres. Obama's house [is] a stone throw away. Meticulously maintained by landlord and former notable tenants."
Jeff Bezos has a house in the same neighborhood
Whoever coughs up the cash for the property won't just have the Obamas as neighbors; the historic neighborhood is home to diplomats, other political elites, and even Jeff Bezos has a house there (via The New York Times). According to Town & Country, the nearly 100-year-old house (it was built in 1923) includes amenities like a soaking tub, patio, and five wood-burning fireplaces.
The property, more specifically its number of bathrooms, made headlines recently when The Washington Post published an article that alleged that the Secret Service weren't allowed to use any of the bathrooms at the house while on duty guarding the couple, and that they paid $3,000 a month for a neighbor's basement studio.
Kushner and Trump followed Donald Trump down South on Inauguration Day, leaving D.C. for sunny Florida, and spent $32 million buying a lot on the exclusive Indian Creek Island in Miami. While they build their eventual home on the 300-acre island, the couple are leasing an oceanfront luxury condo in the city's Surfside neighborhood for "at least a year" (via Mansion Global).