Ella Emhoff Just Landed A Surprising New Gig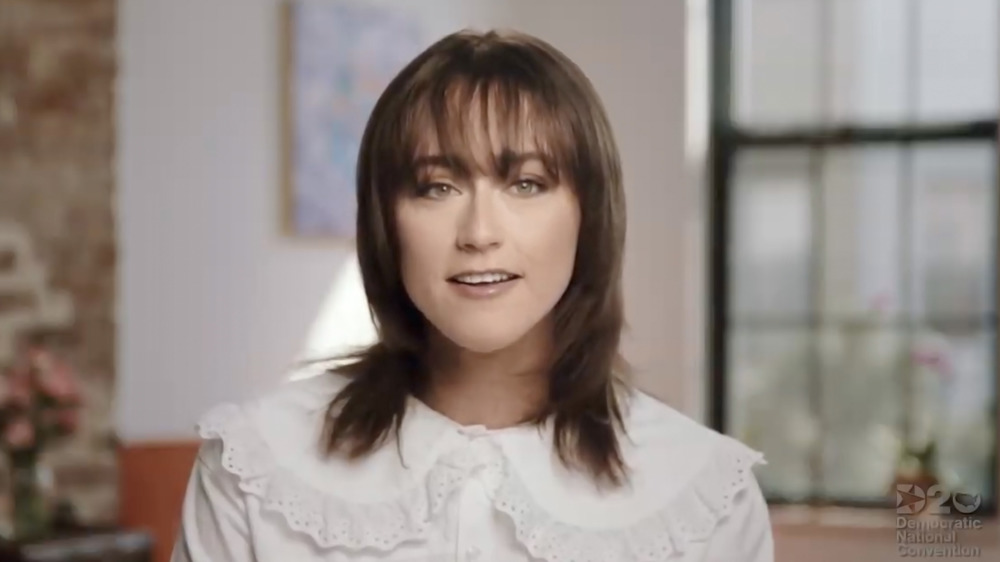 Handout/Getty Images
Newly sworn-in Vice President Kamala Harris isn't the only one who's going to be extremely busy for the foreseeable future. Her stepdaughter, Ella Emhoff, just signed a modeling deal with mega-agency IMG Models Worldwide (via People). The millions who watched the Biden inaugural will recall Emhoff wore a striking bejeweled Miu Miu plaid maxi coat for the occasion, so it's already known that she has a unique sense of style. Indeed, the older second daughter is currently a senior at New York's prestigious Parsons School of Design, specializing in textiles. Her Instagram page is also filled with artistic shots of her handmade creations, from knit pants to crocheted biker shorts to a "Blue's Clues vest and dog bunny hat."
The news broke two days after IMG announced they had also signed Amanda Gorman, the young poet who read an original work at the inaugural event (per Page Six). The agency's clients also include more traditional models such as Gigi and Bella Hadid, Gisele Bündchen, Milla Jovovich, and Amber Valletta. Their recent choice of clients represents the agency's intention to bring a more 21st-century sensibility to the business. President Ivan Bart told The New York Times (via E! Online), "It's not really about shape, size, or gender any more." He also praised Emhoff's "cheekiness and joy."
Ella Emhoff wants to bring diversity to the modeling world
The daughter of Harris's husband Doug Emhoff, Ella lives in Brooklyn's newly hipster-ized Bushwick neighborhood, where she's working on her college thesis (a knitted patchwork jacket) and looking to launch her own line of knitwear. In a pre-inaugural interview with Vice Garage, she revealed that a lot of her work is influenced by the '80s cartoons she watched as a child, like Rainbow Brite and The Simpsons. She also spent part of the 2020 quarantine period giving herself tattoos with a technique called "stick and poke"; the designs include her dog's name and a salmon with a flower in its mouth. 
In her New York Times interview, Ella admitted that entering the modeling world feels "intimidating and scary" because of it's "hyper-focused on you and your body," but that she looks forward to being "part of that change" in the industry with her tattoos, wild curls, and unique style. She added that her family (which includes her dad and "Momala") wasn't quite on board at first, but they threw their support behind her "when they saw my interest in it and saw what is changing in that world."