Has Mike Pence Been Couch Surfing Since The Inauguration?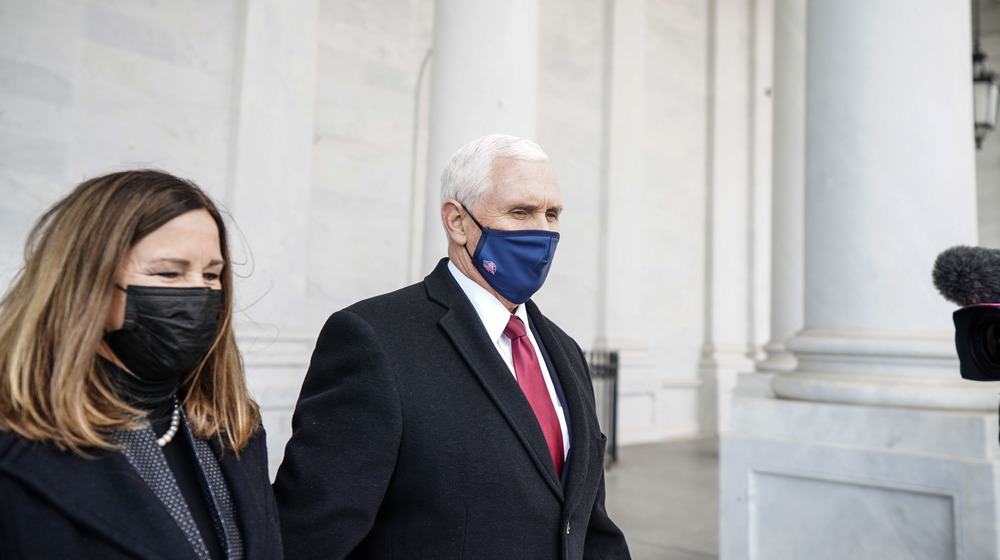 Pool/Getty Images
Governor's Mansion to Vice President's Residence, to ... couch surfing? This odd housing trajectory seems to be exactly where former Vice President Mike Pence and his wife, Karen, have landed post the Biden inauguration, Business Insider reports.
In his farewell address, Former VP Pence told listeners that he'd be moving back to Indiana in the summer, though, as noted by The Independent, the Pence's haven't held a private residence in the state for nearly a decade.
Per the Business Insider source, the Pence family has been relying on the hospitality of various Republican politicians since returning to Indiana. While the precise location of the couple has not been made publicly available, The Daily Mail reports that many believe the Pences to be staying either with Mike Pence's brother, or at the Indiana Governor's vacation home, which was renovated in 2013 while Pence held the office.
As a former Vice President, Pence and his wife are entitled to six month's protection from the Secret Service. Sources told Business Insider that Pence may be holding off on buying property to avoid his place of residence becoming public record. In light of the January 6th attack on the Capitol, such caution would make sense, but eventually, Pence will have to make a move, especially if he wants to run for public office again.
Security remains a top priority for Mike Pence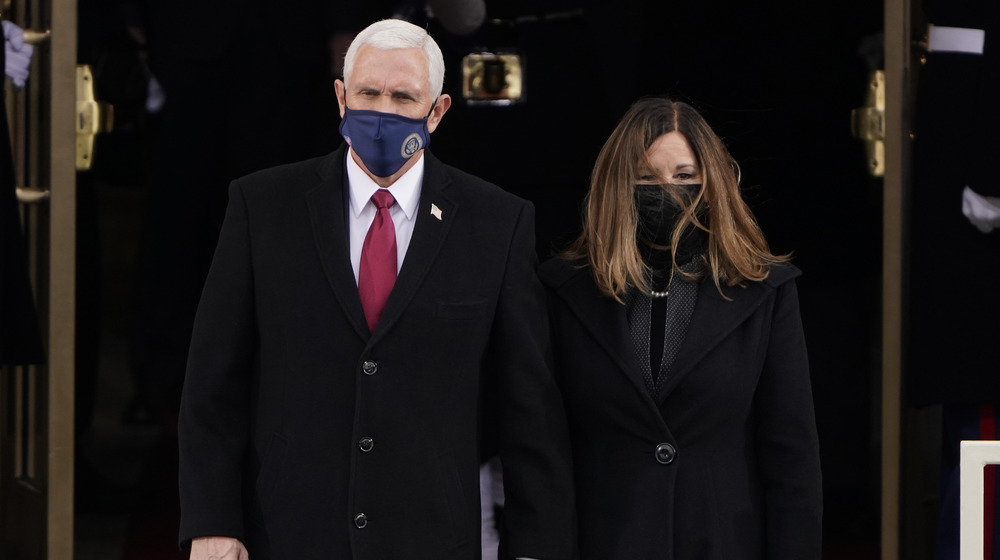 Pool/Getty Images
As more and more information comes to light about the intended mob violence at the insurrection at the Capitol on January 6th, Pence has been notably absent from the public discourse. Though Pence had rarely opposed former President Trump in public, the former VP did publicly refuse to overturn the results of the 2020 presidential election in Trump's favor, a declaration which earned him the role of "traitor" from many Trump enthusiasts, who violently stormed the Capitol earlier this month (via Forbes).
Per NY Post, one attacker from the mob left a threatening note for Pence on the Senate chamber dias and reportedly planned on attacking a number of legislators that day. While this attacker certainly wasn't alone among the crowd of thousands, according to Business Insider, these threats may be part of why Pence and his wife may want to be discreet about their location. As The Independent notes, the crowd that had chanted "Where's Mike Pence?" had missed the former Vice President by a margin of 100 feet and mere moments.
Business Insider also conjectured that Pence's lack of residence may also be motivated by financial strain: "The Pences have also struggled to build a solid nest egg while paying for their three children's student loans and suffering through financial hardships." It is unclear what is next for Mike Pence, but for the moment, he seems to be keeping a low profile where possible and avoiding the commitments of more permanent roots.