Inside Tony Romo's Rollercoaster Love Life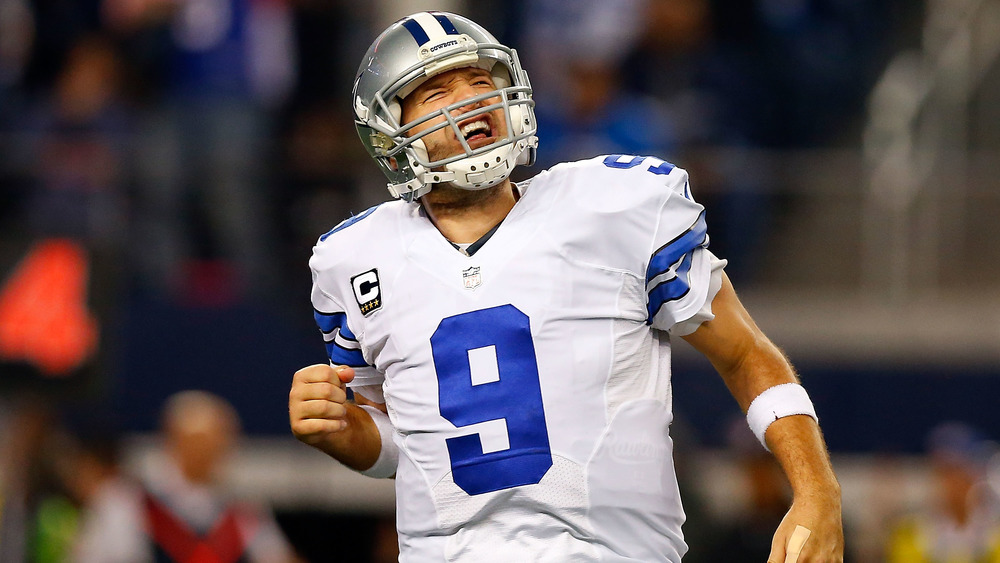 Tom Pennington/Getty Images
NFL broadcaster and former quarterback Tony Romo might have a soap-opera-worthy name, but these days, he's not involved in any telenovela-worthy plots. For one, Romo married former Miss Missouri USA Candice Crawford in 2011 (via Ranker). You might know her better as Gossip Girl actor Chace Crawford's sister (via Country Living). For two, he has three kids, and he lives in a mansion in Texas (via Wide Open Country). And, per The New York Post, CBS is paying him $17 million a season.
Life's good for Romo. But before he started dating Crawford in 2009, it was juicy. Think of him as Sex in the City's Samantha, if you want to. (We do.) Before Crawford, there were as many headlines about Romo breaking hearts as there were about his accomplishments on the playing field. And, in case you weren't following his career, it's not that Romo was an underachiever. He holds, per ESPN, with the fourth-best career passer rating in NFL history.
Tony Romo has a long dating history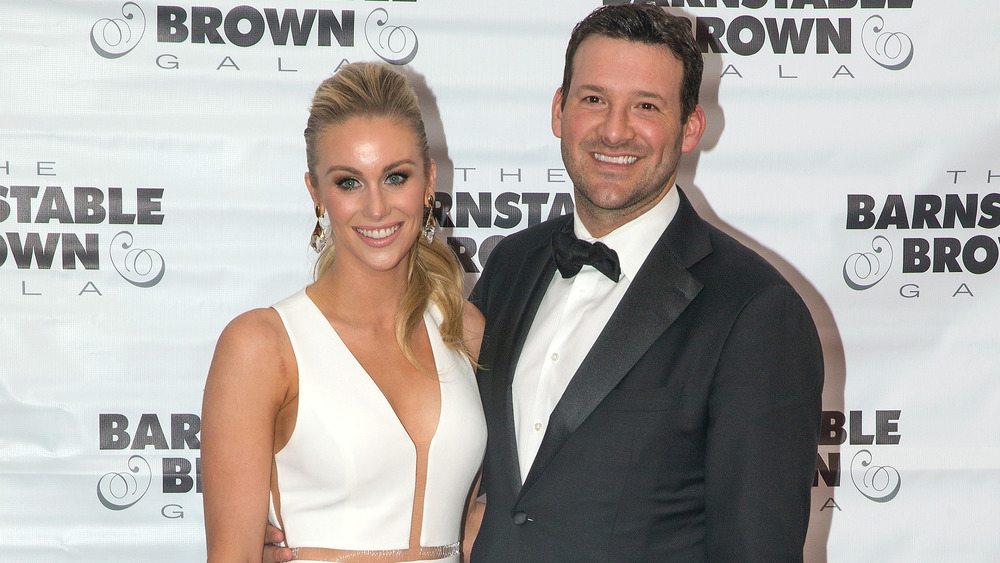 Joey Foley/Getty Images
In 2007, Tony Romo and One Tree Hill's Sophia Bush could have been a thing. "We went out to dinners. We had that moment when we realized that we're gonna be friends. We were looking for different things," the actress told OK! News in 2008. Around the same time, Romo was wining and dining Carrie Underwood. She also insisted that nothing happened. "At one point it seemed like that's where it was headed," Underwood explained to Entertainment Weekly in 2007, "I don't know if it's that I'm not quite his type or whatever, but I don't think he's at the point in his life where he would be willing to sacrifice football." Still in 2007? Britney Spears. Spears might have given the NFL star a lap dance. At least according to Ryan Seacrest, The Hollywood Gossip reported.
Then there was Jessica Simpson. Year? Also 2007...and into 2008. This time, Romo nearly committed. While they were together, Simpson told People that Romo was the "love of my life." And then, he wasn't. Simpson spilled the ugly ending to her relationship with Romo in her autobiography, Open Book. Romo began to suspect that Simpson had cheated on him with John Mayer. She says she didn't. But, as she wrote, "Tony didn't believe that for a second. And within that second, he broke up with me right there. Two years, gone with an email" (via TMZ). Which brings us to 2009. Romo met Crawford. As they say in happily-ever-afters: the end.