Tori Spelling's Heartbreaking Tribute To Dustin Diamond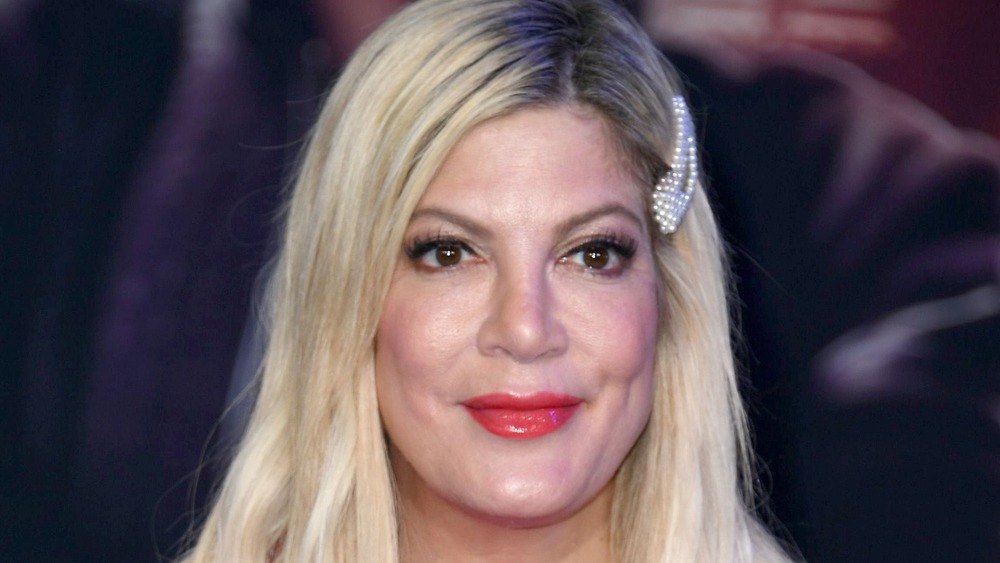 Jon Kopaloff/Getty Images
The news of Dustin Diamond's death, three weeks after he was diagnosed with small-cell carcinoma (via People), struck an especially emotional chord for Tori Spelling — the Violet Anne Bickerstaff to his Samuel "Screech" Powers on Saved By the Bell. On Feb. 1, 2021, the Beverly Hills, 90210 star shared a black-and-white Instagram photo from their time on set, paired with a heartfelt tribute.
"My 1st onscreen love Dustin Diamond got his Angel wings today," Spelling wrote. "Before there was David and Donna [of 90210] there was Screech and Violet. Dustin was my first on-screen kiss. He welcomed me with open arms onto the set of Saved By the Bell. As one can imagine being the newbie on a hit show was overwhelming for a 14-year-old girl."
She continued, "He not only showed me around but made sure I was always ok. Such a young gentleman. He was kind, smart, and always making everyone laugh. He was a great scene partner. He was a really good guy."
Tori Spelling didn't stay close with Dustin Diamond after 'Saved By the Bell'
In Tori Spelling's tribute, the actress regrettably admitted that after working with Dustin Diamond, they kind of fell out of touch. "I'm sad after the show we never had much contact aside from occasionally running into each other at events," she wrote. "I'm glad he's out of pain. He's an icon to me professionally and personally." She concluded the post: "RIP Samuel love, your Violet."
In separate announcements, Diamond's other Saved By the Bell costars remembered and honored him. "Dustin, you will be missed my man," Mario Lopez, who played A.C. Slater, wrote on Instagram. "The fragility of this life is something never to be taken for granted." In a statement to People, Mark-Paul Gosselaar, portrayer of Zack Morris, said he was "deeply saddened" by Diamond's death, calling him a "comedic genius." "Looking back at our time working together, I will miss those raw, brilliant sparks that only he was able to produce," Gosselaar told People. "A pie in your face, my comrade."
Saved By the Bell as a show also paid its respects via Peacock, the streamer that rebooted the sitcom in 2020, per Glamour. According to People, Diamond chose not to renew his role on the show. "On behalf of Saved By the Bell, we are deeply saddened to hear about the news of Dustin's passing," the streamer shared on Instagram. "He will forever be a part of the Bayside family."