Alyssa Milano Proves This Viral Hair Trend Actually Works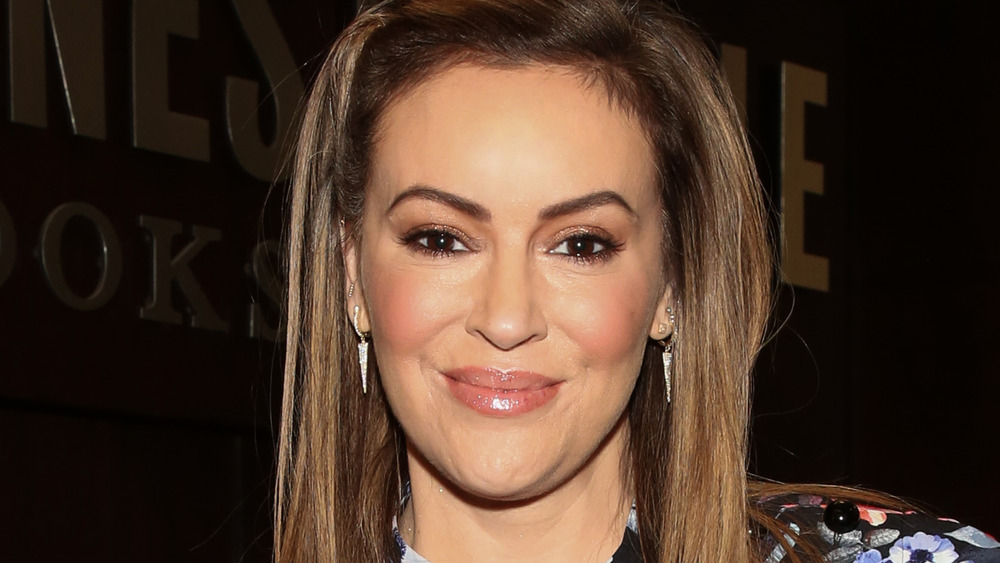 Paul Archuleta/Getty Images
Many have been turning to a unique hair trend recently, including Alyssa Milano. Last night, she announced that she was using socks to curl her hair, and this morning, she uploaded the successful part two of the "sock roller thingy."
When she first put the socks in her hair, she wanted to see what her husband and kids thought about it. Her children seemed amused, while her husband wondered if that was really a thing. It really is, thanks to TikTok!
Rio Viera-Newton of New York Magazine recently wrote about how this app has become a beauty hub, including with ideas for heat-free curls. By simply wrapping cotton socks in one's hair, curls, waves, and/or ringlets can be achieved. Allure specifically mentioned the app's #SockCurls feed, which has helped this hair trend grow. However, the method has been around for years and years, as celebrity hairstylist Justine Marjan said, it "was very common in the 1950s and '60s, with foam rollers, fabric, or strips of an old T-shirt."
Alyssa Milano shares her favorite part of this TikTok hack
On TikTok and Instagram, Alyssa Milano shared her favorite thing about this socks-as-hair-curlers trend: She didn't have to use any heat on her hair. Heat tools, such as flat irons and blow dryers, can damage hair, and according to Harper's Bazaar UK, this could even lead to hair falling out.
The no-heat process is just one of the reasons why this curling method has risen in popularity, as is the fact that it took off on TikTok. As reported by Influencer Marketing Hub, TikTok is the fastest-growing social media app, with more than 500 million active users each month. It features localized content and celebrity endorsements, making it simple for everyday users and influencers to create, share, and view.
While Alyssa Milano's test of the curling hack didn't show the process' steps, beauty expert Justine Marjan's tutorial offers a brief demonstration of how to use socks as curlers. She clipped some socks to her damp hair then twisted different sections of her hair around the socks. After securing the sections with scrunchies, she took out the clips. The big reveal came after a night of sleeping with her hair like this, with thick socks leading to large, bouncy waves and thin ones creating smaller ringlets.