Andy Jassy's House Isn't As Big As You Think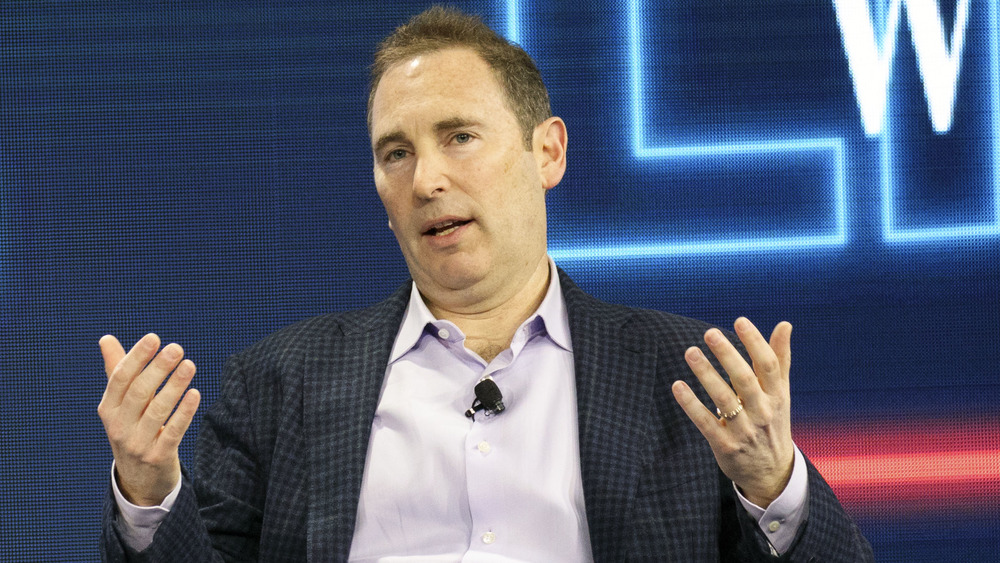 Bloomberg/Getty Images
Amazon founder Jeff Bezos announced that he is stepping down from his role as CEO. After spending 27 years at the helm of the company, Bezos has made room for Andy Jassy, the CEO of Amazon Web Services, to take over, according to Yahoo! Finance.
Jassy has been a part of the Amazon family since the beginning, and helped the mega corporation grow into what it is today. Since 1997, Jassy has worked with Bezos to expand Amazon in various avenues, including the creation of Amazon Web Services (via Newsweek). This promotion isn't the only change in Jassy's life. In October 2020, the businessman and his wife, Elana Rochelle Caplan, snapped up a pricey home in Santa Monica, California. But even though Jassy paid $6.7 million for the home – in contrast to Bezos' $165 million mansion in nearby Beverly Hills – it's cozier than you would imagine, per The Real Deal.
Andy Jassy's new home has a smaller-than-expected backyard
Andy Jassy dropped a lot of cash on his 5,517-square-foot home, but it's much more modest than expected, considering the price. According to Dirt, their new two-story, Cape Cod-style home, which was built in 2003, features a beautiful master suite with a fireplace, separate office area, balcony, and a soaking tub in the bathroom. There are three guest bedrooms upstairs and five bathrooms.
The biggest surprise is that the layout of the backyard is pretty simple in nature, with little more than pool and spa, a lawn area, and an outdoor kitchen and fireplace. A quick search on online real estate company Zillow's website shows that in highly desirable Santa Monica, a house in the $6-7 million range typically boosts 6,000 to 10,000-plus square feet. Dirt also reports that the main kitchen is smaller than usual, but still includes up-to-date appliances.